October 08, 2008
F1 on SPEED: Japan 2008!
With the recent news of F1 retreating completely from North America in 2009, as Montreal is off the official calendar, ringing in our ears, we head into the final three races of the 2008 season. This weekend we return to the legendary Fuji circuit for the Grand Prix of Japan. Last year, of course, the intelligentsia of the FIA decided to go away from Suzuka, which is pretty much the racer's favorite circuit, to follow the money.
So why is Fuji "legendary"? That's simple: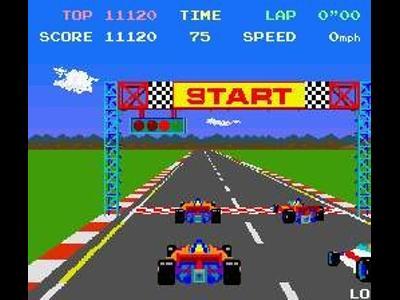 One of the greatest video games of all time:
POLE POSITION II
! Is there anybody of a certain age that fed quarters into machines that doesn't remember the computerized voice saying "prepare to qualify"? I think not! It was also the first game that I ever truly mastered. I preferred the sit-down version, of course.
Last year, we had the
incredible rain race
that ran the first 17 laps behind the safety car, and may as well have been run in the Pacific Ocean for all the water around. Because of that, of course, we don't really know how the newly reformatted Fuji circuit runs in the dry. Maybe we'll find out this year? Let's check the track map:
Pretty much a medium-low downforce circuit. Turns 2 thru 5 may as well be a straightaway for all the slowing down that goes on. 100R is pretty neat, and is probably the signature turn for the circuit. Unfortunately, the remodeling of the track (to make it "safer") removed the absolutely great turn that was a huge arc from the now-turn 10 to turn 16, just like an oval's. "Too fast", they say now, and I suppose it's so, but it'd've been nice to see it. Ah well.
At least SPEED will be there (raincoats at the ready) for our enjoyment! However, here's the best part for us here in the US: it's watchable without waking up waaaaaaay too early! Coverage of Friday's second practice begins at
1159pm THURSDAY
(well, actually midnight, but play with me here) and goes
until 145am
. I'm usually up that late anyway!
Quals comes to us live at
1159pm FRIDAY, until 130am Saturday
. I'm not even going to try and predict who'll come up on Pole Position this race. We've had five teams win races this season (Ferrari, McLaren, Renault, BMW and Toro Rosso)... and this track fits all of them.
The race comes to us live at
11pm on Saturday until 130am Sunday morning
. There's a replay from 330p - 6p Sunday afternoon as well, if you don't like staying up late.
One... um...
interesting
feature of this particular race will be the debut of the FIA's "Make Cars Green" program. Well, not the debut
per se
, but F1 will be participating in the MCG thingy by... what? Biofuel? Hybrids?
Green tires.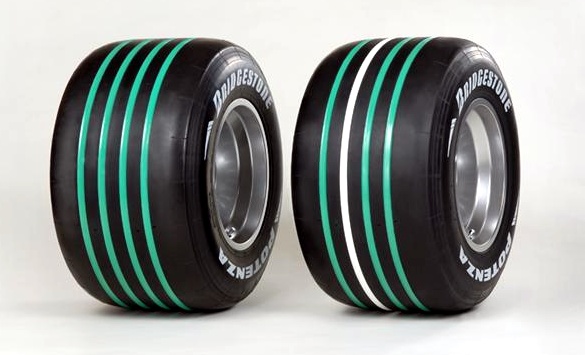 Well, green paint in the grooves. Oil based paint. BUT IT'S GREEN!!! OMGWTFBBQ!!!!!11!!!eleventy!!
*sigh*
Posted by: Wonderduck at 06:53 PM | Comments (2) | Add Comment
Post contains 492 words, total size 4 kb.
1
It would be nice if it would be dry so we can find out just how good a course this one is, with the changes.
That business with the tires is brain-dead. F1 is just about as far from a "green" activity as it is possible for it to be, and any attempt to pretend otherwise just looks idiotic.
Posted by: Steven Den Beste at October 08, 2008 08:38 PM (+rSRq)
2
Actually, the only green that matters to F1 is the shade of money. The only people being fooled by the green paint are the ones who thought it up. GEEZ!
I'll probably stay up for the race, but it's nice to know there will be a repeat. And, even better, F1UPDATE!!!
Posted by: Mallory at October 09, 2008 06:54 AM (3sife)
Comments are disabled. Post is locked.
25kb generated in CPU 0.0125, elapsed 0.1251 seconds.
47 queries taking 0.1162 seconds, 278 records returned.
Powered by Minx 1.1.6c-pink.