October 31, 2008
DCC's Last Race
While Brazil will be the last race of the season, it will also mark the end of a F1U! legend's career. After 246 races, the fourth most in F1 history (behind Rubens Barrichello, Riccardo Patrese and Slappy Schumacher), 13 wins, 535 points and 12 poles, David Coulthard's Chin will be hanging up his helmet for good.
He's finished as high as second in the Driver's Championship (2001 for McLaren) and finished third four times (1995 for Williams, 1997, 1998 and 2000 for McLaren). His last win came in Australia, 2003. While he's only had two podiums since them (Canada this year, Monaco in 2006, both 3rds), he's always been a solid performer, if not particularly successful.
A lot of that can be put down to lackluster cars; McLaren won only once in 2004 (Kimi Raikkonen, Belgium), and Red Bull has yet to win in their four seasons. Despite it all, The Chin has always been one of the more fan friendly drivers in the sport. He became legend 'round these parts in 2005 when a blown engine took him out of Friday's second practice at Silverstone. Rather than walk back to the pits, The Chin started signing autographs and chatting to the spectators. Forty-five minutes later, he was still at it.
While he'll be missed on the track, he'll be joining the BBC's race coverage when they pick up the F1 contract in 2009. I'm sure his knack for the pithy comment will be quite popular; he easily has my favorite quote of the year. When he had a 'racing incident' with Felipe Massa, he said: "
I know I screwed up the same way with Alex [Wurz] last year, and took full responsibility for it, and I would expect Felipe to do the same. If he doesn't, I'm going to kick three colours of shit out of the little bastard.
"
Even with his last race looming, The Chin will be going out with class. For this final race weekend, he'll be running a special paintjob to drum up attention for the organization "Wings For Life," which is a charity for research into spinal cord injuries.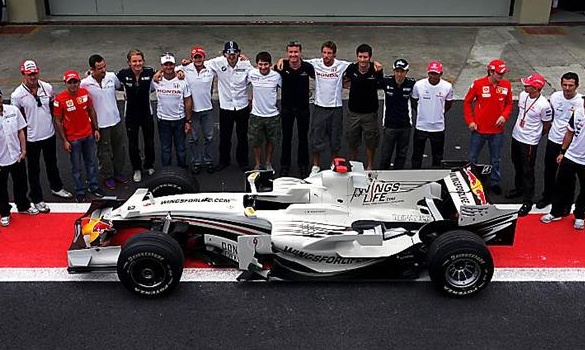 DC'sC (center), the rest of the F1 racers, and the RB4
Interestingly enough, The Chin has a
museum devoted to his racing history
in his hometown of Twynholm Village, Scotland.
We'll miss you, David Coulthard's Chin. A tip o' the cap from all of us here at F1 UPDATE!
Posted by: Wonderduck at 12:13 AM | Comments (3) | Add Comment
Post contains 406 words, total size 3 kb.
1
Do you remember how FIA was very upset with BAR for running cars in different liveries? Are they going to penalize Red Bull now? Not that they're known for consistency of decisions...
Posted by: Pete Zaitcev at October 31, 2008 06:41 AM (/ppBw)
2
Farewell...but best of luck in the "color" (all three colors of it) commentary phase of his career!
Posted by: Mallory at October 31, 2008 06:49 AM (3sife)
3
In general, Pete, it seems that liveries for charity's sake, or to celebrate a particular milestone in a driver's career, get a free pass.
If I remember correctly (and I may not), the main problem with BAR's alt-liveries was that they didn't run it past the FIA first.
Posted by: Wonderduck at October 31, 2008 09:56 AM (AW3EJ)
Comments are disabled. Post is locked.
24kb generated in CPU 0.0126, elapsed 0.6004 seconds.
47 queries taking 0.591 seconds, 279 records returned.
Powered by Minx 1.1.6c-pink.