February 15, 2013
The Moment Taki Inoue Became Famous
Taki Inoue was, to put it bluntly, not a good F1 driver. In 1995, he drove for the hysterically bad Footwork team (note: they had a podium that year... in the Australian Grand Prix; only eight cars finished that race, all but the winner at least two laps down. That's a podium that only just barely counts), but only because he had very very deep pockets behind him. While that was enough to earn him a seat, it didn't mean that he could do anything with it. He drove a F1 car like you or I would: badly. Very badly. In 17 races that year, he retired from 12 of them; his best finish was 8th at Monza, when only 10 cars finished.
In short, he was kinda embarrassing to the sport, but because he wasn't out-and-out
dangerous
to himself or others on the track, the FIA couldn't kick him out. That should have been all, a blip in the ether, Inoue in, Inoue out, g'bye. But two weird things happened to him. First, during the first Qualifying session at Monaco, he was sitting in his dead car being towed back to the pits, when the safety car ran into him. The Footwork was pushed into the barriers and flipped over. Inoue had a concussion and a chunk taken out of his helmet, but he still raced the next day: a gearbox failure ended his Monaco GP.
While that's curious, the moment that Taki Inoue became famous came at the Hungarian Grand Prix. On Lap 14, his engine when kablammo and the Japanese driver brought his car to the side of the track, where it sat, steaming and unhappy. The track marshals were less than enthusiastic in their efforts to help him; after gesturing furiously, he ran to the armco and grabbed a fire extinguisher himself. He turned around, took a couple of strides towards his car, and...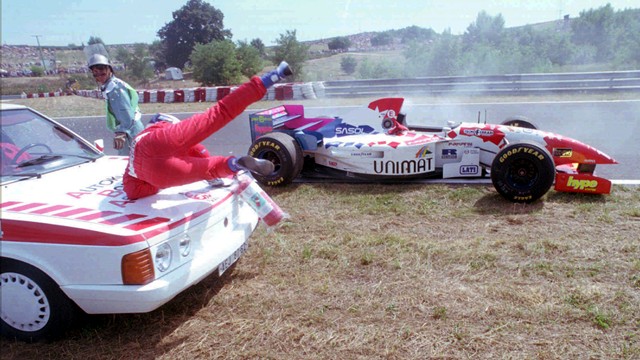 ...he was run over by the medical car. And thus, a legend was born.
Here's the video
.
Today, Inoue is considered something of the Clown Prince of F1, via
his twitter account
. He knows what he was, and has fully embraced it. Good show, Mr Inoue!
Posted by: Wonderduck at 09:45 PM | Comments (5) | Add Comment
Post contains 370 words, total size 2 kb.
1
He limped a few steps and then fell down. Was he badly hurt?
Posted by: Steven Den Beste at February 15, 2013 10:29 PM (+rSRq)
2
No, he was hurt quite well. *badum-tssssh!*
He had a broken left leg. It didn't slow him down, though... two weeks later, he finished 12th at Spa-Francopants.
Posted by: Wonderduck at February 15, 2013 11:11 PM (o6/9L)
3
It didn't slow him down, though...
Sounds like he didn't need any help slowing down...
Posted by: Steven Den Beste at February 16, 2013 12:27 AM (+rSRq)
4
So he raced at Monaco with a concussion, and he raced at Spa with a broken leg--both in the same season, no less. He may have mediocre racing skills, but he's also got guts.
Posted by: Peter the Not-so-Great at February 16, 2013 12:35 PM (ElBzz)
5
"Mediocre" may be too kind, but I don't think anybody would disagree with the latter comment. Maybe not that many
brains
, but guts, yes.
Posted by: Wonderduck at February 16, 2013 03:57 PM (o6/9L)
Comments are disabled. Post is locked.
25kb generated in CPU 0.0187, elapsed 0.1136 seconds.
47 queries taking 0.1048 seconds, 238 records returned.
Powered by Minx 1.1.6c-pink.