September 28, 2012
Silly Season Starts Slammingly (...and other news)
Even before the F1 summer break had begun, rumors began to percolate that Lewis Hamilton, 2008 world champion, was beginning to "consider his options," as his contract with McLaren expires at the end of the 2012 season. To be honest, I gave them no credit... why would he even consider leaving the team that almost literally raised him? Everybody knows the true story of how a 10-year old Hamilton walked up to McLaren team principal Ron Dennis and declared "I want to race for you one day...". Three years later, The Team From Woking signed him to their Young Drivers program. He's been with McLaren ever since, has won 20 Grands Prix, finished one point behind in the championship in his rookie year of 2007, and as previously mentioned won the 2008 championship.
But the rumors persisted. He was tabbed to be driving for Ferrari, McLaren, Mercedes, Lotus, even Force India's name popped up once or twice in the grapevine. The only major team he was never attached to was Red Bull; their lineup was set for 2013 a while ago. Those of us noticing these things realized that HWMNBN was being nice about having Hamilton as a teammate, and taking digs at McLaren in the process: "I improved when I left McLaren, no reason he wouldn't if he drove for Ferrari." Nobody believed Force India would legitimately be in play, and Lotus seemed disinterested, probably for financial reasons. Those of us who remember 2007 saw no way that Hamilton would seriously consider having HWMNBN as a teammate again, no matter how much the Spaniard tried to sweet-talk him... one must remember that Satan is a great deceiver. Which left McLaren and Mercedes as the only real contenders.
And that's where the real problems began to arise, because Mercedes had a tie to the Brit as well; McLaren has had Mercedes engines his entire career, and his Young Driver's program contract was not with McLaren, but with both McLaren AND Mercedes. Furthermore, with Slappy Schumacher's unretirement looking more and more like a mistake, the German team has been looking for someone to perhaps replace the 7-time world champ, and were willing to throw a LOT of money at the right person... and there was only one driver of such high cachet available. Even with that, nobody really believed that Hamilton would leave McLaren. In the past, he's proven himself to be much more interested in
winning
than in money. To be sure, he's certainly not allergic to earning a dollar, but one got the distinct feeling that he'd drive for free if it got him into a car that'd give him a serious chance to win.
Nobody seriously thinks that Mercedes is at the same level as McLaren... but in recent times, The Team From Woking has shot itself in the foot during races, hurting his chances to win... bad pit stops, reliability problems, terrible strategy decisions, all of these have cropped up of late. At the most recent race in Singapore, another technical fault cost Hamilton an almost-guaranteed win. However, it hasn't been all one-way; Hamilton had had fairly public temper tantrums, culminating with him tweeting out telemetry data showing the performance difference between his car and Jenson Button's at Spa. Which brought us to this week, when things really began to heat up. Last night, reports began to come in that he'd be announcing a move to Mercedes today. I chose not to post about it until it became official, because it's F1... stuff like that can change on whim. Well, today it occurred: Lewis Hamilton has signed a three-year contract said to be worth up to $100million with Mercedes AMG Petronas F1 team.
To say this has shaken loose the 2013 driver seat scramble would be something of an understatement. Slappy Schumacher is now without a drive, and his F1 career may very well be over. McLaren on Monday said that they "had no Plan B" if Hamilton left because they couldn't believe he'd leave. Well, it appears they developed a Plan B awfully fast, because today the team announced that current Sauber driver Sergio Perez will replace Hamilton in 2013. To say that choice is a surprise is something of an understatement. Not that he's a bad driver, far from it.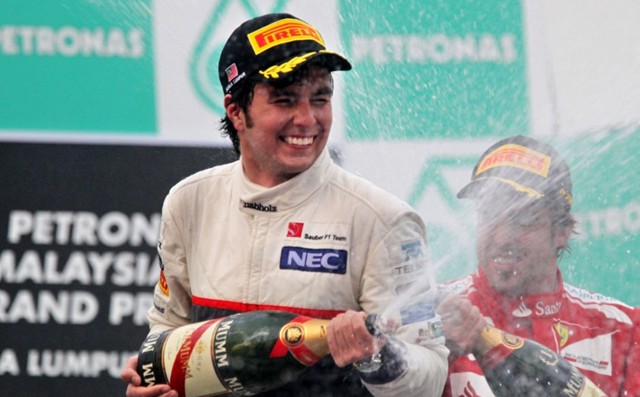 But "Checo" is a Mexican driver, sponsored by Telmex and had a contract with the Ferrari Driver Academy, their "young driver program." Of course, Ferrari and McLaren have an institutional hatred of each other, and Vodafone, McLaren's primary sponsor, competes directly with Telmex. It was definitely unlikely that he'd contract to McLaren, but there you are. With three podium finishes for midpacker Sauber this season in only his second year of F1, he's probably the best available option out there. The Swiss-based team has yet to announce his replacement for the 2013 year. The next name to pay attention to is Felipe Massa... the odds of him being let go from Ferrari might be 50-50 and pick 'em, but for one thing. Seb Vettel is rumored to have an out-clause in his contract with Red Bull that would allow him to leave in 2014... for Ferrari. HWMNBN is going nowhere, so it seems unlikely that the team from Maranello would sign anybody for only one season; look for Massa to be back in 2013, then out in 2014. Which is a shame; he'd be a nice fit back with Sauber where he started his career. Romantically, there's also a thought that Slappy Schumacher would sign a one-year deal with Ferrari, then retire again. While an intriguing idea, I don't think it's going to happen... putting that much evil all in one place seems impossible.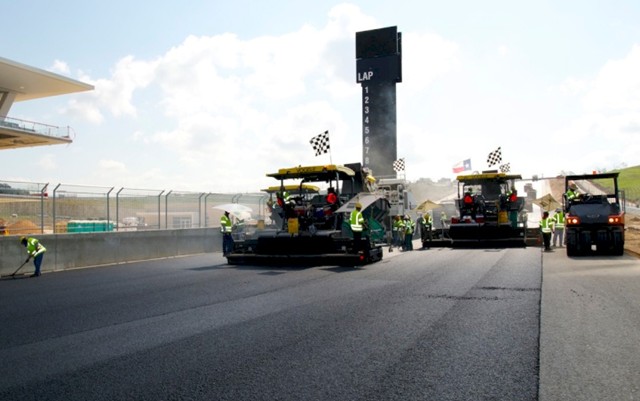 In other news, the Circuit of the Americas in Austin, Texas announced on September 21st that they had completed laying the asphalt for the circuit, and for all intents and purposes were ready for November's race. It took just over four months to pave the 3.4 mile circuit to FIA standards, with three layers having been put down. More importantly, a couple of days ago FIA Technical Supremo Charlie Whiting inspected the track and approved it for Grade 1 racing, the highest level possible. Certainly there's still stuff to do; landscaping, race curbing, striping and the like, but there won't be any last minute panic the way there was at Korea or India.
Finally, good news from the 2013 tech regulations. The frighteningly ugly stepped noses of this year's cars (which, I'll admit, have kinda grown on me) will be going away next year. Or, more correctly, they'll no longer be visible, which isn't quite the same thing. See, the stepped nose is still required to be present... it's a safety device, after all... but it'll be allowed to be masked by an aero-neutral cover. I guess Luca di Montezemelo's whining at the start of the season over how ugly the cars were actually accomplished something for once.
Posted by: Wonderduck at 07:37 PM | Comments (5) | Add Comment
Post contains 1164 words, total size 8 kb.
1
I was shocked by this, I expect the ripples to last a
long
time. Ross Brawn has got a good team but lets face it, Ferrari, Red Bull & McLaran are running a 1/2 step ahead & I don't expect that to change anytime soon. What I do expect is shakeups over the new turbo power-plants in '14. The whole rear-end package will lead to a lot of FUD from everyone. Good time to be a fan I think.
Posted by: vonKrag at September 28, 2012 10:39 PM (XIY2m)
2
I find myself in awe of the fact that any F1 team would pay that much money for a driver, no matter who the driver is. There's no doubt that Hamilton is one of the two or three best in the game, but $33 million per year? $3-5 million per year would be handsome. $33 million per year is insanity.
What it means is that these are not profit-making organizations. In the NFL or NBA or MLB, there are prizes and gate receipts and there's money from broadcasting, and the teams try to run themselves so that they spend less than they make. (Except the Yankees, damn them.)
And there are ticket sales in F1, and there's broadcasting, but there's no damned way that income from those things can possibly finance the level of expenditure we're talking about here. The sport overall must spend $2 billion per year among all the teams plus the F1 organization itself.
Team sponsorship is the only thing that can make this possible, and it's hard to see that companies like Petronas and Vodafone really get value for that money.
It must all be about bragging rights.
Posted by: Steven Den Beste at September 29, 2012 03:19 PM (+rSRq)
3
Colour me surprised, too; there must have been a ton of behind-the-scenes deal-making going on to make the Hamilton-Perez deal work out. OTOH, I'm glad things turned out like they did; Perez deserves a seat in a top-rank team, and Michael Schumacher deserves
to get punted ignominiously out of Formula One
a nice restful second retirement.
Hamilton had had fairly public temper tantrums, culminating with him

tweeting out telemetry data

showing the performance difference between his car and Jenson Button's at Spa.
I'd always thought there were vital technical secrets in that telemetry data; I guess that's not the case, given that McLaren didn't fire Hamilton two minutes after he hit "send" on that tweet. In any event, that act strikes me as remarkably foolish and selfish on Hamilton's part.
Posted by: Peter the Not-so-Great at September 29, 2012 03:26 PM (ElBzz)
4
Steven, his base salary is really about $15 million/year, but with performance bonuses it can more than double.
It's thought that Toyota was spending something less than $200million per season, and they undoubtedly had the largest budget... for zero wins in their existence. The dearly departed Minardi were thought to have a budget around $20-30million. Let's say the average team has a $100million budget, then, making it out to be $1.2 BILLION for the grid per season, more or less.
You used to be able to judge the FIA payouts by the number of points a teamed earned: roughly a $1million per constructor's point, down to 10th place. 11th and 12th get nothing. It was quite possible for a good team to earn $100million from the FIA.
All of that money comes from TV contracts and the race licensing fees that the promoters have to pay, and it's split roughly 50/50 between the teams and Bernie Ecclestone... and F1's rough profits PER YEAR are... $1.2 Billion, roughly.
The teams then get to keep their own merchandising sales, which for a team like Ferrari are ridiculously huge. Then there's the old adage: "Win on Sunday, Sell on Monday." That's a NASCAR saying, but it holds true for the F1 teams that make road cars, too, to a certain extent.
Lewis Hamilton, with the merchandising might of Mercedes behind him, could easily be worth his salary in baseball caps and t-shirts alone.
Posted by: Wonderduck at September 29, 2012 06:06 PM (DLZof)
5
Team sponsorship is the only thing that can make this possible, and it's hard to see that companies like Petronas and Vodafone really get value for that money.
Advertising. It's all advertising. Vodafone doesn't even exist here in the US, but we know them. Petronas is Malaysia's flag oil company, but damned if I don't know more about them than I do, say, Citgo.
However... nearly 600 MILLION PEOPLE worldwide watch each race, and they DO use Vodafone and Petronas and Red Bull and buy Mercedes and Ferraris and Renaults.
F1 is a moneymaker for everybody, make no mistake about it.
Posted by: Wonderduck at September 29, 2012 06:12 PM (DLZof)
Comments are disabled. Post is locked.
34kb generated in CPU 0.0147, elapsed 0.5545 seconds.
47 queries taking 0.5442 seconds, 238 records returned.
Powered by Minx 1.1.6c-pink.