October 13, 2011
Sights From A Korean Practice (2011) (UPDATED)
The last we saw of the Korean Grand Prix was that it was raining. Seems appropriate that our next vision of the Yeongam Circuit is... that it was still raining.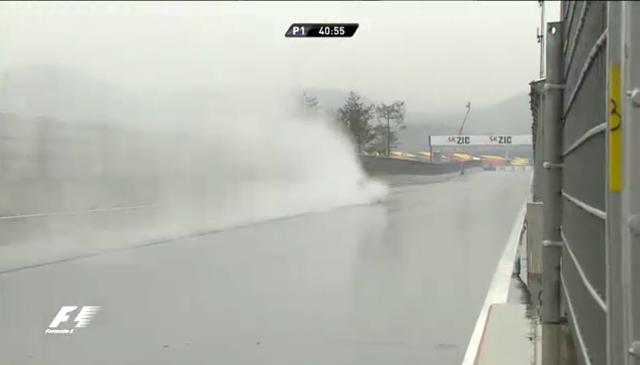 I'm going to have to assume that it
did
stop raining sometime in the past year. I think I would have heard something about 365 days of constant rain, no matter where it was. Be that as it may, what we got in first practice was lots and lots of rain, though not as much as the deluge that plagued the first ever Korean GP. Though it might have been because there wasn't as much water on the ground, the track seemed to handle it better too.
The same can't be said for the drivers.
While Cowboy's impressive ground loop was the most dramatic incident, seeing cars take to the run-off areas was a common sight, usually preceded by a moment of surprise squirrellyness and piscine twitching. The usual suspects looked good as they turned laps in the 2-minute range on the full wet tires, though even Driver's Champion Vettel had his share of moments.
However, for around 20 minutes it was raining so hard that nobody even thought about turning a wheel in anger on the soaked circuit... so the F1 cameras gave us "Rain Delay Theater," wandering around the grandstands and finding interesting vignettes.
Monsieur Jean-Eric Vergne is the Toro Rosso team's third driver for this race, and needs to learn Lesson #1 for all F1 Drivers: never
ever
look goofy while in the car.
There were dozens of other shots, mostly of Koreans staying dry or pointedly
not
staying dry, taking photos of other Koreans taking photos of other Koreans not staying dry, or even occasionally a F1 car in a garage. And then, from out of nowhere, came this:
...I'm not sure what to think of this.
I probably won't have a P2 report, though if something important happens I'll let you know. Unfortunately, The Pond is not a self-sustaining financial entity, so I have to be at work in the morning. There WILL be a Quals report as normal. See you then!
UPDATE
: The good news in P2 was that it wasn't as wet. The bad news was that it wasn't dry enough to run slicks. This means that the teams will be heading into "Saturday"'s Quals session with very little data on how the new Pirelli rubber behaves around Yeongam. A dry P3 is gonna be awfully important... fortunately for the teams, the rest of the weekend is supposed to be bright and sunny. The changing conditions caused one accident, between the Mercedes of Nico Rosberg and Toro Rosso's DJ Squire, and it pointed out the horribleness of Korea's pit lane. DJ Squire was coming out of the pits, which expels cars onto the track on the outside of Turn 1. Rosberg had just finished a hot lap and the wet tarmac robbed him of the traction needed to get whoa'd up in time. The result?
Rosberg's front wing wound up stuck under his front right tire, which must have made for an exciting lap, while DJ Squire's Toro Rosso got away with a couple of scuffmarks. As you remember, the pit-in is horribly placed as well, sited as it is on the inside of the final corner, a high-speed blind turn. SOMEthing bad is gonna happen here in the not-so-distant future, mark my words.
Posted by: Wonderduck at 09:23 PM | Comments (2) | Add Comment
Post contains 578 words, total size 4 kb.
1
You have ducks. Some other guy has a kangaroo tourist. The most senior member of A-Kon's security staff is a stuffed wombat (edging out his owner by a con or two...)
Maybe it's Mark Webber's.
Posted by: Avatar_exADV at October 13, 2011 09:39 PM (pWQz4)
2
*looks outside*
Y'know it's a good thing they planned this race -outside- of monsoon season...Korea's monsoon season this year was a doozy. (and I should know, I moved here (thanks to the good graces of the US Army) in the middle of it)
Posted by: Kevin at October 15, 2011 04:21 AM (gvX38)
Comments are disabled. Post is locked.
25kb generated in CPU 0.026, elapsed 0.3119 seconds.
47 queries taking 0.2935 seconds, 235 records returned.
Powered by Minx 1.1.6c-pink.