June 14, 2011
Seat Swap: Hamilton vs Stewart
Every now and again, something
particularly
cool will trickle out of the motorsport world. Some years ago, SPEED ran a TV show called "
Tradin' Paint
." The concept behind it was simple: take two racers from different series and put them in the other driver's car. In that one-hour event, they got what might have been the two most dissimilar drivers in the world, plunked 'em down on the Indianapolis Motor Speedway's International Circuit, and let 'em loose. The two drivers? From NASCAR, Jeff Gordon. And from Formula 1, Juan Pablo Montoya (aka "The Pope"). Neither driver did particularly well in the other car, it must be said: Gordon spun the 2002 Williams FW24, and Montoya never quite got the hang of the awful brakes on the Chevy; at one point, he flatspotted his tires so badly that the canvas backing was visible on the front-left corner. Still, both drivers loved the experience, Montoya so much that a few years later, he quit F1 and jumped to NASCAR.
Today, it happened again. The show was called "Seat Swap," and featured a pair of champions. From the world of NASCAR, 2002 and 2005 champion Tony Stewart. And from F1, 2008 World Driver's Champion Lewis Hamilton.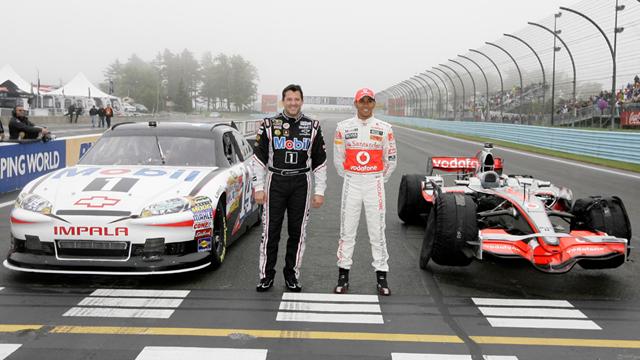 The venue was New York's
Watkins Glen International Raceway
, once home to the US Grand Prix, now a stop on NASCAR's calendar. Stewart has won five times at "The Glen", though never on the full circuit (NASCAR does not use "the Boot" during their race).
Hamilton, of course, has never driven at The Glen before... F1 stopped coming to the circuit five years before he was born. The machines couldn't have been any more different. Stewart brought the road-race version of his 2011 Chevy Impala, and McLaren brought the MP4-23. In case you're not up on your history, that's the 2008 chassis, the car with which Hamilton won his Championship. The weather was iffy, to put it mildly. As a result, the F1 car was using the full wet tires, and the NASCAR had rain tires, I assume from the Nationwide Series as the Sprint Cup won't race in the rain. You'd think this would mean that Hamilton would have something of an advantage, but you'd be incorrect. Stewart might be the best American racer of his generation. Along with his two NASCAR titles, he's also won a championship in the Indy Racing League, midget cars, sprint cars and USAC Silver Crown cars. In other words, he's got plenty of experience in open-wheel racing, and Indy cars are about as close to F1 cars as you'll find here in the US. By contrast, Hamilton had never raced with a roof over his head.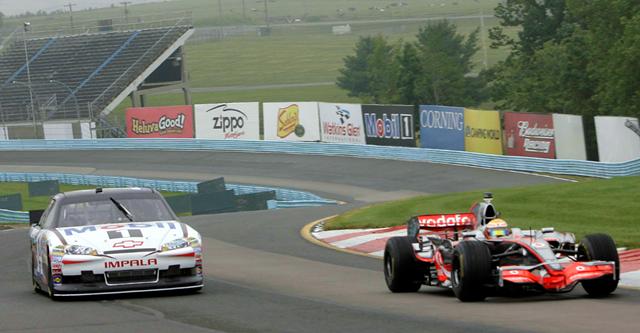 Fortunately for everybody, when the time came for the two to switch rides, the track had dried off substantially. I don't know if the two of them were kidding or what, but both drivers wanted to put on slick tires and go back out after their respective runs. As it was, Stewart probably did a better job in the MP4-23 than Hamilton did in the Impala, but Lewis seemed to have had more fun. Indeed, at one point during his laps, he was actually giggling into the radio as he proclaimed the stock car "
Wicked
!" On his last lap, Stewart's crew called him into the pit lane. Hamilton promptly said something to the effect of "Sorry, didn't hear you!" and turned another lap. He then finished up with a respectable couple of donuts and a cloud of smoke.
Stewart on the other hand either couldn't figure out where the radio button was on the McLaren's steering wheel or was waaaaaay too busy actually driving to talk. Either way, he was quite impressive behind the wheel of the F1 car, turning laps that would probably be competitive to other F1 drivers on this circuit... or, at least, not embarrassingly slow. HRT or Virgin-level speed, let's say... not bad for only five laps' worth of experience in a F1 car. Alas, no burnouts or donuts for Smoke. I for one really wanted to see him try it. An 18000 rpm burnout would be something to behold, particularly when the engine jumped out of the car and made a bid for freedom. Hamilton's mechanics probably threatened him with painful painful things if he gave it a shot.
Both drivers had huge grins on their faces, both said things like "...the most fun I've had other than driving in (insert race series here)." Stewart went one step farther, though... he invited Lewis Hamilton to partake in his annual charity race, The Prelude To The Dream. That's a late-model dirt track race run before the NASCAR season kicks off, and he said that if Lewis wants to do it, there'll be a brand new car waiting for him.
I wanna see
that
. Make it happen, Lewis, make it happen!!!
Posted by: Wonderduck at 09:24 PM | Comments (3) | Add Comment
Post contains 815 words, total size 6 kb.
1
That sounds pretty darned cool. But it must have happened quite a while ago; I can't believe that McClaren or Hamilton could sneak away like this in the middle of the season.
Posted by: Steven Den Beste at June 14, 2011 10:39 PM (+rSRq)
2
It occurred Tuesday afternoon, Steven. As far as McLaren sneaking away, they've got two weeks before the next race at Valencia. The race mechanics would be practicing their tire changes in the McLaren factory... now they were doing so in New York on a live car. And Hamilton can't drive the 2011 car until race weekend, of course, so why not?
Everybody involved probably just stayed here after Montreal; they were already in the area, after all.
Posted by: Wonderduck at June 15, 2011 06:58 AM (n0k6M)
3
What a great show! I loved it when Stewart said he wouldn't mind having Hamilton as a teammate. Since Tony owns his own team, he could make it happen!
Posted by: Mallory at June 15, 2011 01:20 PM (WJ2qy)
Comments are disabled. Post is locked.
27kb generated in CPU 0.0123, elapsed 0.0718 seconds.
47 queries taking 0.0627 seconds, 236 records returned.
Powered by Minx 1.1.6c-pink.