January 27, 2018
Long Drive For A Watch
I've completely neglected to mention this, but this weekend is the unofficial start of the US auto racing season! Let us take a trip to the high bank turns of Daytona for something very special...
...the 2018 IMSA 24 Hours of Daytona! In endurance racing, there's not many races that are more prestigious: LeMans, pretty much. It's not part of the FIA's World Endurance Championship series, but IMSA's Prototype class conforms to WEC's "LMP2" standards. LMP2 is the less powerful style of prototypes, and really the only competitive one. If I heard correctly, the team that wins the 24HoD gets an automagic invite to LeMans, though I'm not gonna put money on that.
The GTLM class of sports cars also matches the LeMans GT specs... and looks awfully sweet, too. That's the new Ford GT up there, and it's definite poster material.
While I have loved the 24HoD for a while now, this year is a little special because everybody's favorite Indy 500 driver is racing. Fernando Alonso is teaming up with McLaren's "reserve" driver, 18 year old Lando Norris, and the youngest driver ever to be classified at the 24 Hours of LeMans (in 2017), then-17 year old Philip Hanson. They'll be in the United Autosports Ligier JS P217... in fact, that's the car at the top of this post. While Norris optimistically said that the car could win "if everything goes right," this is a 24 hour race. "Everything"
never
goes right.
But Alonso and Norris aren't the only current or former F1 drivers in the field, not by a long shot. A quick glance at the team sheets shows Christian Fittipaldi, Felipe Not Massa Nasr, Juan Pablo (The Pope) Montoya, Paul di Resta, Bruno "The Other" Senna, Pleasant Stroll, Sea Bass, Gianmaria Bruni (one of my first favorite drivers as he drove for Minardi with Zsolt Baumgartner in 2004, the first year I watched the sport as an adult... adult-ish), and the legend himself: Markus Winkelhock, the only F1 driver to start both last and first in the same Grand Prix.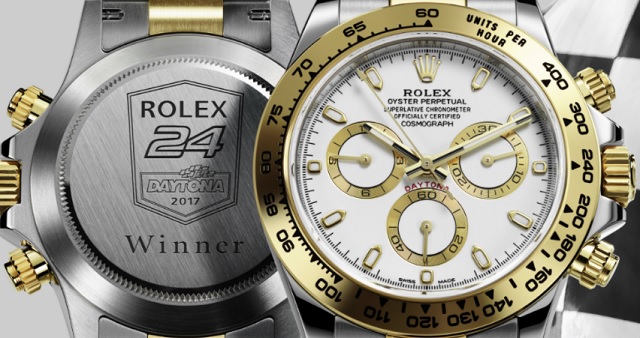 The winning teams in each division are presented with the most famous prize in all of motorsports, a special Rolex Daytona. The 2017 version is shown above, and considering that there's maybe 12 of them in the world? That's a helluva watch. Only the winning drivers (three per car in three classes) and the team owner gets one, I think... again, I could be wrong. Fairly exclusive, I'd say. I just found this out: did you know that a Daytona sold at auction for $17million and change? Paul Newman, himself a racing driver, was given one by his wife in 1972, and that's the one that was sold. Apparently it was a rather rare style of Daytona, with a combination of colors and markings that became known as a "Newman" Daytona. And, since he reportedly wore it every day from 1972 until 1984, when he got a new Daytona and gave his first one away, it had quite the provenance. None of that matters... winner gets a nice watch after a long drive. Worth every minute of it.
Coverage begins on FOX at 1pm Pond Central time, with the green flying a half-hour later. The race will then migrate to FS1, FS2, and
IMSAtv
before ending back on FOX on Sunday. Enjoy, won't you? I certainly will... particularly the night portions.
UPDATE: Alonso's car ended up 38th out of 50 entries, 90 laps behind the leader (who broke the all-time distance record with an hour to go). They were never going to win, but they were able to race in the LMP2 category very well... and then they began to have mechanical problems, the worst of which involved their brake system.
Posted by: Wonderduck at 02:52 AM | No Comments | Add Comment
Post contains 630 words, total size 4 kb.
27kb generated in CPU 0.0094, elapsed 0.0988 seconds.
47 queries taking 0.0921 seconds, 234 records returned.
Powered by Minx 1.1.6c-pink.