October 24, 2015
F1 Saturday: USGP 2015 P3 + Quals
P3 ran with a completely empty house, as COTA didn't actually open to spectators until 12noon local time. And by "ran", I mean "swam". It started out damp and raining, and after 20 minutes or so it was sodden and bucketing. By the 30 minute point, the teams had given up, parked their cars, and endeavored to keep everything dry. An impossible task, as the rain just kept coming down harder and harder. By the time the fans were let into the circuit, the weather was Biblical.
At best, the wind and rain was heavy. Every so often, the weather would get much much worse, then calm back down to "heavy". The start of the session was delayed a half-hour even before the Legendary Announce Team came on the air. Not very long after that, it was pushed back another half-hour, to a 2pm local time start.
And then came the weirdness. It started with a sighting in the Force India pits of this:
Yes, that's a paper boat. That was merely the beginning. In an attempt to give the hearty and brave fans that managed to get to the Circuit of the America's Cup any sort of show they could, the pit lane began to go insane.
Dancing Red Bull drivers, doing what was obviously a well-practiced
pas de deux
. The cheers from the crowd drove the pit lane to new heights.
Still faster than McLaren/Honda.
The Williams pit crew forms... well, the Williams rowing crew. The crowd enthusiastically rhythmically chanted "Row! Row! Row!" with every stroke.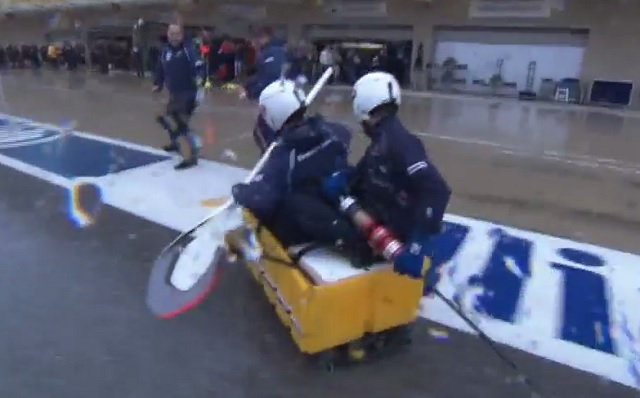 Sauber got into the act with their kayak impersonation, being towed at fairly high speed behind two runners. Not to be outdone...
... Force India broke out the bobsled. At least they've got helmets.
And the breakdancer. He even got a slow-motion replay on the world TV feed.
Quals soon got pushed back to 3pm. Then 330p, at which point NBCSN gave up, went to NASCAR quals at Taladega, and sent F1 to their website. Just a few moments ago, we got the news that if there isn't a break in the weather by 4p, everything is going to be scrubbed today and Quals will be rescheduled for 9am Sunday. Maybe. Force India has
just challenged the other teams to an origami contest
.
Best. Qualifying. Session. EVER.
Just as I was about to wrap this up, the word came down: Quals is cancelled, and rescheduled for 9am Sunday. The last time this occurred (Japan, 2006? 2007?) we didn't get video coverage here in the States, who knows what'll happen this time? If I find out anything, I'll let you know, and I'll certainly post Quals results when they become available. It'll still be wet, but there shouldn't be any arks about. Race in the afternoon.
UPDATE: Quals will be live on CNBC at 9am Sunday morning!
Posted by: Wonderduck at 03:11 PM | Comments (2) | Add Comment
Post contains 481 words, total size 4 kb.
1
I'm watching the quals on the F1 website "Live Commentary" and it's already amusing.
I wonder what they'll do if 6 or 8 cars don't get a qual lap in at all? The refs probably let them race anyway, but what order do they start?
Posted by: Steven Den Beste at October 25, 2015 08:12 AM (+rSRq)
Posted by: Wonderduck at October 25, 2015 08:37 AM (a12rG)
27kb generated in CPU 0.0177, elapsed 0.4938 seconds.
49 queries taking 0.4853 seconds, 237 records returned.
Powered by Minx 1.1.6c-pink.