September 13, 2008
F1 Quals: MONZA 2008!
It never rains at Monza. Never. Never ever. So what happened in the Quals session today?
It rained. A lot. Unfortunately, it was raining here in Duckford as well. A lot. Six inches worth overnight, some reports are saying.
As you can imagine, The Pond's satellite feed was pretty much borked, so I haven't even watched quals yet! While I'm trying to d/l it as I type this, it's going to take some time. So instead of waiting, here's the provisional grid:
1

Sebastian Vettel
STR-Ferrari
1:35.464
1:35.837
1:37.555
2
Heikki Kovalaineninnie

McLaren-Mercedes

1:35.214

1:35.843

1:37.631
3
Mark Webber
Red Bull-Renault
1:36.001
1:36.306
1:38.117
4
SeaBass
STR-Ferrari
1:35.543
1:36.175
1:38.445
5
Nico Rosberg
Williams-Toyota
1:35.485
1:35.898
1:38.767
6
Felipe Massa
Ferrari
1:35.536
1:36.676
1:38.894
7
Jarno Trulli
Toyota
1:35.906
1:36.008
1:39.152
8
HWMNBN
Renault
1:36.297
1:36.518
1:39.751
9
Timo Glock
Toyota
1:35.737
1:36.525
1:39.787
10
Grizzly Nick Heidfeld
BMW Sauber
1:35.709
1:36.626
1:39.906
11
Robert Kubica
BMW Sauber
1:35.553
1:36.697


12
Giancarlo Fisichella
Force India-Ferrari
1:36.280
1:36.698


13
David Coulthard's Chin

Red Bull-Renault
1:36.485
1:37.284


14
Kimi Räikkönen
Ferrari
1:35.965
1:37.522


15
Lewis Hamilton
McLaren-Mercedes
1:35.394
1:39.265


16
Rubens Barrichello
Honda
1:36.510




17
Nelson Piquet Jr

Renault
1:36.630




18
Kazuki Nakajima
Williams-Toyota
1:36.653




19
Jenson Button
Honda
1:37.006




20
Adrian Sutil
Force India-Ferrari
1:37.417
Yes, ladies and gentlemen, it's Bizarro Grid! Sebastian Vettel on the pole? Lewis Hamilton, Kimi Raikkonen AND Robert Kubica not making it out of Q2? Three Red Bull cars in the top four? Vettel becoming the youngest pole-sitter in F1 history? Inconcievable!
It becomes somewhat clearer when you realize that it's NOT expected to rain tomorrow, so the heavy hitters are probably set up for a dry track. The other teams, like STR, are probably gambling and dialed themselves in for wet weather, which helped them today, but could kill them tomorrow.
After I watch the quals, I'll throw in some more info here if warranted. But still...
TORO ROSSO???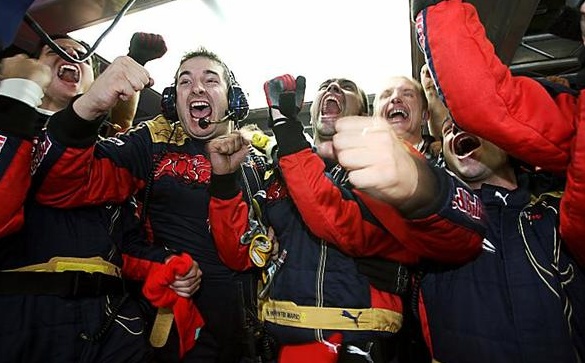 This is madness. MADNESS, I tell you. The mind boggles!
Posted by: Wonderduck at 04:51 PM | Comments (2) | Add Comment
Post contains 338 words, total size 9 kb.
1
...which helped them today, but could kill them tomorrow.
In any normal race they're dead anyway, so why the hell not? This way they get high starting positions, and maybe their drivers can hang on. What kind of passing track is Monza?
Posted by: Steven Den Beste at September 13, 2008 06:05 PM (+rSRq)
2
Iffy. That's the problem with high-speed circuits. There's two ways to pass someone: under braking, and through raw speed. Raw speed is out, since everybody is going 200mph. Unfortunately, there are so few turns at Monza, you don't get much of a chance to outbrake someone.
Don't get me wrong, passing is possible, surely, but it's no Suzuka or Spa.
As far as the wet setup goes, yes, they've got no shot at 1st, but they'd likely be in the points, which is the first step to go for podiums. If the track is dry on raceday, though, with their wet setup they've got a great shot for last place.
Every position counts in F1, whether it be for the championship (if Hamilton and Raikkonen tied on points last year, Hamilton would have won it on a tiebreaker: how many 7th place finishes did they have?) or just for cash (the FIA gives out money all the way down to 20th place, essentially). These payouts can be huge; remember Monaco, when Kimi rear-ended Adrian Sutil's Force India and cost him a potential podium and/or 4th place, and knocked him out of the race? That 3rd place finish might have been worth nearly $6 million in FIA prize funds, or roughly 1/10th of Force India's yearly budget.
Still, I agree with you: you've got a shot, why NOT take it? Isn't that what sports is about?
Posted by: Wonderduck at September 13, 2008 06:39 PM (UdB9M)
Comments are disabled. Post is locked.
31kb generated in CPU 0.013, elapsed 0.3138 seconds.
47 queries taking 0.3048 seconds, 235 records returned.
Powered by Minx 1.1.6c-pink.