October 31, 2015
F1 Quals: Mexico 2015
Ladies and gentlemen, we have one helluva circuit here in Mexico City. This is a
beast
, and a lot of that is due to altitude. Mexico City is over 7300 feet above sea level, meaning there's about 20% less air up there. Less air means less drag on a F1 car, as seen by the Williams of Felipe Massa tripping the speed trap's sensors at 226.2mph during Q1 today. Please note that the fastest a F1 car has gone during a race was 233mph at Monza, and that during the V10 era when engines were routinely putting out 1000hp. However, there is a drawback as well. 20% less air also means less downforce, meaning less grip. As a result, combined with a track that only completed having its asphalt laid a few weeks ago, cars are driving like they're on ice. F1ast and F1urious: Mexico Drift! We're seeing low-speed spins like the drivers have never touched a car before, high-speed spins that look like the cars have become frisbees, just less aerodynamic. Paradoxically, the teams are all running Monaco-style front and rear wings, gigantic barn door-sized things in an attempt to claw back some of the missing downforce. All this slipping and sliding is playing hob with the tires. We've seen some gigantic lockups and the resulting epic flatspots over the past few days. Oh, by the way, less air also means less cooling. Nico Rosberg had a brake fire in Practice on Friday because there wasn't enough air getting into the brake ducts. Kimi Raikkonen had what looked to be an engine fire during Practice 3 today, probably from overheating. Some of this will be mitigated by all the rubber being laid down over the weekend (F1 tires love nothing more than to grip onto F1 tire rubber... if they made a track surface out of F1 tire rubber, we'd see driver's heads being torn off by the G forces), but did I mention that it's supposed to rain Sunday afternoon?
With that daunting prospect in mind, let's take a look at the provisional grid for the 2015 Grand Prix of Mexico:
Pos.

Driver

Team

Q1

Q2

Q3

1

Nico

Rosberg

Mercedes

1:20.436

1:20.053

1:19.480

2

Lewis

Hamilton

Mercedes

1:20.808

1:19.829

1:19.668

3

Sebastian

Vettel

Ferrari

1:20.503

1:20.045

1:19.850

4

Kid

Kvyat

Red Bull Racing

1:20.826

1:20.490

1:20.398

5

Daniel

Ricciardo

Red Bull Racing

1:21.166

1:20.783

1:20.399

6

Valtteri

Bottas

Williams

1:20.817

1:20.458

1:20.448

7

Felipe Not Nasr

Massa

Williams

1:21.379

1:20.642

1:20.567

8

Embryo

Verstappen

Toro Rosso

1:20.995

1:20.894

1:20.710

9

Casachico

Perez

Force India

1:20.966

1:20.669

1:20.716

10

Nico

Hulkenberg

Force India

1:21.315

1:20.935

1:20.788

11

Carlos

Sainz

Toro Rosso

1:20.960

1:20.942




12

Lettuce

Grosjean

Lotus

1:21.577

1:21.038




13

Pastor

Maldonado

Lotus

1:21.520

1:21.261




14

Sony

Ericsson

Sauber

1:21.299

1:21.544




15

Kimi

Räikkönen

Ferrari

1:21.422

1:22.494




16

HWIOAKAFernando

Alonso

McLaren

1:21.779






17

Felipe

Not Massa Nasr

Sauber

1:21.788






18

American

Rossi

Marussia

1:24.136






19

Will

Stevens

Marussia

1:24.386





Note: Jenson Button suffered a technical fault before Quals and did not appear in qualifying. He therefore races at the whims of the stewards.
Nothing too out of the ordinary, save for Raikkonen being 15th; on top of his engine fire earlier, in Q2 he had brake problems. This is the fourth pole in a row for Rosberg, fat lot of good it's done him. It was quite the fight between the two Merc drivers... Hamilton would throw down a time, Rosberg would better it, Hamilton would improve it, then Rosberg would go even faster. Pretty fun stuff. Throw in the upcoming rain, and Sunday's race is looking pretty darn great.
In other news from the weekend, American team HaasF1 named their second driver on Friday. Partnering Lettuce Grosjean will be current Ferrari test driver (and former Sauber race driver racer) Esteban! Not a bad choice, though hardly an inspired one, and probably "forced" upon them as part of the team's engine/technical deal with the team from Maranello. Fair trade, I think.
Also, if you're a fan of Force India, enjoy these last three races as much as you can because in 2016 they're going to have a different name. Vijay Mallya has reached a partnership that will see the team rebranded as Aston Martin, the legendary British car maker. It's a pity... while I haven't rooted for a team since Minardi and SuperAguri left the grid, Force India came the closest. And while I'd kill to see a F1 car in this livery: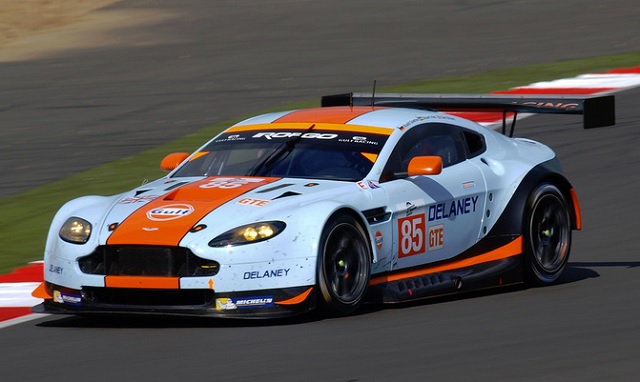 ...it's not going to happen. A pity, as the Gulf Orange and Powder Blue scheme is, to me at least, the "
Warbonnet
" of auto racing. On the other hand, having a title sponsor like Aston Martin might provide them the funding to take that step from midpack to racewinner. Only time will tell, but it won't happen as Force India, mores the pity.
Remember, the race is on NBC at a decent time for the US... here's your chance to see a "debut" track in front of a flat-out ridiculously enthusiastic Mexican crowd. The noise when they see Mexico City's very own Sergio Perez needs to be heard to be believed. F1U! will be along sometime afterwards... see ya then!
Posted by: Wonderduck at 03:47 PM | Comments (9) | Add Comment
Post contains 869 words, total size 27 kb.
53kb generated in CPU 0.0142, elapsed 0.16 seconds.
49 queries taking 0.1498 seconds, 244 records returned.
Powered by Minx 1.1.6c-pink.