March 28, 2015
F1 Quals: Malaysia 2015
Allegedly they've heard of sunlight at Sepang. If you just went by today, however, there's no way that's actually possible, as the session began with low, heavy clouds. If I saw clouds like that here at Pond Central on a Summer day, I'd be heading for the laundry room as fast as I could go. But did it actually rain? Here's the provisional grid for the 2015 Grand Prix of Malaysia:
P

Driver

Team

Q1

Q2

Q3

1

Lewis Hamilton
Mercedes

1:39.269

1:41.517

1:49.834

2

Sebastian Vettel
Ferrari

1:39.814

1:39.632

1:49.908

3

Nico Rosberg
Mercedes

1:39.374

1:39.377

1:50.299

4

Daniel Ricciardo
Red Bull Racing

1:40.504

1:41.085

1:51.541

5

Daniil Kvyat
Red Bull Racing

1:40.546

1:41.665

1:51.951

6

Max Verstappen
Toro Rosso

1:40.793

1:41.430

1:51.981

7

Felipe Massa
Williams

1:40.543

1:41.230

1:52.473

8

Romain Grosjean
Lotus

1:40.303

1:41.209

1:52.981

9

Valtteri Bottas
Williams

1:40.249

1:40.650

1:53.179

10

Marcus Ericsson
Sauber

1:40.340

1:41.748

1:53.261

11

Kimi Raikkonen
Ferrari

1:40.415

1:42.173

12

Pastor Maldonado
Lotus

1:40.361

1:42.198

13

Nico Hulkenberg
Force India

1:40.830

1:43.023

14

Sergio Perez
Force India

1:41.036

1:43.469

15

Carlos Sainz
Toro Rosso

1:39.814

1:43.701

16

Felipe Nasr
Sauber

1:41.308

17

Jenson Button
McLaren

1:41.636

18

Fernando Alonso
McLaren

1:41.746

19

Roberto Merhi
Manor

1:46.677

DNQ

Will Stevens

Manor


No Time



First things first: the 107% time was 1:46:217. Neither Manor driver brought his vehicle in under that time, so they race at the Steward's permission... which was granted, as both drivers managed to display enough pace during practice to claim they manage it. Assuming Manor can find and fix the gremlin that infected Will Stevens' car between Practice 3 and Quals, we should have a full grid on Sunday!
And what an interesting grid it is, too. Of course it rained in Malaysia; it always does. The teams had enough time for one or two flying laps before the heavens opened up and dumped a substantial portion of the Malacca Strait onto Sepang International Circuit. Lewis Hamilton was nearly caught by this, as he had problems getting his Mercedes started. Because most only got one shot, one bad twitch could cost you the session, as Kimi Raikkonen learned. After the dry laps were in the books, there was no point in going out again.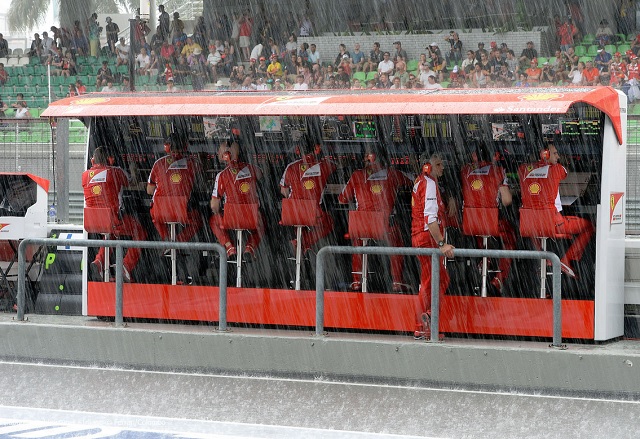 Q3 was delayed nearly 40 minutes as the Powers That Be waited for the water to stop bucketing down. This it duly did, but the track was still sodden enough for Intermediate tires (and some thought Full Wets) to be required for the entire session. In the process, we may have discovered that, at least in the wet, Ferrari can hang with the Mercs. In the dry, the Silver Arrows still have the clear advantage, though it seems to have been cut somewhat.
We'll see what the race will bring us early Sunday Morning. No idea when I'll manage the writeup, as I've a couple of other things that need to be dealt with on Sunday.
Posted by: Wonderduck at 10:26 AM | Comments (5) | Add Comment
Post contains 495 words, total size 9 kb.
Posted by: Mauser at March 28, 2015 07:31 PM (TJ7ih)
Posted by: Steven Den Beste at March 28, 2015 07:35 PM (+rSRq)
Posted by: Vaucanson's Duck at March 28, 2015 09:06 PM (G6R3M)
Posted by: Steven Den Beste at March 28, 2015 10:41 PM (+rSRq)
Posted by: Wonderduck at March 28, 2015 10:52 PM (jGQR+)
34kb generated in CPU 0.0124, elapsed 0.0714 seconds.
49 queries taking 0.0623 seconds, 240 records returned.
Powered by Minx 1.1.6c-pink.