July 19, 2008
F1 Quals: Germany 2008!
Something weird happened in Q3 today: Kimi Raikkonen gave up on a qual lap after grabbing P2. 2nd sounds pretty good, no? The problem was, there were still a bunch of other cars on track in the middle of hot laps. The result? Well, let's look at the provisional grid:
1

Lewis Hamilton
McLaren-Mercedes

1:15.218

1:14.603

1:15.666
2
Felipe Massa
Ferrari
1:14.921
1:14.747
1:15.859
3
Heikki Kovalainen

McLaren-Mercedes
1:15.476
1:14.855
1:16.143
4
Jarno Trulli
Toyota
1:15.560
1:15.122
1:16.191
5
HWMNBN
Renault
1:15.917
1:14.943
1:16.385
6
Kimi Räikkönen
Ferrari
1:15.201
1:14.949
1:16.389
7
Robert Kubica
BMW Sauber
1:15.985
1:15.109
1:16.521
8
Mark Webber
Red Bull-Renault
1:15.900
1:15.481
1:17.014
9
Sebastian Vettel
STR-Ferrari
1:15.532
1:15.420
1:17.244
10
David Coulthard's Chin

Red Bull-Renault
1:15.975
1:15.338
1:17.503
11
Timo Glock
Toyota
1:15.560
1:15.508


12
Grizzly Nick Heidfeld
BMW Sauber
1:15.596
1:15.581


13
Nico Rosberg
Williams-Toyota
1:15.863
1:15.633


14
Jenson Button
Honda
1:15.993
1:15.701


15
SeaBass
STR-Ferrari
1:15.927
1:15.858


16
Kazoo Nakajima
Williams-Toyota
1:16.083




17
Nelsinho Piquet
Renault
1:16.189




18
Rubens Barrichello
Honda
1:16.246




19
Adrian Sutil
Force India-Ferrari
1:16.657




20
Giancarlo Fisichella
Force India-Ferrari
1:16.963
Yep, that's right. From the 1st row to 3rd in just a few seconds. Reports indicate that Ferrari just can't get the car dialed in when there's more than a little bit of fuel in it. That's just not good, and it's going to be a loooooong night for the boys from Maranello.
In other surprises, Jarno Trulli jumped from P10 to P4 on his last run, seemingly from out of nowhere. He didn't show ANY signs of that happening this session, so one must wonder just how much fuel he's got in the Toyota. The other big surprise is Sebastian Vettel's Toro Rosso making it into Q3. Very unexpected, though he's been quick all weekend. He's making Red Bull's decision to give him David Coulthard's Chin's seat in the Big Team next year look good.
Kubica was 14th at the end of Q1; both BMW-Saubers are having problems recently, and there's no obvious reason why. Well, we'll see what happens.
The weather forecast is still a coinflip for race day. About the only thing the forecasters are sure of is that it won't snow. They think.
Interestingly, McLaren is running asymmetric radiator side vents this race. I'll try to get a screenshot of it tomorrow. See ya after the race!
UPDATE
: The good folks at
F1technical.net
made a nice composite pic of the vents: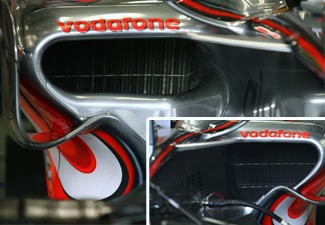 In case you're wondering, it's to cut down on drag. Normally, they wouldn't be able to get away with this, because the engine needs to be cooled and the air getting into the vents are the only cooling they can get. Cutting down on the size of the vents means the engine is going to be running warm, except for one thing: it's been a cool weekend at Hockenheim. Apparently, they first ran the this during Silverstone testing; again, a cool weather track. No way they could try this at, say, Bahrain.

Posted by: Wonderduck at 05:38 PM | Comments (2) | Add Comment
Post contains 502 words, total size 11 kb.
1
Good to see that my favorite Pole is still a threat.
Posted by: Steven Den Beste at July 19, 2008 06:23 PM (+rSRq)
2
I love a good surprise. (Don't count snow out yet - lol.)
Posted by: Mallory at July 20, 2008 05:57 AM (WJ2qy)
Comments are disabled. Post is locked.
32kb generated in CPU 0.012, elapsed 0.1145 seconds.
47 queries taking 0.1059 seconds, 235 records returned.
Powered by Minx 1.1.6c-pink.