November 13, 2010
F1 Quals: Abu Dhabi 2010
So here we are at the final Quals session of the 2010 F1 season, and undoubtedly the the most important of the year. Four men, all needing the pole to give them the best possible shot at winning the Driver's Championship, but only one can do it. Can McLaren's Lewis Hamilton, needing a win and a miracle, claim the pole that he needs so desperately? Could Red Bull's Seb Vettel join the six others who have claimed 10 poles in a season... all of whom went on to win the Driver's Championship? Would it be Mark Webber, the Red Bull driver who led the Championship until a horrible mistake at Korea snatched it from him? Or did Ferrari's HWMNBN, the points leader in the Championship, stamp his authority over Sunday's race early? Let's take a look at the provisional grid for Sunday's 2010 Grand Prix of Abu Dhabi:
All of the men in the first three slots have reason to be happy. Vettel, obviously because he's on pole. Hamilton because he now has a legit shot at winning the race, and HWMNBN because he didn't need much more than to be ahead of at least one Red Bull to have an excellent chance to win his third Driver's Championship. Only Mark Webber, stranded down in fifth, should be feeling the grim hand of death on his championship hopes.
But there's reason for concern amongst those three as well. Vettel because the McLarens clearly are for real around this fast track, and he's got one of them right next door. Hamilton because he needs to win and with Vettel ahead of him, he's got to beat perhaps the best car/driver combination in motorsports right now. HWMNBN's problems stem from knowing that he needs to finish second to make the whole matter moot, but he's surrounded by cars that can eat his lunch. Conversely, Webber can take heart from... um... hang on... er... there must be a reason here somewhere.
Of course, the race is 55 laps long and anything could happen in that time. As one would expect however, Webber isn't conceding anything: "
The championship hasn't been decided today but it would have been nice to be further up. You could be more confident but at the end of the day we're still in the hunt, that's the main thing
."
And nobody really knows what Vettel will do if he's leading late in the race with his teammate right behind him and HWMNBN in third. In that circumstance, nothing the young German could do would win him the championship... but if Webber got past for the win,
he'd
win it. In any other team in the pit lane, there'd be no question what would happen: the team would tell Vettel to let the Australian by. Red Bull on the other hand is leaving it in the hands of their drivers... and there's surely some unhappiness between them.
It's surely shaping up to be a tension-packed race on Sunday, and of course the F1U! crew will be all over it... just as soon as they wake up. See you then and there!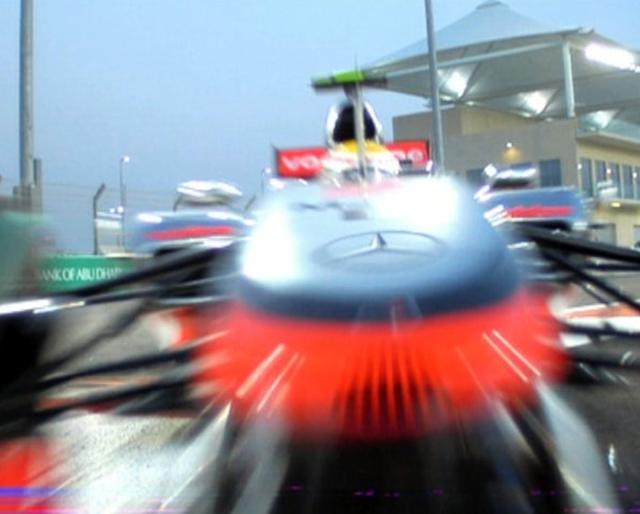 Lewis Hamilton, about to kill a very short cameraman in Q3
Posted by: Wonderduck at 11:04 AM | Comments (7) | Add Comment
Post contains 694 words, total size 15 kb.
Posted by: Steven Den Beste at November 13, 2010 11:18 AM (+rSRq)
Posted by: Wonderduck at November 13, 2010 12:04 PM (vW/MM)
Posted by: Mallory at November 13, 2010 03:50 PM (WJ2qy)
Posted by: David at November 13, 2010 09:44 PM (xcVNq)
Posted by: Wonderduck at November 13, 2010 10:33 PM (vW/MM)
Posted by: Steven Den Beste at November 14, 2010 01:46 AM (+rSRq)
Posted by: Wonderduck at November 14, 2010 02:47 AM (vW/MM)
Comments are disabled. Post is locked.
39kb generated in CPU 0.0132, elapsed 0.0954 seconds.
47 queries taking 0.0855 seconds, 240 records returned.
Powered by Minx 1.1.6c-pink.