May 08, 2015
F1 Practice: Spain 2015
I totally forgot to watch. Completely spaced on today being Friday. However! I did say that I'd get back to you about if the new livery helped the McLaren go faster or not.
A McLaren, blood dripping from its wings, continues hunting for fresh prey.
Jenson Button ended up 7th at the end of P2. His teammate, HWPMBNSTITF, was solidly in 11th. So I think we can safely say yes, at least for today the Dark Charcoal and Red livery gave the McLaren chassis a speed boost. Never mind any other gewgaws and doohickies they may have added to the bodywork, it was all down to the livery. For what it's worth, Button is still over 1.5 seconds behind times set by the Mercedes of Lewis Hamilton. In other news, Lotus has installed a particularly aggressive batch of upgrades to the E23 chassis for this race.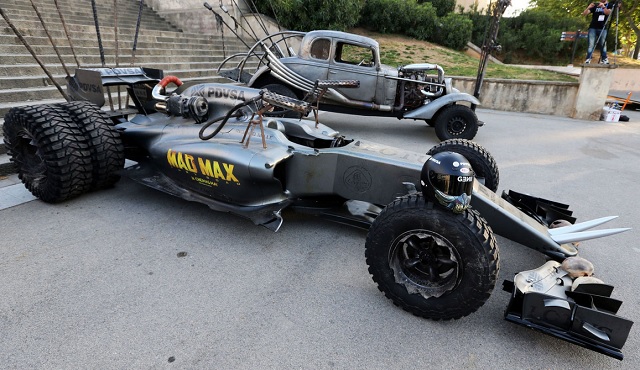 All joking aside, and please note they put the tires on backwards, Lotus had a spot of bother out on the circuit today. Lettuce Grosjean was turning a lap at speed when
the entire engine cover tore off like it was never attached
. Normally I would think that this would do terrible things to a car's pace, but this
is
Lotus we're talking about here. Ahem. Here's what it looked like when Lettuce made it back to the pits: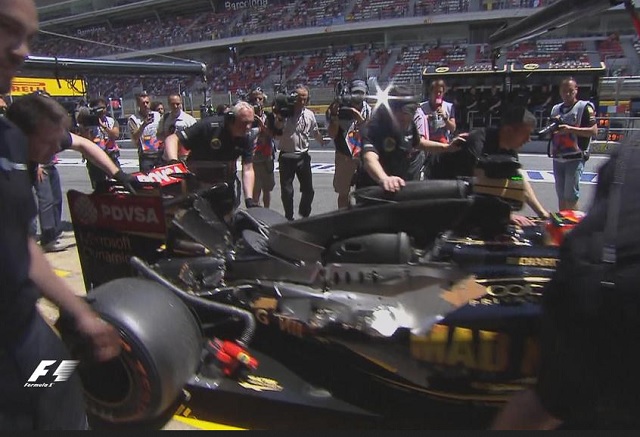 Quals in the morning. The quals report probably won't be up until the afternoon, though.
Posted by: Wonderduck at 10:02 PM | No Comments | Add Comment
Post contains 244 words, total size 2 kb.
25kb generated in CPU 0.017, elapsed 0.0733 seconds.
47 queries taking 0.0642 seconds, 234 records returned.
Powered by Minx 1.1.6c-pink.