September 23, 2011
F1 Practice: Singapore 2011
The
day
night
dawned
fell clear and dry as the F1 Circus prepared to take to Singapore's Marina Bay Circuit for Friday's 1st Practice session... and then the teams waited. And waited. And waited some more. What was going on?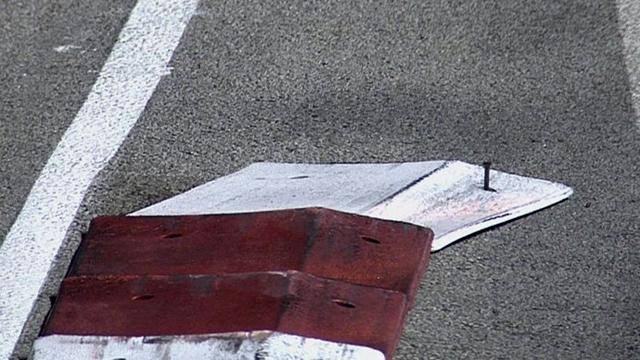 The curbs installed around the track were coming up! Before the practice began, a support series session brought the problem to light. As a result, Practice 1 was delayed a half-hour as the marshals attempted to rectify the situation, then gave up and completely pulled the curbing off the track at four different turns. Then the F1 guys took to the streets of Singapore... and it happened again. Felipe Massa straddled a curb and... well, the above picture was the result. Out came the marshals, off came that curb as well. This is just a weird situation. It's the fourth time the Singapore GP has been run, and there's never been a problem like this before. Oh sure, the drivers complained about the height of the curbs after the first race (with Massa describing them as "little tortoises that would wreck the car"), but having them come up? Never before. What's going to happen overnight is that the marshals will remove the curbing at Turns 3 and 7 altogether, paint a white line where they were and the drivers will be told that crossing the line will be seriously frowned upon. At Turn 14, the entry curb is to be removed entirely. Finally, at Turns 10 and 13, they intend to repair the problem and make sure it doesn't happen again. Whatever it was; nobody has said what caused it in the first place. I'm sure the drivers are all super-confident now.
There were no repeats in P2, though the curbing did manage to catch out Gandalf Kobayashi.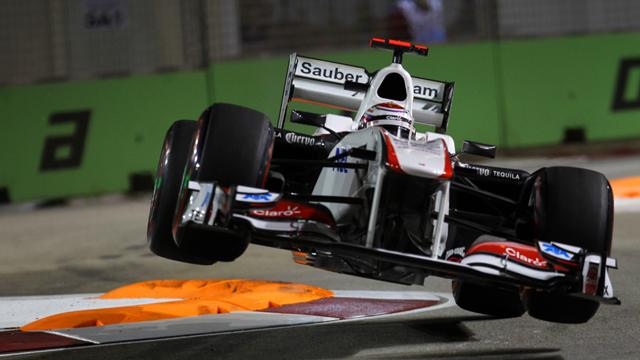 One does tend to lose grip when the tires aren't on the track surface. Amazingly, this little maneuver did not end in a pile of carbon fiber and tears. Somehow. It did point out how little margin for error there is around this circuit, however. There are no runoff areas around this place, and precious few escape roads at the end of the fastest portions of the track. You make a mistake at, say, Turkey, you have miles of asphalt to go before you hit anything. Here, you make a mistake and there's a wall right
there
, all set to eat you... which happened a couple of times today.
Surprise surprise, Seb Vettel was fastest in P2, go figure. He was two-tenths of a second faster than the King of Singapore, HWMNBN (two wins and a third place in the three races here). Lewis Hamilton was third, with Massa fourth. Mark Webber was 5th, .891 seconds behind Vettel. Everybody else was at least two seconds slower. Now of course this is practice, which means you can't really pay any attention to the times, but yeesh.
Quals start at 9am Pond Central time on Saturday... we'll see you here right afterward, okay?
Posted by: Wonderduck at 08:49 PM | Comments (1) | Add Comment
Post contains 503 words, total size 3 kb.
1
Street circuits have a charm all their own.
Posted by: Steven Den Beste at September 23, 2011 11:57 PM (+rSRq)
Comments are disabled. Post is locked.
24kb generated in CPU 0.0121, elapsed 0.0692 seconds.
47 queries taking 0.0609 seconds, 234 records returned.
Powered by Minx 1.1.6c-pink.