September 26, 2008
F1 Practice: Singapore 2008!
Wow. Just... wow. I have no idea how the race will go on Sunday, I have no idea how the track will be for actual
racing
, but I do have one idea...
If nothing else, this race is going to be
amazing
visually. Under the track lighting, these cars just glow; to whit: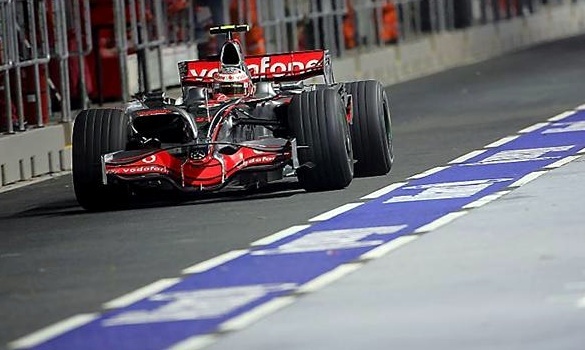 There's a

reason

I call it The Glare With Wheels, y'know...
The lighting gives us great views of other things, too: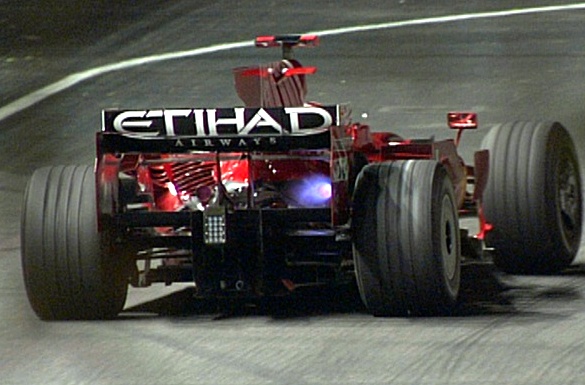 Ferrari tests their new jet engine technology.
The circuit itself looks like a winner, too, challenging and hard, but fair, with a lot of unique bits to give it some flavor (unlike, oh, say, Valencia). I suspect there's going to be a problem with the pit-out, however. It releases right into the driving line for Turn 1, and even in P2 today, we saw the Toro Rosso of SeaBass squeeze himself as close to the inside wall as possible because Grizzly Nick Heidfeld was coming down hard on him... and despite SeaBass' giving him as much room as he could, Heidfeld
still
blew the turn. It's not a stretch to imagine there being a nasty crash at that point during the race.
But the above pictures just don't do the look of the cars under the lights justice. When the McLaren first came on track, I gave one of those low whistles of amazement... it was just that stunning.
It didn't rain, which is surprising as it always rains in Singapore, but we did get an idea about what'll happen if it does: plank dust. As the cars ran over rough spots on the track, they wore away bits of the FIA legality plank, throwing what was essentially sawdust into the air... where it hung around. It was quite thick in the air at some points, and didn't much want to disperse. It was almost like a thick fog, which could play hob with the drivers if it really DOES rain.
Still, this is at least a promising beginning for the Grand Prix of Singapore.
Finally, who says the F1 teams can't have a little bit of fun once in a while?
See you after Quals on Saturday!
Posted by: Wonderduck at 09:14 PM | Comments (3) | Add Comment
Post contains 366 words, total size 3 kb.
1
Wouldn't the rain tend to settle the dust?
If a lot of people are grounding out like that, and wearing away the "legality plank", I wonder if there will be any DQ's because of it? After all, that's what it's for, isn't it?
Posted by: Steven Den Beste at September 27, 2008 12:05 AM (+rSRq)
2
The rain will, indeed, settle the dust... but then you have rain. Imagine, if you will, being in a heavy rain, at night, on a highway... and then you turn on your highbeams.
Right, now do it at 200mph. Visibility will go from "ugh" to "AIEEEEE!" in a heartbeat.
The legality plank is there to prevent teams from setting their car too low (in response to the Senna crash, and perhaps to prevent ground-effect cars from sneaking back in), yes. I can only remember one time in the past 10-15 years that someone's been DQ'd for wearing the plank down past the maximum allowable 1mm. In 1994, Michael "Planky" Schumacher was DQ'd and hit with a 2-race ban for having worn 2.6mm off his at Spa.
Benneton, the team he was with at the time (which eventually became Renault), had been caught cheating repeatedly that season, interestingly enough.
Posted by: Wonderduck at September 27, 2008 12:24 AM (AW3EJ)
3
Thanks to some well-timed insomnia last night, I got to see one of the repeated practice sessions.
I am also stuck on WOW! The color of the Ferrari under the lights was breathtaking. (It would also make a good shade of nailpolish.)
Can't wait for the actual race!
Posted by: Mallory at September 27, 2008 07:45 AM (WJ2qy)
Comments are disabled. Post is locked.
25kb generated in CPU 0.0143, elapsed 0.0919 seconds.
47 queries taking 0.0817 seconds, 236 records returned.
Powered by Minx 1.1.6c-pink.