March 22, 2013
F1 Practice: Malaysia 2013
Hello, howdy and welcome to Malaysia's Sepang International Race Circuit, where it is currently hot, humid, about to rain, and...
OMGWTFBBQ!!! IT'S
THE VARSHA
!!! HE'S BACK!!!!1!11!!! Okay, he's filling in for Leigh Diffey, who's calling the IndyCar season opener this weekend, but THE VARSHA IS BACK! SQUEEEEEEEEEEEEE!!! We've got the entire Legendary Announce Team together again for the first time!
Everybody's terribly concerned about the tire situation for the race. Pirelli has brought the hard and medium compounds to the track, and from all reports the hards aren't lasting more than a handful of laps on the hot, hot asphalt. They rubber is just blistering and boiling off. One would assume that means the mediums will explode into flame the moment they hit the first turn, but as it turns out, they didn't wear quite as badly as the hards. No, I can't explain it either.
Esteban Gutierrez had a little problem with his Sauber: the fire extinguisher built into the car went off. While he was driving it.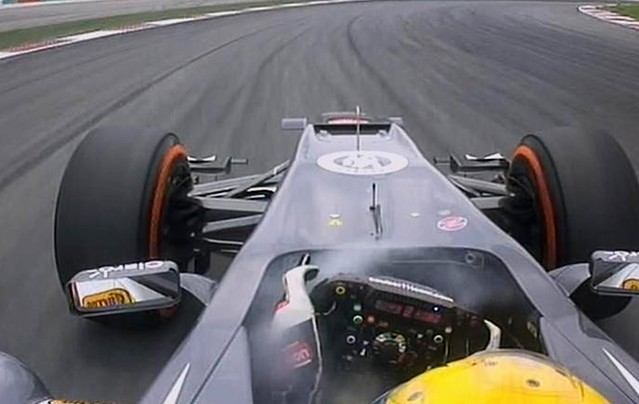 I can imagine this would be... disconcerting. And, considering that the temperature and humidity were both in the 90s, perhaps refreshing as well.
And then it rained, and everybody stopped driving. Mark Webber actually said that the slicks worked better on the wet track than they did in the dry. That's Australian humor, I suppose.
I've half-arsed this post. Sorry about that. Quals in the morning.
Posted by: Wonderduck at 08:32 PM | No Comments | Add Comment
Post contains 239 words, total size 2 kb.
Comments are disabled. Post is locked.
22kb generated in CPU 0.0243, elapsed 1.3587 seconds.
45 queries taking 1.3517 seconds, 232 records returned.
Powered by Minx 1.1.6c-pink.