October 27, 2011
F1 Practice: India P1 Liveblog
(PRE-SESSION) Hello,
namaste
and welcome to the second ever F1-related liveblog here at The Pond. Tonight is our first real glimpse of the new Buddh International Circuit in India. As with last year's liveblog of the debut of Korea's track, I'll be using time remaining in the session as a reference... if you see 1:15:07, that means there's one hour, fifteen minutes and seven seconds left in P1, not that it's 1:15am.
My broadband connection seems to be running quick tonight, but if last year's liveblog of Korea is any judge, I have the speed to stream video or update the blog... but not
both
at any given time. I'll probably be doing two or three entries at a time, just to keep myself from going insane. Any pictures will be screencaps from the SPEED streaming feed, which you
can find right here
.
Reports are that the track is very dusty. Well, yeah, that figures... it's still a construction site. Some people on-site are saying that not every bathroom has running water, electricity is being provided by generators when it's provided at all, and on and on. That's as may be, but the asphalt is down, the curbing is installed, and we're going to see a new track! I fully expect to see the two Indian drivers, Cowboy Karun Chandhok, who's only driving for Lotus in P1, and Narain Kittylitter, who's taking Vitantonio Liuzzi's seat at HRT for this race, out first... both to play streetsweeper and to say "hey, the first official cars on track were piloted by Indians!" We'll find out soon enough.
1:30:00 - And... the stream isn't working? What the heck?
?:??:?? - Well, crap. I'm going to reboot my computer. I gather the session has been red-flagged anyway, due to stray dogs being on the track. Force India was the first to get on track, surprise surprise, and Chandhok got the first official timed lap.
?:??:?? - I'm not the only one; over at F1 Fanatic's Live coverage, there's a bunch of people having the same problem.
?:??:?? - Peter "Smarmy" Windsor (there's a name we haven't heard in a while!) is apparently working for SPEED again in some capacity. He just tweeted that the live feed isn't working quite yet. Yay us.
?:??:?? - Still nothing, after a half-hour. I'm shutting this down for the night. I'll have full coverage of P2 on Friday. See you then!
40:24 - It's up, and this is the first thing to appear:
Cool shot, that.
37:27 - The track is either very dusty, or there's a metric farkton of smog in the air. It's hideous!
35:45 - HWMNBN comes to a halt at the side of the road, dead engine.
33:30 - Yo dawg, I hear you like F1, so I put some F1 in your F1 so you can watch F1 while you F1!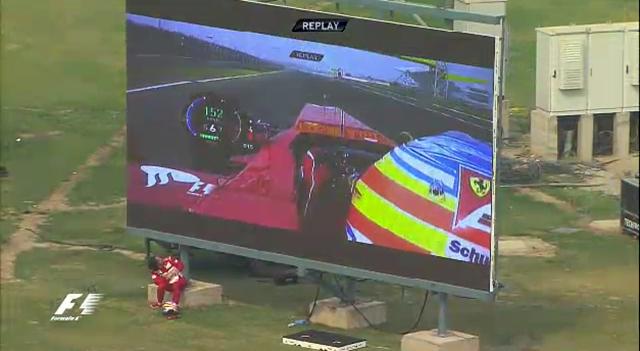 29:15 - Track is very dusty and slippery. Lots of people going off all over the place.
26:54 - My heavens, that big Turn 10 just goes on and on and on, doesn't it? That's gonna kill more front-left tires than anything, right there.
24:50 - Facilities look complete. Place seems a lot more done than Korea did last year... or even this year, come to think of it.
23:18 - Just to give you an idea of the amount of smog/dust/fog/whatever in the air, take a look at this: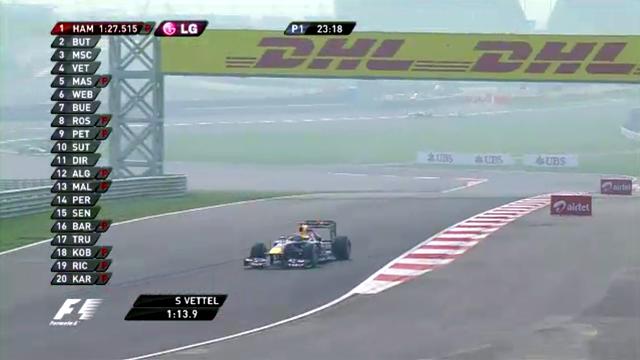 One winces at the thought of that getting pulled into an 18000rpm engine... and it was worse earlier.
17:00 - I like the circuit, but it doesn't seem to have much of an identity yet. Maybe because I'm grumpy about the live stream not starting until half the session was already done? Perhaps. Or maybe it's because this is the first time we've ever seen cars on it. Still, other than that big big turn, the place seems flavorless.
12:00 - A Lotus just spun out... in the pit lane. Practicing a getaway, just looped it. Whoopsie!
10:40 - I'll say this: lots of elevation change. I'm surprised we haven't seen a driver ralphing into his cockpit yet. Up and down, up and down, here's a turn, up and down, rinse, repeat.
8:50 - DJ Squire stuffs his Toro Rosso into a wall.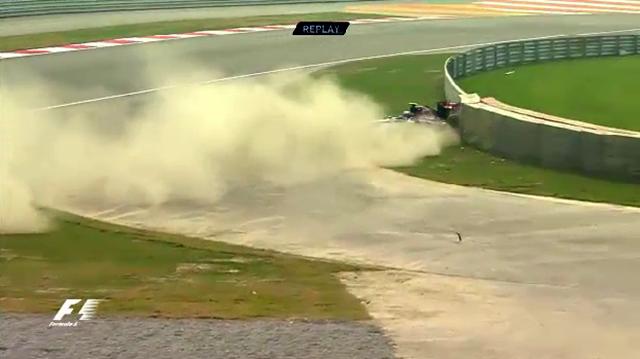 Dust? What dust?
6:00 - And Pastor Maldonado blows his lump. NTTAWWT.
3:00 - Definitely two racing lines through Turn 10. When was the last time we saw that at a F1 track? Indy? Maybe not even there.
0:00 - Session over. Lewis Hamilton has the fastest time (1:26.836), followed by Vettel, Webber and Button. I'm withholding judgment on the circuit until I actually see people race on it, and maybe after the F1 TV Director stops popping the greenies. Good lord, he was changing camera angles every other second, like he was paid by the cut or something. I'm inclined to like the track, though. Seems promising, but so did Valencia and we know how that one has panned out. Very wide racecourse, I noticed. Some places, you could probably go four abreast and still have plenty of room.
Full coverage of P2 will be later Friday! Thanks for sticking around for this abbreviated liveblog!
Posted by: Wonderduck at 10:06 PM | Comments (1) | Add Comment
Post contains 872 words, total size 6 kb.
1
Stray dogs on the track... they wouldn't have that problem in Korea!
Posted by: flatdarkmars at October 28, 2011 12:54 PM (I55Es)
Comments are disabled. Post is locked.
26kb generated in CPU 0.0218, elapsed 0.092 seconds.
47 queries taking 0.0784 seconds, 234 records returned.
Powered by Minx 1.1.6c-pink.