October 26, 2012
F1 Practice: India 2012
All right, I'm going to be honest with you all: I'm tired, grumpy, annoyed and really don't feel like writing much about the Seb Vettel Show that took place at the Buddh International Circuit today. So instead, I'm just going to touch on a few little data points and go take a nap.
First, it appears that the Grand Prix of Weehawken is on hold until 2014. I gather there was some really hopeful thinking amongst the organizers, particularly on the financial aspects. So back it goes another year, undoubtedly much to the pleasure of the Grand Troll himself, Bernie Ecclestone, who despises the concept of the United States as a race destination. Hell, for all I know he hates the concept of the United States, period, except for our dollars... those, he loves.
Second, I struck gold today. While I might not be going to the United States Grand Prix in the middle of November, I know someone who is. Indeed, not only is he going, he's getting
paid
to go! See,
the Circuit of the Americas chose a company called Sodexo
to do the food and beverage stuff for all the races, particularly the F1 race. Well, Sodexo also does the food service at Duck U. Anyway, they're bringing something like 80 of the company's most experienced college/university foodservice managers in for the race, including Duck U's. Our man Dan is going to be running the Turn 15 shebang, but he's going to have some time to experience the race... and I've already handed him all my credit cards and said "I need souvenirs."
Finally, on today's 2nd Practice broadcast, Will Buxton, the Legendary Announce Team's on-site reporter, dropped a Zsolt Baumgartner reference... and he might have gotten the joke from me! See, he said that Seb Vettel had planned to have his helmet be a duplicate of Felix Baumgartner's (the Red Bull-sponsored superskydiver) helmet, "but the painters got it wrong and did a duplicate of Zsolt Baumgartner's." Cue lots of hilarity amongst the L.A.T., and lots of HEY!ing from me. See, we know that Buxton reads Reddit...
he did a "Ask Me Anything" there a couple of weeks ago
... and when Felix did his jump from the edge of space, I submitted a thread to the F1-subreddit entitled "
Even with the Red Bull skydive, there's still only one Baumgartner that matters.
" Sure, it's not a direct rip-off, but that's still the only time I've seen a Felix/Zsolt juxtaposition anywhere... until Buxton made the connection today.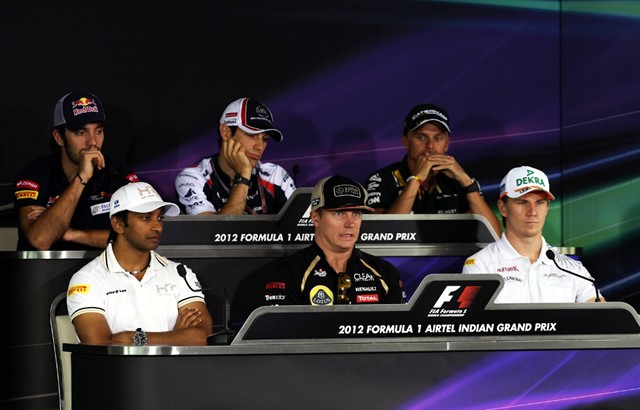 Quals in the morning. See ya there.
Posted by: Wonderduck at 07:59 PM | No Comments | Add Comment
Post contains 429 words, total size 3 kb.
Comments are disabled. Post is locked.
23kb generated in CPU 0.1125, elapsed 1.3986 seconds.
45 queries taking 1.3818 seconds, 232 records returned.
Powered by Minx 1.1.6c-pink.