November 07, 2014
F1 Practice: Brazil 2014
Not a whole bunch of excitement during Practice 2 today, unless you count three red flags as "excitement." Formula 1's stewards are being very cautious when it comes to car cleanup these days, perhaps overly so... and that's a good thing. A repeat of Jules Bianchi's accident, as unlikely as that may be, would be A Bad Thing, so I'd rather the cars sit quiet for a little while during cleanup activities.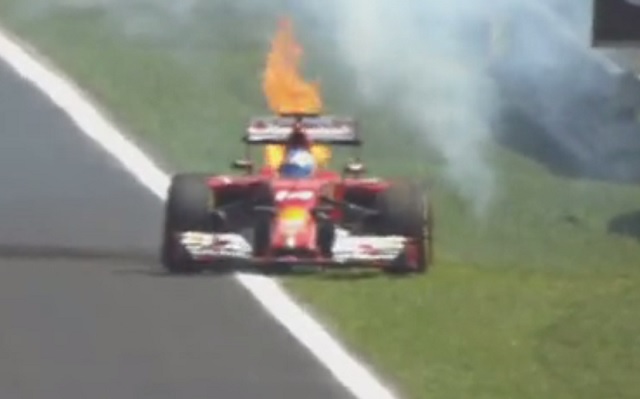 Jules Vergne's Toro Rosso packed up after about 10 minutes of running in the session, then a half hour later, HWMNBN's caught fire shortly before Esteban!'s Sauber decided it didn't want to run anymore. It's suspected that all three fell afoul of the weather in Saõ Paulo, best described as "holy crap that's hot and there's no air." Air temps at the start of the session were near 90, with rain in the immediate future. Combine that with the elevation the track is at, 2500 feet, and life is proving to be very hard for the turbochargers. It may prove to be nothing at all; HWMNBN was running an old power unit, and it's fair to bet that Sauber and Toro Rosso were doing the same, but it's still something we need to keep an eye out for.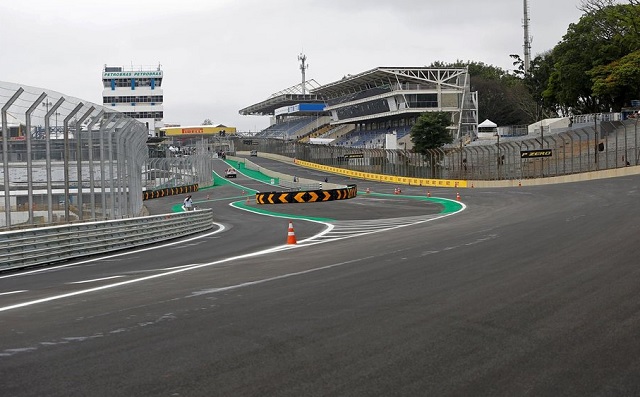 Another thing to watch is the new pit entry.
For years I've complained about the pit lane entry
at Brazil and how the racing line for the final turn ran right through it. Well, the folks in charge of Interlagos finally did something about it, probably after some prodding from the FIA. The results are as seen above, and it's a helluva lot better than before. No longer will it look like someone is entering the pits at 160mph. I still don't like the circuit, but this is a step in the right direction. They also resurfaced the track, I gather, and the new asphalt is stupid slippery in the heat. Track surface temps were near 130 degrees, much hotter than anybody expected. As a result, we saw a lot of tire wear, which may come into play down the road. But probably not, as we're expecting rain both during Quals and the race itself. Won't that be fun?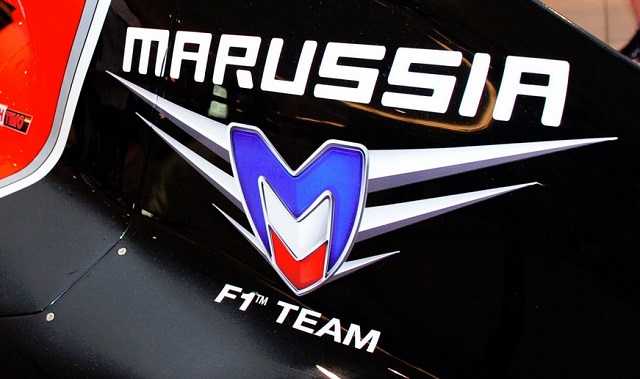 In other news, Marussia has officially given up and is no longer a race team. This removes them from the prize moneys they earned for their points at Monaco, promotes Sauber to 9th place in the standings, and Caterham to 10th if they can make it to Abu Dhabi. The end of Marussia closes the book on a rather troubled lineage. Starting out as Virgin Racing in 2010, that car was the first entirely designed and tested using Computational Fluid Dynamics technology... no wind tunnel for these guys! Unfortunately, no success for them, either, as they often appeared to have the worst car on the grid in both 2010 and 2011, something of a feat considering the presence of HRT. A surprise 9th at Monaco this year by Jules Bianchi earned them their first ever points, a high ruined by Bianchi's terrible accident at Japan, one with some similarities to test driver Maria de Villota's crash in 2012. The team ran one car at Sochi, and that will prove to be the last time Marussia made it to the grid. A pity.
Quals in the morning!
Posted by: Wonderduck at 10:00 PM | No Comments | Add Comment
Post contains 559 words, total size 3 kb.
Comments are disabled.
24kb generated in CPU 0.0302, elapsed 0.1292 seconds.
45 queries taking 0.1052 seconds, 232 records returned.
Powered by Minx 1.1.6c-pink.