November 12, 2010
F1 Practice: Abu Dhabi 2010
Hamilton.
Vettel.
HWMNBN.
Webber.
That's how the timesheet read at the end of Friday's Second Practice. Fitting as those are the four men still in the running for the Driver's Championship at this, the last race of the 2010 F1 season. Of course, there's nothing to be read into these results as it's practically impossible to figure out what each team was trying to do. The only thing we
can
figure is that the teams were running full fuel at the end of the session, trying to figure out how the extra 300lbs would affect the tires and brakes around the circuit as night fell.
Another thing that can be figured out is that the McLaren of Hamilton is running a variant of its Japanese GP rear wing, one that sure seems to have increased the car's pace. His teammate Jenson Button, wasn't running the same wing, as his was held up in transport somewhere, and was over a second slower as a result. Now, whether or not it'll be enough for Hamilton to win the race is another question.
And he must do so if he wants any chance at all of winning the Championship. Even with that, he needs the biggest of miracles. For a quick rundown on who needs to do what, go to
this post over at F1fanatic
. Intriguingly, this is the first time F1 has had four drivers still in contention in the last race of the year. Even more intriguingly, it's possible that we could have three drivers all end up with the same number of points! If Vettel wins, Webber comes in second, and HWMNBN finishes in 5th, all three will have 256 points. In that case, Seb Vettel would win the Driver's Championship. He'd have the same number of wins, 2nd and 3rd place finishes as HWMNBN, but one more 4th. Amazing, and not all
that
unlikely. Still, it's all in the hands of the Ferrari driver. If he wins or finishes 2nd, he's the Champion no matter what anybody else does.
The track ran well today, billiard-table smooth and still as Tilkeish as ever. Amazingly, there was a huge downpour before P1 today, which washed what little rubber the GP2 guys laid down away. Still, by P2 it was back to being bone dry, but hot and humid. That could take a toll on the cars and their worn engines, to say the least. Supposedly the big four are all to use low-mileage engines, but that's what they said about Vettel's engine at Korea and we all know how that ended up. And to be honest, it might be the most beautiful layout in Formula 1 when the sun starts going down.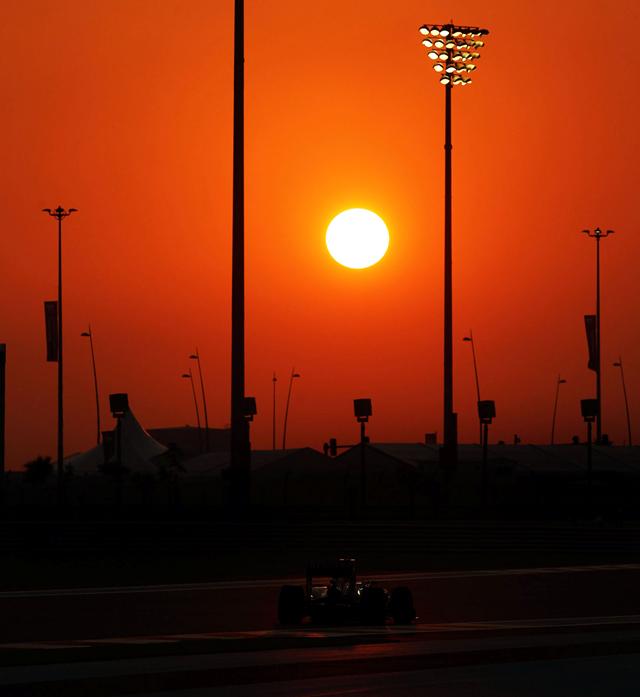 As we learned last year, there's not many overtaking opportunities around the Yas Marina Circuit, so qualifying will be of paramount importance. Quals is Saturday morning, and I'll have a writeup as soon after I wake up as possible. See you then!
Posted by: Wonderduck at 11:14 PM | No Comments | Add Comment
Post contains 498 words, total size 3 kb.
Comments are disabled. Post is locked.
23kb generated in CPU 0.0911, elapsed 0.1642 seconds.
45 queries taking 0.1441 seconds, 232 records returned.
Powered by Minx 1.1.6c-pink.