May 04, 2015
F1 on TV: Spain 2015
The slow boat from Bahrain has finally made landfall in the Old World, and the F1 Circus has disembarked in the traditional home of racing boredom, Barcalounger, home of the 2015 Grand Prix of Spain. Let's take a look at the track map, shall we?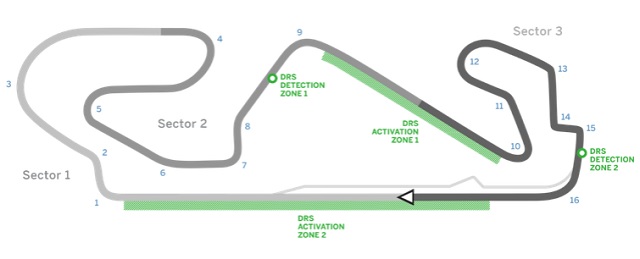 I call it a boring race because it almost always is. For many, many years, the Circuit de Catalunya was the winter home for testing, with every team putting in thousands of laps annually. As a result, every tiny rise, every small dip, any bump, crack or irregularity is known and processed through the filter of the teams. Every single inch of this circuit is mapped and imprinted directly onto the cerebellums of the drivers, to the point that the race has spawned some legendary processions. Indeed, if there was ever an argument to be made for the necessity of gimmicks like DRS and KERS in Formula 1, this track right here is it.
Over and above all that, there's nothing particularly challenging about this Spanish track. It's a burrito from Chipotle is what it is. Filling, and you know you've eaten something when you're done, but real burritos are
so much better
. It wasn't always that way... I remember when Sector 3 was ridiculously fast: Turn 10 was a sweeper instead of a hairpin, and the final turn ran in a single arc from Turn 13 to the exit of Turn 16 and cars barely slowed for it.
But those days are dust, now and forever more. At least we'll have the Legendary Announce Team to bring us coverage over paella and tortas from the Basilica Templo Expiatorio del Sagrado Corazon de Jesus. Here's the broadcast schedule:
FRIDAY
7am - 830am: Practice 2 on NBCSN
SATURDAY
7am - 830am: Quals live on CNBC
SUNDAY
630a - 9am: 2015 Grand Prix of Spain on NBCSN.
All times are Pond Central, of course. Add an hour if, for example, you're in a hospital in Virginia. Subtract two hours if you're having a Mission burrito in San Francisco. And if you're in the Midwest, have a breakfast pastry with your sangria.
We'll see you then.
Posted by: Wonderduck at 05:05 PM | No Comments | Add Comment
Post contains 363 words, total size 2 kb.
25kb generated in CPU 0.0092, elapsed 0.0727 seconds.
47 queries taking 0.0663 seconds, 234 records returned.
Powered by Minx 1.1.6c-pink.