September 15, 2015
F1 on TV: Singapore 2015
Once upon a time, there was only one night race in F1. It was an event, a race to look forward to, because the cars looked
amazing
under the lights. Since then, two other spots on the calendar have gone to night (Bahrain and Abu Dhabi), and two have considered going to racing after the sun has set (Russia and Australia) but have been shot down. Racing at night is no longer such an event as it used to be. Cars still look great at Singapore, though, much better than at the other two circuits, mostly because the lighting is high-intensity and low-altitude. Let's take a look at the track map: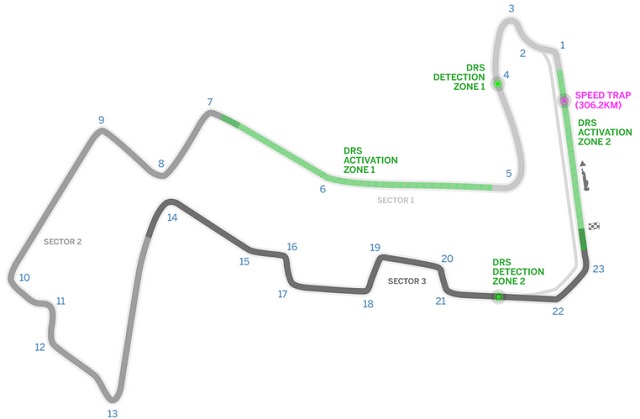 Singapore is a street circuit, running through the Marina Bay district of the city/nation. Unlike Monaco, the streets are wide; it barely feels like a street layout. Because of the lighting, the cameras don't really see what's off-track. I mean, we all know what the Casino at Monte Carlo looks like, or the run up the hill from Sainte Devote to Massanet, but there are few city landmarks to be seen around the Singapore circuit. We do see the legendary Raffles Hotel, yes, but only in "B-Roll" footage, not during the race itself, or at least not usually. When the most memorable landmark of your street circuit is where the track goes under the seating (the stretch between Turns 18 and 19), you may have an image problem. Still, could be worse... at least we get photographs like this out of the deal:
It's always very hot and humid at Singapore, even during the night race, and the chance of rain is everpresent. From all reports, the organizers perform cloud seeding before the race to prevent it from raining while the cars are on track. So far, either because it's actually accomplished their goal or they've gotten lucky, we've yet to have a wet race. What we will have is a dense haze. Apparently farmers in Sumatra are burning the forests to clear land for crops, and the smoke has settled over Singapore like a stereotypical London fog. Singaporian officials have declared that outdoor strenuous activities should be done as little as possible, the air quality is so poor. I can't imagine it'll be great for the drivers or the engines.
Well, the legendary announce team will be telling us about it in their usual manner. Here's the broadcast schedule:
FRIDAY
Practice 2
: 830a - 1000a live on NBCSN
SATURDAY
Quals
: 700a - 830a live on CNBC
SUNDAY
2015 Grand Prix of Singapore
: 630a - 900a live on NBCSN
We will, of course, see you then and after. With luck.
Posted by: Wonderduck at 01:01 AM | Comments (2) | Add Comment
Post contains 446 words, total size 3 kb.
1
One distinctive landmark is the Ferris Wheel.
Posted by: Steven Den Beste at September 15, 2015 08:36 AM (+rSRq)
2
Steven, I suppose you're right... however, it doesn't come across that way on the TV broadcasts. The way FOM covers the race, the Singapore Flyer appears to be some distance away from the circuit, not actually inside the layout like it really is.
I'm sure if I was in Singapore actually attending the race, and I'm opening donations right this moment to make that happen, I'd be more excited about calling it a circuit landmark, y'know?
Posted by: Wonderduck at September 15, 2015 05:08 PM (jGQR+)
27kb generated in CPU 0.0162, elapsed 0.2158 seconds.
49 queries taking 0.2077 seconds, 237 records returned.
Powered by Minx 1.1.6c-pink.