June 06, 2011
F1 on TV!: Montreal 2011
Ah, Canada. A place where they put gravy on french fries and call it a delicacy. Where maple syrup would be the national beverage if they didn't have Labatts. A land where bacon isn't bacon. Where death by moose is a serious possibility, even in your living room. A nation whose best restaurant is Tim Hortons. Their football is played on a 110-yard field, their baseball is played indoors, and their greatest cultural icon is Celine Dion.
*
But damn, do they have a helluva Formula 1 track! Let's take a look at the map for the Circuit Gilles Villeneuve: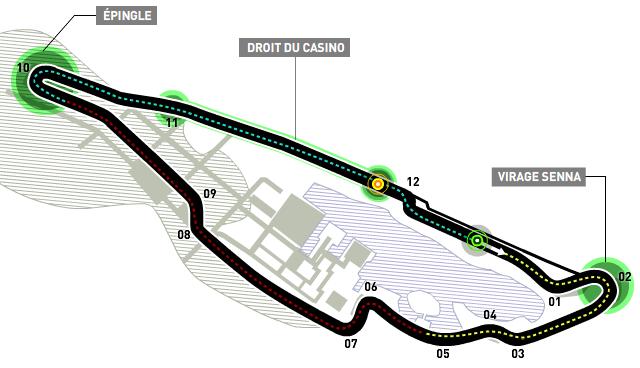 Built on a man-made island in the Montreal section of the St Lawrence River, the track is 2.71 miles long, very fast, and brutal on both brakes and tires.
Brakes suffer here because of the abrupt stop-and-go nature of the circuit. On this layout, you're either going ridiculously fast (200+ mph is the norm here) or ridiculously slow (see Turn 10 or Turn 6/7). That's hard on the brakes for two reasons: first, there's just the effort required to slow the car down from 200mph to 50mph or less; that takes its toll on the carbon/carbon material. Second, the brakes tend to glaze here. The brake material heats up to the point where the very top layer begins to melt... then is rapidly cooled by the unending straights. This makes the brakes less efficient, meaning they need to work even harder and get hotter and melt more... then they rapidly cool off. Rinse and repeat for 70 laps. You don't see explosive brake failure very often in F1, but when you do, it's undoubtedly going to be here.
Tires die miserable deaths here due to a tarmac that has the odd properties of being abrasive, yet not particularly grippy. This lack of surface grip is why Pirelli is bringing the same tires as the ones used in Monaco: the softs and super-softs. Nowhere is that need for grip needed more than at Epingle, better known as the Hairpin. Not only because of the tight bend and the need to decrease speed in a hurry, but because of the ever-present danger of Marmots. Like this one in 2007:
Or this one the following year:
Or this one:
Oh wait, that one isn't a marmot at all, but a Japanese track worker trying to run in front of Seb Buemi during a fundraiser in Japan for the victims of March's Earthquake/Tsunami. Believe it or not, the doofus is fine. So is the guy who tried to cross the track in front of a F1 car.

Anyway, the nicest part of the Grand Prix of Canada is that it's run here in North America. None of that "getting up at 4am" crap for this race! It all kicks off with live streaming coverage of Practice 1 on Friday morning, from 9am to 1030am! Then Practice 2 is also live, this time on SPEED, from 1pm to 240pm.

Saturday brings streaming coverage of Practice 3 from 9am to 10am, followed by live coverage of Quals on SPEED, again from 1pm to 230pm.
The 2011 Grand Prix of Canada will be Sunday, live from 12noon to 2pm... on your local FOX affiliate. Yes, that's right, it's that time of year again. At least the Legendary Announce Team will be on hand to do the honors.
And so will the F1U! team! See you then!
*
I kid the Canadians... but only because I know they're too polite to actually complain about it. Ha!
Posted by: Wonderduck at 07:14 PM | Comments (2) | Add Comment
Post contains 591 words, total size 4 kb.
1
If we can't mock Canadians, what good are they?
Posted by: Steven Den Beste at June 07, 2011 10:07 AM (+rSRq)
2
Love that track (and the critters that inhabit it)! :-)
Hopefully by next year there will be two races that we can watch at a decent hour.
Posted by: Mallory at June 07, 2011 12:45 PM (WJ2qy)
Comments are disabled. Post is locked.
25kb generated in CPU 0.0205, elapsed 0.581 seconds.
47 queries taking 0.5719 seconds, 235 records returned.
Powered by Minx 1.1.6c-pink.