June 20, 2011
F1 on TV!: Europe 2011
Their short North American sojourn completed, the F1 Circus returns to the Mother Continent this week with the 2011 Grand Prix of Europe. The European GP has always been a way to get a second race into whatever country has the popular driver at the time... which is why Germany had two races during the height of the Schumi Years. These days, it's HWMNBN... or at least, it was when the contracts were signed... which is why Spain now gets two races. To accomplish this feat, Spanish organizers built an all-new track in Valencia, a street circuit! And oh, did our hopes soar... only to be splatted to the ground like Icarus flying too close to the sun. A fly being nailed by a flyswatter. A
X
being
Y
'd by a
Z
(enter your own lousy analogy terms). Let's take a look at this hope-crushing circuit: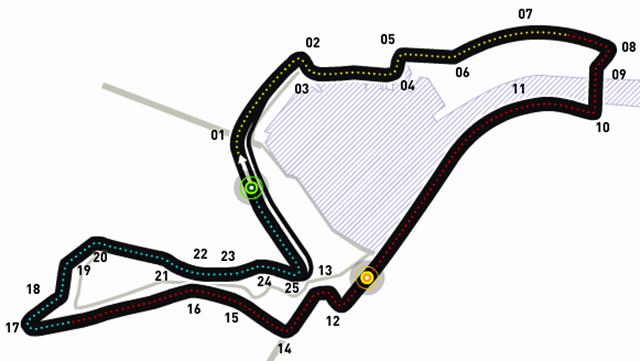 By all rights, a layout like that looks like this should be exciting... like Monaco, but with substantial high-speed sections. Unfortunately, it hasn't turned out that way. What we've discovered is that there's just too
many
turns in just the wrong places. For example, look at Turn 12: right at the end of the fastest part of the track, should be a great place to pass... except it's followed immediately by Turn 13, turning it into painfully slow chicane. Anybody passing on the inside of 12 winds up on the
outside
of 13, where they usually get scraped off by the car being passed... except nobody actually tries passing there, because they know what'll happen. And that's the problem all around the circuit: almost all the supposedly good passing points are actually soul-destroying chicanes!
At least, that's the way it
used
to be. As we've learned this season, the KERS/DRS combination makes even the dull circuits at least mildly interesting. Throw in the knowledge that Valencia is very wide for a street track and things are looking at least mildly hopeful again. Pirelli is thinking that tire wear will be high due to the combination of the number of turns (the most in F1), a rough track surface, and the predicted high air temperatures. They're bringing the Medium and Soft compounds this time around.
Of course, it's hard to forget the "highlight" of last year's race, and I'm not talking about Seb Vettel winning. I'm talking about his teammate's unexpected peregrinations.
Yup, this is the circuit where Red Bull Air first took flight. That was also the race that earned Kamui Kobayashi his nickname of "Gandalf." So it's not been without excitement, it just hasn't been really
racing
-related.
We'll be treated to the lovely dulcet tones of the Legendary Announce Team as usual. Alas, we'll be getting the race on tape-delay via FOX... but we'll get to that in a moment. Coverage begins with live streaming of Friday's 1st Practice from 3am to 430am. Practice 2 will be live on SPEED from 7am to 840am. Saturday's 3rd Practice will be streaming as well, from 4am to 5am. The all-important Quals session comes to us live on SPEED from 7am to 830am.
Finally, the race will be airing on your local FOX affiliate from 11am to 1pm, some five hours after it really begins. All times are Pond Central, of course.
F1U! will be all over the race weekend, like a
X
is all over
Z
, with a side helping of
µß
. We'll see you then!
Posted by: Wonderduck at 06:33 PM | Comments (6) | Add Comment
Post contains 576 words, total size 4 kb.
Posted by: Avatar_exADV at June 20, 2011 10:15 PM (pWQz4)
Posted by: Wonderduck at June 21, 2011 11:13 AM (OS+Cr)
Posted by: Mallory at June 21, 2011 11:41 AM (WJ2qy)
Posted by: von Krag at June 21, 2011 07:30 PM (VGXAE)
Posted by: Wonderduck at June 21, 2011 08:24 PM (n0k6M)
Posted by: von Krag at June 22, 2011 01:07 PM (VGXAE)
Comments are disabled. Post is locked.
28kb generated in CPU 0.0134, elapsed 0.1536 seconds.
47 queries taking 0.1437 seconds, 239 records returned.
Powered by Minx 1.1.6c-pink.