November 10, 2015
F1 on TV: Brazil 2015
The fact of the matter is that I hate Interlagos, the site of the 2015 Grand Prix of Brazil. I always have, and though I know it's an irrational hate, I probably always will. Even though the circuit has been upgraded to fix the ridiculous pit-in that nobody paid attention to and therefore it always looked like they were going to pile into the wall of the pit lane at 200mph, the memories remain. Here's the track map for the place: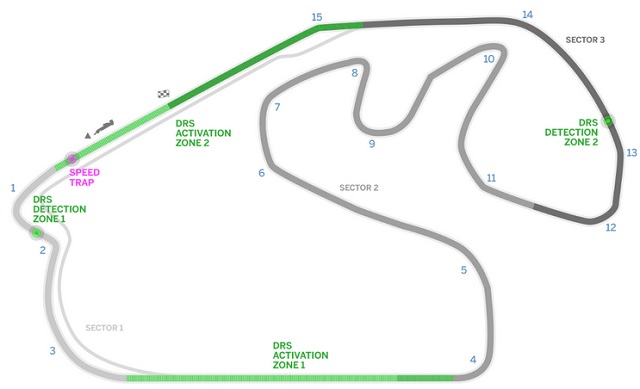 Really, I'm just about the only F1 fan out there who doesn't like Interlagos. The drivers adore the place (except for the occasional attempt at armed robbery), the Brazilian fans (that's a lot of fans!) are both well-versed in the sport
and
insane, and it's uncommon to have a poor race. Even the part that I used to hate the very most, that it was the last race of the season, has changed, with that title now in the oil-stained hands of Abu Dhabi. So why, exactly, do I still hate Interlagos?
Because I'm a stubborn mule of a lifeform that refuses to allow such things as logic to get in the way of my peccadilloes when it comes to F1. Enough of this place, I hope the two manmade lakes that give the place its name overflow their banks and flood the whole kit 'n' kaboodle. Safely, of course.
Despite my loathing of the place, the Legendary Announce Team (which does not, in fact, respond to my every whim, unlikely as that seems) will be doing their usual outstanding job at coverage. Here's the schedule for the broadcast weekend:
Friday
Practice 2: 10a - 1130a live on NBCSN
Saturday
Quals: 10a - 1130a live on CNBC
Sunday
2015 Grand Prix of Brazil: 930a - 12n on NBCSN
This actually surprises me somewhat; even though they've done four races on NBC already, for whatever reason I thought Brazil would be on the Mother Network. Wow, look at me,
I'm wrong
, perhaps for the first time this post. Anyway, that's it. I've given enough of my attention to this...
place
... for one day. Of course, I'll force myself to cover Quals and the race this weekend, so I don't get to escape completely! See ya then!!!
Posted by: Wonderduck at 07:18 PM | No Comments | Add Comment
Post contains 381 words, total size 3 kb.
25kb generated in CPU 0.031, elapsed 0.3049 seconds.
47 queries taking 0.2825 seconds, 234 records returned.
Powered by Minx 1.1.6c-pink.