March 30, 2016
F1 on TV: Bahrain 2016 (UPDATED)
From Australia's circuit within a public park, the F1 Circus now finds itself in the middle of a desert. The Sakhir circuit is much the same as it's been in past years... the artillery emplacements are gone, the machinegun nests have been filled in, the tanks no longer use the end of the pit lane to repair their treads... so we should probably just look quickly at the map:
No change, as I said. Even politically there's been no change, as Bahrain is one of the places where the 'Arab Spring' movement was crushed, with military help from Saudi Arabia and the UAE. Nowadays, the Bahrani government is still in ham-fisted mode, apparently arresting four US journalists for trying to cover the fifth anniversary marches last month. And so it goes.
Other than that, the circuit itself is grippy (thanks to asphalt imported from Wales), fast, and pretty much flat. Wind can be an issue, as can sand since its in the middle of a desert. Rain is not something you'd expect, though it did rain on Monday; one of the teams' twitter feeds had pictures of their equipment sitting in a soaked pit lane.
Before I get into the "this is why I didn't say anything about it" bit, here's the broadcast times for the race weekend, featuring the Legendary Announce Team! All times Pond Central, of course.
Friday
10am - 1130am: Practice 2 live on NBCSN
Saturday
10am - 1130am: Quals live on CNBC
Sunday
930am - 1230pm: 2016 Grand Prix of Bahrain live on NBCSN
As always, check your local guides for times... I have conflicting information on when the actual race is on-air.
Now then... remember that
debacle of a qualifying format
from Australia? And
people were saying
that F1 would be reverting back to the "old" way of quals? Yeah, about that... it was wrong. We've got
the same elimination format again
for Bahrain and (possibly) beyond... and since the alternative was a "reverse grid" lineup, where the top eight qualifying cars would be moved deep into the grid, we should probably be happy about it.
One thing I've learned over the years of covering F1 in whatever way you call this thing is that if it isn't being said by the FIA, it isn't real yet. And while the best thing to do with this qualifying format is to take it back behind the barn and shoot it, we're stuck with it for at least one race more. At least it'll be at a decent time. See ya soon!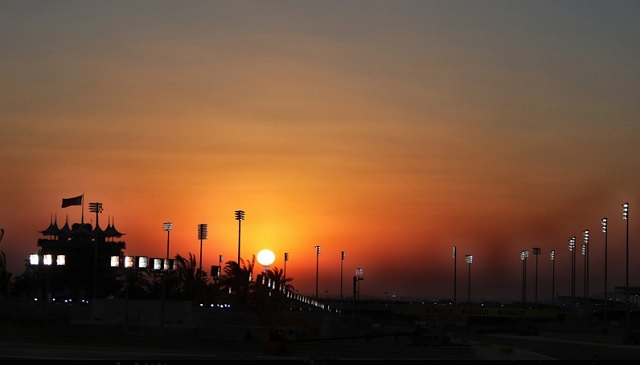 UPDATE
: Fernando Alonso is not being allowed to drive in this race. He failed medical tests today, stemming from a fractured rib suffered in his accident at Australia. He'll be retested before the next Grand Prix, in China. Until he passes, McLaren has tabbed Stoffel Vandoorne, the team's reserve driver (and reigning GP2 champion), to take his seat.
Posted by: Wonderduck at 09:45 PM | Comments (1) | Add Comment
Post contains 489 words, total size 3 kb.
1
Welp. If nothing else, the quals format will give us something to talk about?
Posted by: GreyDuck at March 31, 2016 07:38 AM (rKFiU)
27kb generated in CPU 0.0318, elapsed 0.1075 seconds.
49 queries taking 0.0846 seconds, 236 records returned.
Powered by Minx 1.1.6c-pink.