July 19, 2018
F1 on The ESPNs: Germany 2018
Gotta hurry on this post... again... while my old computer works and my bodyhealth stays above "miserable". Here's the track map for the home of the Grand Prix of Germany, Hockenheim: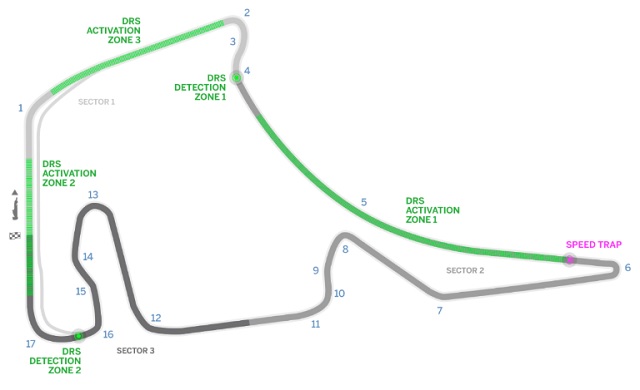 Remember, we had no grand prix in Germany last year... in the rotating track thing that Germany has, the Nurburgring couldn't afford it. So it's Hockenheim's turn again! For the most part, it's inoffensive with a touch of "what used to be" nostalgia involved. As I always mention, back in the old days, there used to be a ridiculously high-speed section that went blasting through a forest in a semi-oval that reached from Turn 2 to Turn 6 on the new map... totally breathtaking, ridiculously dangerous. It's probably good that it's gone, but...
Here's the alleged broadcast schedule:
Practice 3: 5a - 630a live on ESPNews
Quals: 8a - 930a live on ESPNews
2018 Grand Prix of Germany: 8a - 1030a live on ESPN2
No promises on a F1U... if the race moves me to one, then there'll be one. If not, there won't. I'm working on it. See you soon!
Posted by: Wonderduck at 12:52 PM | Comments (2) | Add Comment
Post contains 190 words, total size 1 kb.
1
Over on facebook someone posted a link to the William Shakespeare rubber duck on Amazon. Do you have that one?
Posted by: Mauser at July 20, 2018 07:53 PM (Ix1l6)
2
So...do we believe Hamilton about the hydraulics failure occurring *prior* to nearly going airborne, or...?
Posted by: Mrs. Will (Kathryn) at July 21, 2018 03:12 PM (o+Hdb)
25kb generated in CPU 0.16, elapsed 0.1947 seconds.
49 queries taking 0.1724 seconds, 237 records returned.
Powered by Minx 1.1.6c-pink.