April 11, 2018
F1 on The ESPNs: China 2018
Back to back overseas races are hard for everybody involved with F1. Do a whole race weekend in East Corner-Of-Nowhere, pack up, fly a couple thousand miles, unpack in West Where-The-Hell-Are-We, then go racing again. This time around, you're looking at about a 12 hour flight from Bahrain to Shanghai on Etihad Air, which includes a 2 hour layover in Abu Dhabi. It looks like it's on a Boeing Dreamliner, so at least you've got that going for you. Here's the track map for the 2018 Grand Prix of China: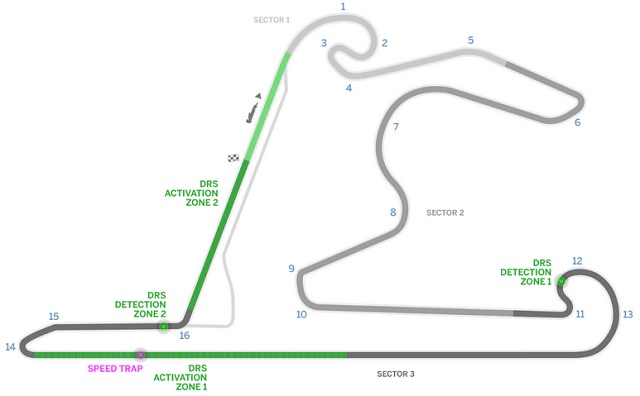 As I mentioned last year, exactly the same as it's been since 2004. Though there's been a resurgence in noting that the circuit is shaped like the Chinese character "shang", meaning "high" or "above" or "ascend"... or "up", maybe? I dunno. It's the first part of Shanghai... wait... does that mean it's "High hai"?
China has coughed up some good races in the past, often because of rain, so we can cross our fingers that we'll get another Bahrain-level event this weekend. That'd be fun. Here's the broadcast schedule for ESPN's coverage:
Practice 3: 10p-1130p live on ESPNews
Quals: 1a - 3a live on ESPN2
2018 Grand Prix of China: 1a - 330a live on ESPN2
For a wonder, ESPN came out and said that Quals and Races will be commercial-free for the rest of the season. I'm okay with that.
See ya!
Posted by: Wonderduck at 11:20 PM | No Comments | Add Comment
Post contains 242 words, total size 2 kb.
25kb generated in CPU 0.0305, elapsed 0.3921 seconds.
47 queries taking 0.3772 seconds, 234 records returned.
Powered by Minx 1.1.6c-pink.