May 02, 2011
F1 on SPEED!: Turkey 2011
Okay, vacation's over... everybody back on your heads. The F1 Circus trundles its way to the Istanbul Otodrom for what might be the last Grand Prix of Turkey. Let's take a look at the track map: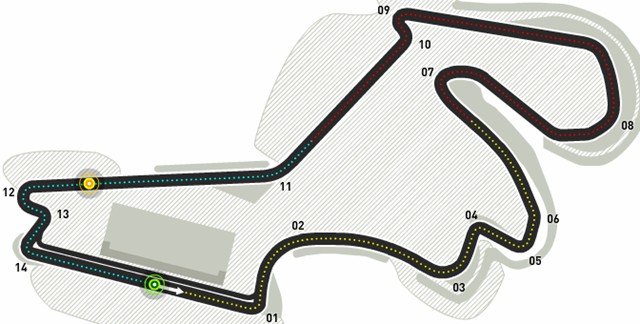 Yes, with a planned lineup of 19 races in 2012, and two new tracks debuting next year, three existing circuits are going to have to go away. Considering that Turkey's contract is up after this race, and Darth Bernie is saying that F1's fees for the race are going to double, it's a good bet that this will be the last we see of Hermann Tilke's magnum opus.
That this is Tilke's best circuit speaks poorly of the designer, but not the track. All in all, Turkey is a decent enough layout with one outstanding turn. I speak of Quad-8, of course. An increasing-radius four apex turn, it might just be the most exciting turn in F1's modern tracks, and it can at least stand in the same room with the classics without being made fun of.
Other than that, the rest of the circuit is decent, nothing amazing. Turns 2, 8 and 11 are quite hard on tires, as is the asphalt that makes up the track surface, so we should have a good ol' time trying to keep track of the pit stops on race day. Fortunately, the F1 Update! crew will have an intern for this race, as the Official First Friend of The Pond, Vaucaunson's Duck, will be visiting.
SPEED will be providing its usual sterling coverage of the weekend, of course. It all begins with streaming coverage of P1 on Friday, from 2am to 330am. P2 will be shown LIVE on SPEED from 6am to 740am on Friday as well. On Saturday, P3 will be streaming from 3am to 4am. Quals will be LIVE on SPEED from 6am to 730am.
Finally, the 2011 Grand Prix of Turkey will be shown LIVE from 630am to 9am on Sunday, with a replay from 1230pm to 3pm.
F1U! will be all over the race weekend, as usual. We'll see you here for all the festivities!
Posted by: Wonderduck at 10:33 PM | Comments (1) | Add Comment
Post contains 358 words, total size 2 kb.
1
Whoohoo!!! At long last, live racing and quals!
Posted by: Mallory at May 03, 2011 08:09 AM (WJ2qy)
Comments are disabled. Post is locked.
22kb generated in CPU 0.02, elapsed 0.1363 seconds.
47 queries taking 0.1204 seconds, 234 records returned.
Powered by Minx 1.1.6c-pink.