May 05, 2008
F1 on SPEED: Turkey 2008 (and a SuperAguri update)
The best of the new tracks is on the docket this week, with the third running of the Turkish Grand Prix at the Istanbul Otodrom. Gotta love the four-apex Turn 8! Of course, our friends at SPEED will be bringing us everything live-ish.
To start with, we get LIVE coverage of Practice 2 on
Friday, May 9th from 7am to 830am
. Will Super Aguri be allowed to run (see below)? Will we get another car trying to hit the Quad-8 retaining wall (which is nearly 100 feet from the track)? We'll find out, won't we?
Saturday, May 10th from 6am to 730am
, is (plausibly) LIVE coverage of the Quals session! How will McLaren recover from their disaster in Spain? Will Heikki Kovaleinininninnie be in the driver's seat, or will his concussion open the door for Pete Rose (Pedro de la Rosa) to step in? Will BMW put both cars at or near the front? Or will the Red Cars continue their dominance?
Finally,
Sunday, May 11th from 630am to 9am
, will bring us the Grand Prix of Turkey, LIVE and in living color. Many questions will be answered, many more questions will be raised... that's the beauty of F1! There will be a replay from 1230pm to 3pm as well for those of you without recording devices.
Now, onto the latest news regarding the SuperAguri situation. As you remember, the Little Team That Could was bailed out at the last minute by Honda, so they were allowed to race in Spain. Since then, however, the team has been in talks with The Weigl Group, based in Germany. Honda, however, has doubts that they can adequately fund a F1 team, so has been reluctant to allow the sale to go through.
The result of this is that, first, the SuperAguri "mobile home" and team trailers had to DRIVE to Turkey, instead of taking a ship. F1 teams have been VERY leery of driving to Istanbul for fear of hijacking (a very real fear, reportedly). Fortunately, the various semis and other support vehicles made it without a snag... only to discover a horrible problem when they reached the track:
They weren't allowed into the paddock.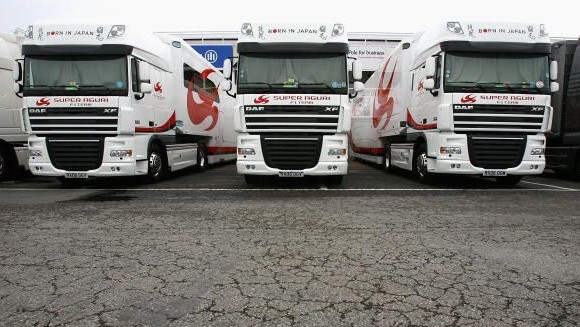 It seems that Nick Fry, Honda Racing CEO, called FOM (Formula One Management, the group that actually runs the events for the FIA) and said, in effect, that SuperAguri won't be racing because they don't have engines, and don't let them in. This is actually a face-saving move for Honda; if the team's vehicles don't enter the paddock, there won't be a scene if/when they have to LEAVE.
And so the team vehicles sit outside the track, waiting for permission to enter which may never come. Talks are ongoing with Weigl, and there should be some results to report on Tuesday... one way or the other. Part of me wants to think that Honda is stabbing SuperAguri in the back for embarrassing the factory team so badly last year; another, more logical, part of me knows that SA owes Honda a bunch of money already, and why throw more at them? The real answer probably is somewhere in the middle of the two extremes.
Personally, I think we've seen the last of the "Super Best Friends", as Legendary Announce Team member Steve Matchett insists on calling them. No more SuperSato, no more Ant, no more Montreal Marmot Massacres, no more banzai charges and kamikazi dives into the RedBulls...
...dammit.
Posted by: Wonderduck at 10:36 PM | Comments (1) | Add Comment
Post contains 581 words, total size 4 kb.
1
That is sad news about the apparent demise of Super Aguri. They may not have been front runners, but they gave us some moments to remember and I liked them.
Personally, a "scene" would have made things interesting.
Those support vehicles are going to have to drive back the way they came and I hope they make it safely.
Posted by: Mallory at May 06, 2008 07:15 AM (3sife)
Comments are disabled. Post is locked.
21kb generated in CPU 0.02, elapsed 0.0824 seconds.
53 queries taking 0.0658 seconds, 191 records returned.
Powered by Minx 1.1.6c-pink.