May 16, 2011
F1 on SPEED!: Spain 2011
Some tracks are bad because they've got a horrible design (Hungary). Some tracks are bad because time has passed them by (Monaco). Some tracks are bad because they were neutered in the name of safety (Hockenheimring).
And then there's the Circuit de Catalunya, Barcelona, home of the 2011 Grand Prix of Spain. Let's take a look at the track map: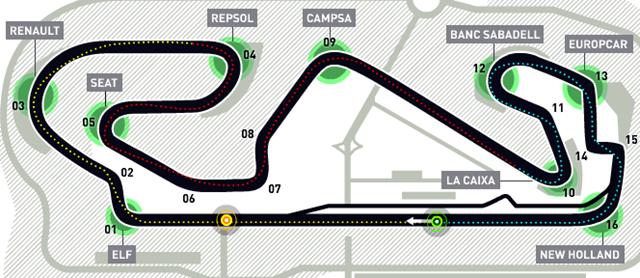 On first blush, there's nothing particularly wrong with the layout. Nice long front straight, some interesting turns in the technical portions, decent back straight, both slow and fast curves. So what's the problem? Well, there are three.
The first problem is that... there isn't any problem at all. It's a perfectly acceptable circuit. But there's nothing about the track that stands out in any way. There's no one aspect of the layout that would make a driver quake with fear or quiver in anticipation. Not even any elevation change to break up the monotony. It's just
there
.
The second problem relates to the first. Because the track is so sedate and the weather in Barcelona so benign, the teams do a lot of offseason testing here, and have since the circuit opened in 1991. As a result, there is hardly anything for the drivers to learn about the track. Every bump, every crack, every bit of flaking paint on the curbs is known to the men on the pit wall. In the past, this has led to a series of processionals to rival the Parade of Roses. This may change this season, what with KERS and the DRS being in play, but if ever there was a circuit where the influence of these things could be minimized, this is the one.
The third problem is that this is the home track for HWMNBN, and therefore should be anathema to all right-thinking fans of Formula 1.
Of course, the good people of SPEED will be on-the-spot with their coverage of the race weekend, beginning with streaming coverage of Friday's first practice session, which goes from 3am to 430am. Practice 2 will be live on SPEED from 7am to 840am that same day. Saturday brings us Practice 3, streaming from 4am to 5am. Live coverage of Quals will be on SPEED from 7am to 830am.
Finally, the 2011 Grand Prix of Spain will be LIVE on Sunday, from 630am to 9am on SPEED. There will be a replay from 3pm to 630pm that same day.
As usual, the F1 Update! crew will be more than pleased to bring you our usual sterling commentary, replete with trenchant wit, all weekend long. We'll see you then!
Posted by: Wonderduck at 07:58 PM | Comments (5) | Add Comment
Post contains 437 words, total size 3 kb.
Posted by: Mallory at May 16, 2011 08:06 PM (WJ2qy)
Posted by: Avatar_exADV at May 16, 2011 08:12 PM (pWQz4)
Posted by: Wonderduck at May 16, 2011 10:08 PM (n0k6M)
Posted by: Steven Den Beste at May 17, 2011 12:12 AM (+rSRq)
Posted by: Wonderduck at May 17, 2011 06:36 PM (n0k6M)
Comments are disabled. Post is locked.
26kb generated in CPU 0.04, elapsed 0.1981 seconds.
47 queries taking 0.1687 seconds, 238 records returned.
Powered by Minx 1.1.6c-pink.