September 17, 2012
F1 on SPEED!: Singapore 2012
There are other street circuits on the F1 calendar, but there is only one night race. This week, the F1 Circus makes its way to the island city-state of Singapore!
There is no other race where the cars look as good as Singapore, glittering like jewels under the 1600 lighting units. There's also no circuit that's as flat-out physical as this one, what with the incessant heat and humidity that comes from being located 85 miles north of the equator. Let's take a look at the track map: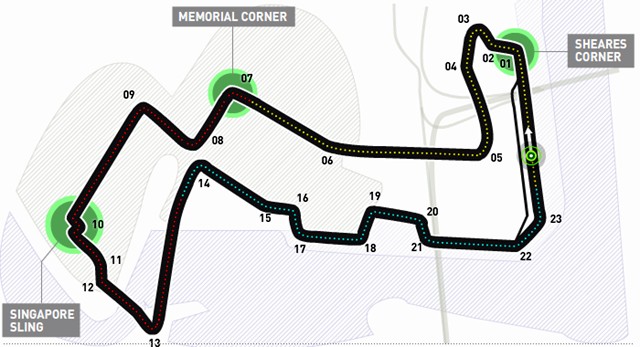 The biggest complaint the drivers have with the Marina Bay Circuit is that it's very bumpy, and no less a name than Lewis Hamilton has said that Turn 10 ("The Singapore Sling") is the worst turn in F1. The curbs there are quite high and can get you airborne and into the barriers in a flash, and the entry to the turn has been narrowed as well, making it even more difficult to get through.
As a whole, this is the second-slowest track on the calendar, just behind Monaco. Coming after two very fast, very low-downforce races, the teams now have to change to a high-downforce setup. Because of the necessity of riding the curbs (except for Turn 10!), the car suspension is usually set softer than average, to keep the car on the ground as much as possible. The brakes get a heavy workout here, not so much because there's a heavy braking zone (there isn't) as because of the constant stop-and-go nature of the layout. The brakes never get much of a chance to cool off as a result, requiring heavier use of the brakes, meaning they get hotter still... and so on. Finally, in the past tire wear has been rather elevated around here. With Pirelli reformulating their rubber to last longer, we really don't know what's going to happen, but it's a fair guess that it'll still be rough on the tires.
One thing to keep in mind is that, since the race is being run under the lights, it's a whole different look through the helmet for the drivers. There is no single light source (i.e. The Sun), and the lights themselves are a different color temperature as well. As a result, you need different shading through the visor. Ferrari's HWMNBN has a new helmet for the race, as found via his twitter feed:
He really needs to stop being such a goofball, otherwise he's in danger of losing his nickname.
Fortunately for all of us, the Legendary Announce Team is 100% professional 100% of the time, and they'll be providing their special brand of coverage on SPEED! this weekend. Here's the schedule:
Friday
P1: 430a - 6a streaming
P2: 830a - 1010a live
Saturday
P3: 5a - 6a streaming
Quals: 8a - 930a live-ish
Sunday
630a - 9a: 2012 Grand Prix of Singapore, live.
There's rain scheduled all weekend, which shouldn't be a surprise, because it's always scheduled to rain in Singapore. The question is "will it rain during the race?" My memory may fail me, but I can't remember a wet race the previous four seasons (searching, searching, searching... nope, never!), despite forecasted rain all four years. We'll see, but I'd
love
to see a wet night race.
See you Friday!
Posted by: Wonderduck at 06:21 PM | No Comments | Add Comment
Post contains 551 words, total size 4 kb.
Comments are disabled. Post is locked.
24kb generated in CPU 0.0122, elapsed 0.0766 seconds.
45 queries taking 0.0674 seconds, 232 records returned.
Powered by Minx 1.1.6c-pink.