May 19, 2008
F1 on SPEED: Monaco 2008!
As races go, it usually isn't all that much. But there is no brighter jewel for a F1 driver to have in his crown than the Grand Prix of Monte Carlo. David Coulthard's Chin owns a hotel in Monaco, a few drivers (and Spanky Mosley, too) live there. And it's the only street circuit in Formula 1 (at least until the Singapore race), to boot. Only Monaco lets you nibble some expensive cheese while a multi-million dollar high-tech whizwagon flies by, merely feet away.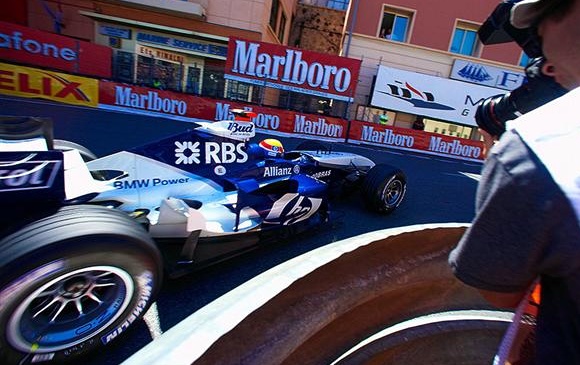 Of course, you have to be very rich or very lucky to have a shot at being THAT close to the track. Even if you're not one of the megabuckers, though, the grandstands around the track are still closer than any other on the F1 calendar.
Monaco is well-known as the tightest track on the calendar, with absolutely no room for error. In the past, traction control could keep most cars off the armco barriers, but this year? Even the slightest fishtail will spell doom, particularly at
Sainte Devote
,
Tabac
and
Anthony Noghes
. Of course, the Hairpin is the tightest turn in F1 (over 180 degrees, to be exact) and requires special suspensions for the cars to be able to even attempt it. With a normal suspension, the inside of the front wheels would actually mill their way through the suspension arms.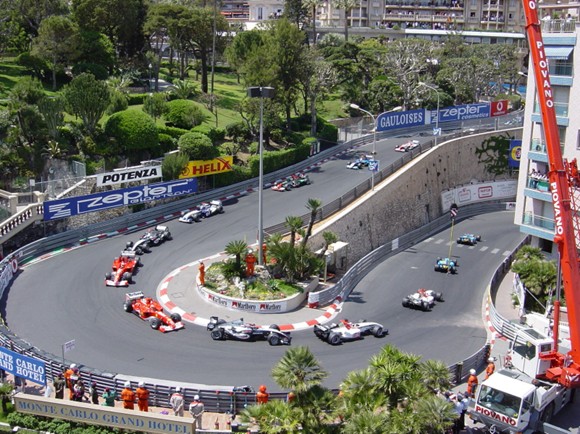 Thankfully, our friends at SPEED will be bringing us all the action from Monaco!
Coverage begins on
Thursday
, May 22nd, from 7am to 830am, with live coverage of Practice Session 2. Note that this is different from every other race on the calendar; usually this is on Friday, but Monaco plays by its own rules. There's a replay on Friday from 1130a to 1p.
Saturday, May 24th brings us Quals from 7a to 830a, plausibly live. In the past, Monaco has been known for being a processional, rather than a race, so your qualifying place is tremendously important here. Of course, with TC missing, who knows?
Sunday, May 25th is the real deal, the Grand Prix of Monte Carlo, from 630a to 9a, LIVE. See if we get a car into the harbor this year! There's a replay from 4p to 630p, too, in case you want to watch that
other
race...
Of course, F1 UPDATE! will keep you up to date on what's happening all week long!
Posted by: Wonderduck at 06:22 PM | Comments (4) | Add Comment
Post contains 399 words, total size 3 kb.
Posted by: Mallory at May 20, 2008 07:09 AM (3sife)
Posted by: Lokki at May 22, 2008 10:39 AM (wSBsc)
Posted by: Steven Den Beste at May 23, 2008 09:43 AM (+rSRq)
Posted by: David at May 23, 2008 03:03 PM (khRGN)
Comments are disabled. Post is locked.
21kb generated in CPU 0.03, elapsed 0.0785 seconds.
53 queries taking 0.0636 seconds, 194 records returned.
Powered by Minx 1.1.6c-pink.