April 04, 2011
F1 on SPEED!: Malaysia 2011
Leaving the season opener in Australia in the rear-view mirror, we head northwest a couple thousand miles to Malaysia this weekend. Let us take a look at the track map before we get to the good stuff: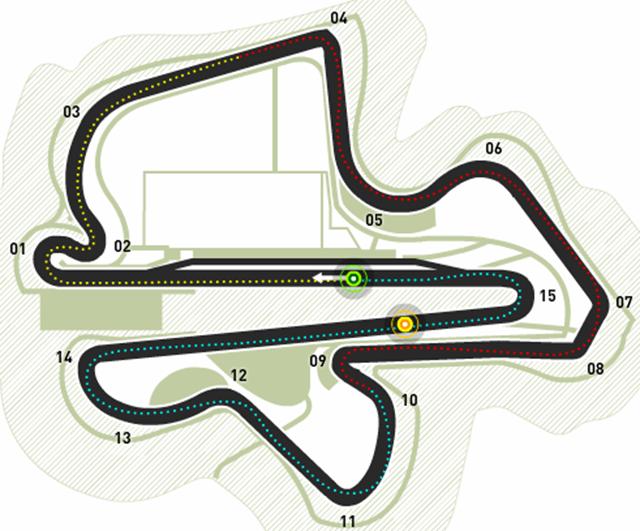 As one can see, the Sepang International Circuit is dominated by two massive straightaways that should allow the Drag Reduction System to really show what it can do, unlike Australia's too-short straight. There is one factor that is even more important to any race here than the track layout itself, and that's the weather.
For Australia, the weather was surprisingly cool, sunny but only around 65°F. The forecast for the race weekend in Malaysia is temperatures around 90°F, very humid, and a
lot
of rain every day. The heat and track surface will cause the Pirelli tires to wear faster. Indeed, the tire manufacturer is predicting four stops, instead of three for Australia. Of course, they didn't exactly get that right in some cases, so who knows? And then there's the weather. If indeed it's raining during the race, just how will the Inters and Wets hold up? Earlier this year, "the rain in Spain falls mainly on test days" was the mantra, but the number of laps turned were rather low... nobody
really
knows what the wear will be. They might be longer-lived than the dry tires for all we know.
Another thing we don't know is what will happen if we get rain during Quals. Throw everybody into a cocked hat, pick a name at random, and there's your polesitter. Well, except for Virgin and HRT, of course. One thing we did learn during practice at Australia is that, if anybody is on-track with wet weather tires, the DRS is turned off and nobody can use it. Probably won't mean anything, but you never know if that'll make a difference.
Fortunately, we've got our usual sterling coverage coming from the good folks at SPEED. To start with, we get Friday's first practice session, streaming live at speedtv.com, from 9pm to 1030pm on Thursday night. Practice 2 will also be live, though that'll be on SPEED itself, from 1am to 240am Friday morning. P3 will be streamed live on Friday night, from 11pm to 12midnight. Will HRT make an appearance this time around, or will they merely be spectators again? They say they'll be on-track, but they said that two weeks ago, too.
The all-important Quals session will be plausibly live from 3am to 430am on Saturday morning... no way the F1U! crew will be awake for that, uh-uh. Finally, it all comes down to the Grand Prix of Malaysia, live from 230am to 5am on Sunday morning. There will be two replays, from 130pm to 4pm on Sunday afternoon, and from 11am to 130pm on Tuesday, April 12th.
Of course, F1 Update! will be all over it as much as we are physically able! See you then!
Posted by: Wonderduck at 06:14 PM | Comments (4) | Add Comment
Post contains 491 words, total size 3 kb.
1
Where's the best place on this track for passing?
I kind of get the impression that the answer is "the pit lane", and that the best way to gain position is to make your pit stops rare and rapid. That seems to be the case on most F1 tracks.
Posted by: Steven Den Beste at April 05, 2011 02:49 PM (+rSRq)
2
The main passing point on this track is Turn 15, at the end of the back straight. I don't know where the activation zone for the DRS is yet, but I'm guessing it'll be the back straight. If not there, the front straight is the other obvious choice... but Turn 1 is hardly passing fodder, unless you're quite brave.
This is a Tilke circuit, so there's few good passing zones, is what I'm saying. To his credit, I'm fond of the Turn 1-2 complex... it's a little downhill and off-camber to boot, so it's a fun turn to watch cars take, but it's nigh-on impossible to go through in any way other than single-file.
Posted by: Wonderduck at April 05, 2011 07:57 PM (W8Men)
3
I was wondering if it was possible to pass in 5-6.
Posted by: Steven Den Beste at April 05, 2011 08:07 PM (+rSRq)
4
Not really. That complex is taken too fast for the drivers to do anything but try and stay on the racing line. It's not impossible, though a pilot would have a weight penalty because of all the brass he'd be carrying in his firesuit.
Posted by: Wonderduck at April 05, 2011 10:34 PM (W8Men)
Comments are disabled. Post is locked.
25kb generated in CPU 0.0196, elapsed 0.1151 seconds.
47 queries taking 0.1012 seconds, 237 records returned.
Powered by Minx 1.1.6c-pink.