March 29, 2010
F1 On Speed!: Malaysia 2010!
For many, many years, the most hated man in Formula 1 was either Max Mosley or Bernie Ecclestone. It was thought that their meddling with the rules was to blame for the "processional" style of racing we've seen for a while, and there's no denying that they certainly deserve their share of brickbats. But even more deserving of slings and arrows is a man who's face we've seen but rarely. He is responsible for the designs of either nine or 10 (depending on how you lay blame) of the 19 circuits on the F1 calendar. He has a knack of placing turns at just the right place to ruin any chance of passing, or to take what should be a good turn for a pass and destroy it by changing the radius mid-bend. This man is named Hermann Tilke. The Grand Prix of Malaysia is held on one of his circuits. Here's the track map.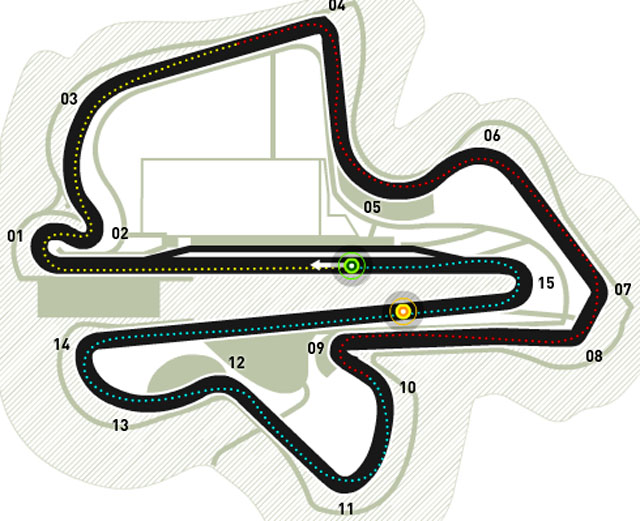 To be fair to Mr Tilke, his race complexes often have stunning architecture involved, and Malaysia's Sepang International Circuit is probably best known for having
the longest continuous fully covered grandstand
in the world. Beginning shortly after Turn 14, it runs down to Turn 15 then pivots around a central parasol, continuing down the main straight until ending near pit-out.
The fact that I'm writing about architecture might give you the impression that I'm struggling to come up with something nice to say about this racetrack... and you'd be entirely right. Other than the Turn 1-2 complex, an off-camber descending corkscrew of turns that I've always been fond of, there's not all that much to like about Sepang.
Unless you like rain, in which case
boy
do I have a circuit for you! Last year's race was the first in a long, long time to be called on account of weather before the half-way point, meaning all points scored were halved. The big deluge soaked the track for such an extended period that the sun set before it was safe to drive on again. Oh, guess what? There's rain in the forecast again. What a shock.
Still, SPEED will bring us its usual high-quality coverage beginning at 1am Friday morning with LIVE footage from Friday's Second Practice, until 240am. Saturday has plausibly live coverage of the Quals session, from 3am to 430am. The actual race is on Sunday, from 230am to 5am, with a replay at 1030am. Unfortunately, the Legendary Announce Team will be down a voice all weekend, as the ringmaster, Bob Varsha, will be working the Palm Beach Barrett-Jackson collector car auction. I believe they said Lee Diffie will be filling in, and he's certainly knowledgeable enough (he does the same job for Australian TV coverage of F1), but he's not The Varsha.
We'll be here with our sterling reportage all weekend, so don't forget to drop in, Dear Reader. And my other reader is welcome, too.
Posted by: Wonderduck at 08:20 PM | Comments (3) | Add Comment
Post contains 489 words, total size 3 kb.
1
Well, it's a pretty track that looks like it would make a good drag strip.
Ugh, another middle-of-the-night races. And rain, too? I'll be watching the replay.
Thanks for the reminder about Barrett Jackson. Varsha will be missed on the F1 coverage, but Barrett Jackson wouldn't be the same without him.
Posted by: Mallory at March 30, 2010 05:53 AM (WJ2qy)
2
You're going to hate me even more, guess where I am now? Have got some pics for you BTW, but will have to wait until I get home to see them
Posted by: Andy Janes at March 31, 2010 05:26 AM (joE6B)
3
As a matter of fact, you're right; I DO hate you even more now.
Posted by: Wonderduck at March 31, 2010 06:36 AM (mfPs/)
Comments are disabled. Post is locked.
25kb generated in CPU 0.07, elapsed 0.1072 seconds.
53 queries taking 0.0866 seconds, 235 records returned.
Powered by Minx 1.1.6c-pink.