September 03, 2012
F1 on SPEED!: Italy 2012
There are four classic tracks remaining in Formula 1. The ridiculously confined street circuit, Monaco. The birthplace of the sport, Silverstone. The longest, hilliest circuit, Spa. And then there is the fastest track, the immortal Monza, the home of the Grand Prix of Italy. Let's take a look at the track map: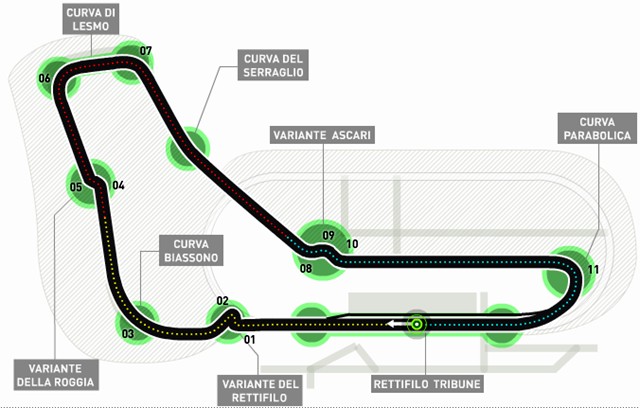 It's changed since those early days, shortened and slowed by the removal of some parts of the circuit, the addition of some chicanes, all in the name of safety. Having said that, this is still the track that's the hardest on engines, with a full 80% of the lap spent at full throttle. If a team could legally run a car without wings, this is where it would happen.
It used to be that the rear wings on F1 cars at Monza were more suggestions than actual downforce-creating devices. Now with the introduction of DRS, teams actually carry a little bit of wing in comparison to, say, 2009 or 2010. As it is, though, there's still remarkably little downforce used at Monza, all in the quest for straightline speed.
Which of course means that when you DO need to turn, it takes a lot of talent to keep the car on the circuit. Parabolica is a particularly evil location; you break hard to enter, then accelerate all the way through a decreasing radius turn. This is made all the worse when you realize you're doing this in a car that, at the best of times, is trying to cause you grievous personal harm as it runs along the ragged edge of traction. Taking Parabolica without the usual amount of downforce must be...
exciting
.
Fortunately, the Legendary Announce Team will be bringing us all the excitement as they always do! Let's take a look at the weekend schedule:
FRIDAY
P1: 300a - 430a streaming
P2: 700a - 840a live
SATURDAY
P3: 400a - 500a streaming
Quals: 700a - 830a plausibly live
SUNDAY
2012 Grand Prix of Italy: 630a - 9a live
Of course, F1 Update! will be all over it like a cheap suit on rice. See ya then!
Posted by: Wonderduck at 07:50 PM | No Comments | Add Comment
Post contains 355 words, total size 2 kb.
Comments are disabled. Post is locked.
23kb generated in CPU 0.012, elapsed 0.1131 seconds.
45 queries taking 0.1057 seconds, 232 records returned.
Powered by Minx 1.1.6c-pink.