September 05, 2011
F1 on SPEED!: Italy 2011
Speed. Either one has it, or one doesn't. A car can be nimble, a car can be quick, a car can
jump over a candlestick
make lightning starts, a driver can wring the most possible out of a car... but when it comes to racing, ultimately if it can't go fast, it's rubbish. In Formula 1, nowhere is that basic tenet more true than at "La Pista Magica". The Magic Track. Monza.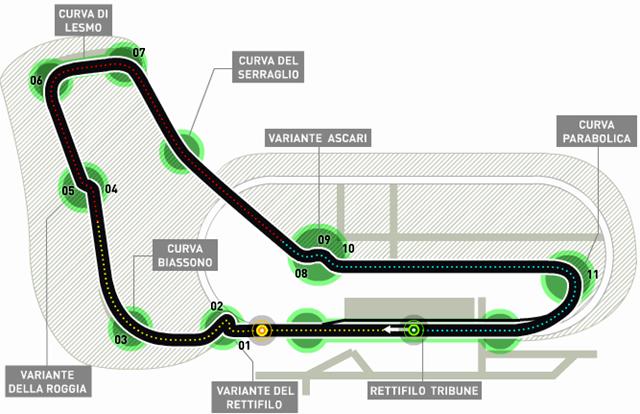 I have often joked of "The Church of Speed" here on The Pond, with its patron saint, Fangio The Quick. If such a religion existed, Monza would undoubtedly be its Holy Land (the NASCAR schism would surely designate Daytona as theirs, with St Earnhardt the most important figure. Woe be unto them, for they know not the true meaning of Speed). Possessing the fewest turns in F1, seven of which were added solely to slow the cars down (blasphemy!), Monza is the ultimate in low-downforce, low-drag setups. The fastest ever recorded F1 lap (162.949mph) was set here in 2004. It is the crucible all F1 chassis must go through: if you can't be fast here, you can't be fast... period.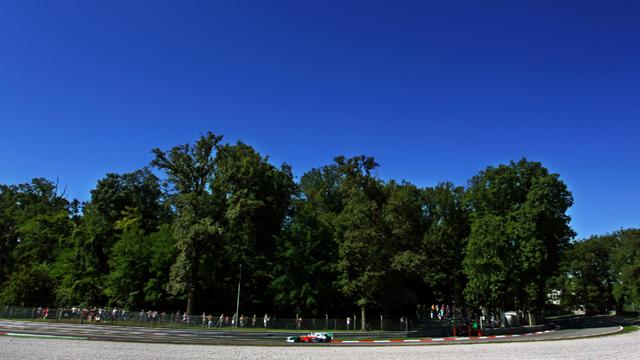 Yet Monza is also one of the prettiest tracks you'll ever find as well. Set into a national park, trees line the sides of the circuit in many places. It's this location that is also one of the dangers inherent to Monza. Since it
is
in a national park, there's a limit to what modifications can be made. Extra runoff area is impossible to come by since that would mean cutting down trees. Many turns (such as Parabolica, above) still have kittylitter instead of safer asphalt runoff zones. But then, it wouldn't be Monza if it was totally safe.
However,
you
can be perfectly safe at home watching the 2011 Grand Prix of Italy, thanks to the good offices of the Legendary Announce Team at SPEED, who as always will be bringing us live coverage of the race weekend's action. Here's the lineup:
Friday: Practice 1: 3am to 430am streaming. Practice 2: 7am to 840am live
Saturday: Practice 3: 4am to 5am streaming. Quals: 7am to 830am live.
Sunday: 2011 Grand Prix of Italy: 630am to 9am live. 330pm to 6pm replay.
Of course, F1U! will be all over the race like kittylitter in a graveltrap. See ya then!
Posted by: Wonderduck at 07:40 PM | Comments (2) | Add Comment
Post contains 396 words, total size 3 kb.
1
Interesting 1st practice, don't you think? BTW the food & lodging at Monza are head & shoulders above most of the others tracks, lovely place.
Posted by: von Krag at September 09, 2011 06:51 AM (VGXAE)
2
Didn't see it, VK... that whole "3am" thing, y'know. Don't tell me what happened, though, I'll find that out when I get back to Pond Central after work.
Posted by: Wonderduck at September 09, 2011 10:49 AM (OS+Cr)
Comments are disabled. Post is locked.
24kb generated in CPU 0.0145, elapsed 0.4549 seconds.
47 queries taking 0.445 seconds, 235 records returned.
Powered by Minx 1.1.6c-pink.