October 24, 2011
F1 on SPEED!: India 2011
Do you remember that feeling you got as a young child when Christmas was just a few days away? When the tree was beautifully trimmed, all aglow with lights and shiny ornaments and perhaps some tinsel? And underneath you can see a big box with your name on it. Remember what that felt like? The anticipation, the excitement, the almost intolerable feeling of anticipation? And then when Christmas came along sometimes you got exactly what you wanted (Red Ryder B-B gun!), sometimes you didn't (dress socks?), but either way the leadup was nearly as good as the day itself. Remember all that?
For fans of Formula 1, there is a similar time. It's when the great Circus heads to a brand new circuit, one that the teams have never turned a tire upon ever. It's a time of great hope and speculation: will this new track become legendary? Will it fade into the mists of time, unloved and unmourned? This is where we find ourselves today, as the Formula 1 teams, big and small alike, will be racing for the first time on the Buddh International Circuit in Greater Noida, Uttar Pradesh, India! Let's take a look at the track map for this first Grand Prix of India: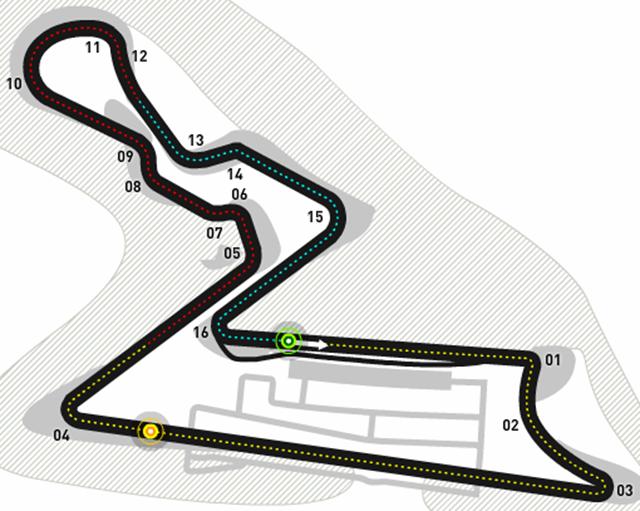 At first glance, it's clearly the work of the fevered claws of The Evil One himself, Hermann Tilke. Straightaway, tight turn, hairpin, straightaway, tight turn, twisty bits, back to the start to do it all over again. We've seen it a dozen times before from the Tilkemonster, and pretty much only one of his circuits (Turkey) has proven to be any good, with Korea's coin still flipping in the air.
But a closer look at Buddh International Circuit shows us that it has something that Malaysia, Abu Dhabi, Bahrain and the other generic Tilkeisms lack: elevation change. It goes uphill from Turn 1 to Turn 3, then it goes back downhill to the halfway point of the long straightaway. At that point, it goes back uphill to Turn 4... and then it's a fairly steep plummet down to Turn 5. Turns 3 and 4 are about 50 feet above the level of the main straight, more or less, which on a Tilke track is like the difference between the top and bottom of the Grand Canyon. But he's not done there, oh no. The Turn 10/11 complex, a greater-than-180°, ever-changing-radius loop, not only climbs but is also
banked
. No idea how substantial the banking is, though I think I'm safe in saying it's no more than 10 degrees, and probably quite a bit less. Still,
any
banking is unfamiliar territory for F1; not since the Circus raced at Indianapolis have they seen any turn that wasn't billiard-table flat. But even then, the roller coaster isn't finished. There's yet
another
climb from Turn 13 to Turn 15, then another steep dive to the final turn.
The track's promotional team is already saying that it'll be the "second-fastest circuit in the world," with an expected average speed of nearly 140mph. I can only assume they're referring to "road" circuits, since pretty much every oval in the US is faster than that. If it
really
is nearly as fast as Monza, that'll be quite a feat. Another feature that the powers-that-be are trumpeting is that the trackplan was run by the F1 teams for their input on what would make for better racing. As a result, it was made wider in some places (Turn 10, for example) to allow multiple racing lines and easier passing.
Pirelli says that they expect tire wear to be nothing out of the ordinary, but they're being quite conservative in compound choice for the race. They're bringing the Hard and Soft compounds, the first time we've seen the hard rubber since the British Grand Prix, and at that rainy race only one driver (Paul di Resta) ever actually put them on. There's expected to be a two-second delta between the two tire types, so don't expect there to be much running on the hards. Still, Pirelli made a good call here; while everybody
expects
the soft tires to last a reasonable amount of laps, they won't
know
that until they start running in earnest.
That earnest running will begin late Thursday night, all of which will be brought to us by the good folks at SPEED! Here's the scoop:
Thursday: Practice 1 goes from 1130pm to 1am, streaming live. Be aware that I'll be doing the second-ever liveblog of this session right here at The Pond, so stop in and be entertained!
Friday: 330am to 510am is Practice 2, live on SPEED. In contrast, this is too late/early, even for me.
Saturday: 1230am to 130am is Practice 3, streaming live. I'm undecided if I'm going to liveblog this; a lot will depend on how things go in the other two sessions. Quals is from 330am to 5am, live on SPEED. Again, waaaay too early for me.
Finally, Sunday brings us the first ever Grand Prix of India from 4am to 630am, live on SPEED. No real chance that I'll be able to get up that early I'm afraid. There's a replay from 2pm to 430pm as well.
Sharp-eyed readers might notice that there's something odd going on with the start times of each event: they're all beginning on the half-hour, as opposed to the top of the hour like normal. That's because of a peculiarity of India. India Standard Time is GMT +5:30, for a reason that I can only assume is because of the immense size of the country. Perhaps Ph.Duck would be kind enough to explain the actual reason to us!
So that's it! The Grand Prix of
Christmas
India schedule, liveblogging, I'm even taking Friday and Monday off so I can concentrate on this brand new track (and sleep, don't forget about sleep)! How's
that
for your F1 fanservice, huh? We'll see you then!
Posted by: Wonderduck at 09:38 PM | Comments (2) | Add Comment
Post contains 992 words, total size 6 kb.
1
Spa Francochamps has this kind of altitude change, though not quite so varied. Are there any other tracks which do this?
Posted by: Steven Den Beste at October 25, 2011 02:04 PM (+rSRq)
2
Spa-Francopants actually has close to 120' of altitude change, but it all comes at Eau Rouge, then works its way back down on the back half of the track.
Other than that, Brazil and Japan both have decent hill climbs. Hungary, Germany and to a lesser extent Turkey have some height change, but not really great whopping hills.
Please note that those tracks mentioned, other than Turkey, are all older circuits, and Turkey is the best of the Tilkeisms. The Austin circuit, which I'll be drooling over next year, is going to be kind of like India's layout, but with Spa's altitude change.
Posted by: Wonderduck at October 25, 2011 03:38 PM (o45Mg)
Comments are disabled. Post is locked.
28kb generated in CPU 0.0129, elapsed 0.2721 seconds.
47 queries taking 0.2644 seconds, 235 records returned.
Powered by Minx 1.1.6c-pink.