March 08, 2010
F1 On SPEED!: Bahrain 2010!
The FIA tells us that the 2010 Formula 1 season officially opens with Friday's first practice session. But I have come amongst you, brethren and sistren, to tell you different. For I have heard the holy wail of St Fangio the Quick's blessed V10, and it tells me that here at The Pond, the season begins...
...now.
And things will be different this season. We no longer have refueling, so pitstops now are for tires only, and in testing were running sub-three-seconds. We've got three brand new teams, running nearly five seconds behind the frontrunners. We have six drivers that weren't on the grid last year, from rookies Bruno Senna and Vitaly Petrov to some guy nicknamed "Slappy." There's a new points system. There's no KERS anymore. And there's a new location for the first race of the season, cutting in front of Australia.
And even THAT'S new, because the people who run the Sakhir International Circuit in Bahrain have realized that maybe,
just maybe
, Hermann Tilke doesn't have the slightest idea how to design a successful racetrack. Let's take a look at the new layout: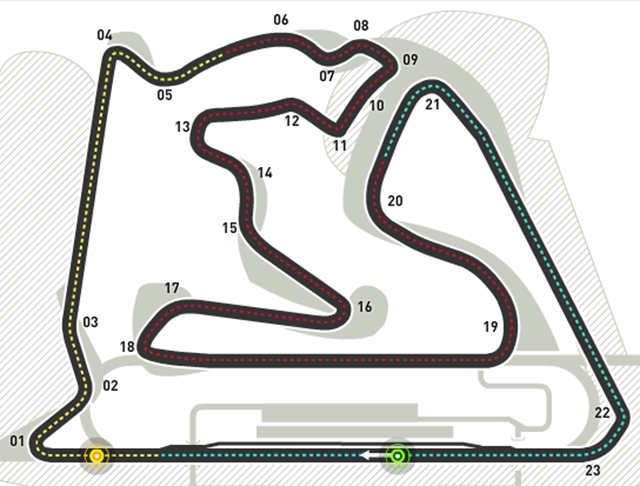 Well, that's a rather serious change. Everything from Turn 5 to Turn 15 (which is a reprofiled Turn 7 on the old layout) is new, as you can see if you compare the layout to
last year's map
. While the old circuit design may have been the best of Tilke tracks as far as passing went, it sure wasn't what anybody would've called conducive to overtaking. The new bit, which adds nearly a kilometer to the overall length, is supposed to facilitate passing by throwing in new braking zones for drivers to take advantage of. At least from looking at the map, I'd say Turns 11, 16 and 18 will be the new hot spots, with brave pilots maybe trying Turn 13 as well. Of course, nobody really knows because the teams haven't turned a wheel on it yet. It's worth mentioning that Renault's Robert Kubica doesn't think the new section will add any new passing opportunities.
Just another advantage of building a circuit in the desert, 12 miles away from the nearest city. Bahrain is probably the safest track in F1, complete with built-in sandtraps, runoff areas that you could build small suburbs on and the most modern infield medical complex in the series. And there's no neighbors to annoy when you update the complex, to boot!
It's pretty safe to assume that it won't be raining for the race, though there is always a chance for sandstorms. The organizers even thought of that, however, as they spray an adhesive over the sand around the complex before race weekend. Even with that though, the track should permanently be considered "dirty," with a thin layer of sand off the racing line.
We'll get our first look at the Bahrain "Endurance" Circuit, as it's called, on Friday March 12th, with SPEED's live coverage of the day's 2nd Practice session from 5am to 640am. Saturday brings us the first Quals session of the year, plausibly live from 5am to 630am.
Sunday, of course, is the beginning of Daylight Saving Time, so remember to shift your clocks ahead one hour at 2am! That way, when you set your VCR for the race, which will be coming to us live from 630am to 9am, you'll actually
get
the race. There'll also be replays at 1230pm to 3pm on Sunday and another from 1130am to 2pm on Monday.
Of course, the F1 Update! crew will be providing our usual post-race writeup. F1 is back, and it promises to be one heckuva season!
Posted by: Wonderduck at 02:17 PM | Comments (3) | Add Comment
Post contains 608 words, total size 4 kb.
1
Like the looks of the circuit. It looks a little more user-friendly.
I've already got my alarm clock set!!!
Posted by: Mallory at March 08, 2010 07:45 PM (WJ2qy)
2
They really changed it a lot, didn't they?
Posted by: Steven Den Beste at March 09, 2010 12:14 AM (+rSRq)
3
Yup, and they aren't the only ones, either. Silverstone has changed, too... we'll cover those at the British GP.
Posted by: Wonderduck at March 09, 2010 07:57 AM (mfPs/)
Comments are disabled. Post is locked.
25kb generated in CPU 0.02, elapsed 0.0949 seconds.
53 queries taking 0.0773 seconds, 235 records returned.
Powered by Minx 1.1.6c-pink.