November 08, 2010
F1 on SPEED!: Abu Dhabi 2010
And so it comes to this, the final race of the season. In many ways, this is the way it should be. While we're unlikely to have the championship come down to the final turn of the final lap like it did in 2008, one race for all the marbles just feels right.
And the Yas Marina Circuit in Abu Dhabi will be the venue. Let's take a look at the track map: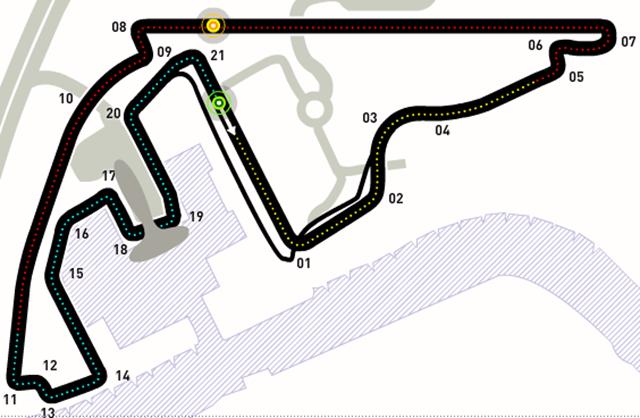 Dominated by two long straights and a third of not-insignificant length, you'd think the McLarens with their high top-end speed would own this place, and it may in fact work out that way, but I'd not bet on it. Most of the turns are low-gear, low-speed, which would play into the Red Bulls' hands, but I'd not bet on that, either. No, the easy way to wager would be on the Ferrari, just because of its balance between handling and grunt. Since that's the easy way, however, I'm not going to take it: HRT will own the victory after a hideous blimp accident clears the way for them.
Bridgestone is bringing their super-soft and medium compounds, just like last year. Drivers say it combines the best of modern circuits with the best of Monaco-style street circuits, which sounds like Korea's mission statement actually. If we have a race like Korea this weekend, I'll be happy... not expecting it, though. The main excitement last year was provided by rookie Kamui Kobayashi passing Driver's World Champion Jenson Button into Turn 8, then the processional began and the race turned dull. The most interesting part of the circuit is the pitlane, which goes through a tunnel under Turn 1 as it rejoins the track. It didn't cause any problems last year, but more than a couple of cars got squirrely there. One bump into the wall and we've got major headaches.
Well, we'll be seeing it all unveil live on SPEED!, beginning with Friday's 2nd Practice from 6am to 740am. Quals is Saturday from 6am to 730am. Then, finally, we see the second-ever Grand Prix of Abu Dhabi on Sunday, from 530am to 8am. There'll be a replay from 230pm to 5pm that afternoon. And then we're done for the year... and I have to admit to some relief.
In a completely unrelated topic, I'm going to toot my own horn here for a second. During last year's F1U! for the GP of Abu Dhabi, I said this:
*TEAM OF THE RACE
: It's hard to think that Red Bull won't be favored to win the 2010 championship. They probably have the best car on the grid, one of the best drivers in Seb Vettel (and teammate Mark Webber ain't exactly chopped liver, either), came in second in the constructor's championship (and Vettel finished second in the driver's championship), and had their fourth 1-2 finish of the season today. Not bad for a team that hadn't won a race before this year!
Perhaps not a prediction that went particularly far out on a limb, but there you go.
Posted by: Wonderduck at 09:18 AM | Comments (5) | Add Comment
Post contains 513 words, total size 3 kb.
Posted by: Steven Den Beste at November 08, 2010 06:06 PM (+rSRq)
Posted by: Wonderduck at November 08, 2010 10:07 PM (vW/MM)
Posted by: Mallory at November 09, 2010 08:31 AM (WJ2qy)
Posted by: dogbox at November 12, 2010 06:12 AM (aWLY4)
Posted by: Wonderduck at November 12, 2010 08:56 AM (vW/MM)
Comments are disabled. Post is locked.
26kb generated in CPU 0.0116, elapsed 0.0808 seconds.
47 queries taking 0.072 seconds, 238 records returned.
Powered by Minx 1.1.6c-pink.