October 07, 2015
F1 on NBCSN: Russia 2015
Last year saw the debut of the Grand Prix of Russia, but it was a very bittersweet race to say the least. Indeed, one got the impression that the drivers weren't all that thrilled to be there... understandable, considering what had happened in Japan a couple of weeks earlier. That's not a knock on Sochi, the atmosphere probably would have been the same at any circuit on the calendar. So here's the map for the second Grand Prix of All The Russias:
Guess who designed it? That's right, it's a Tilkedrome, though it doesn't have his hallmark long straight followed by a stupid idea of a turn. Probably because he didn't have unlimited control of the venue: the circuit winds through Sochi Olympic Park, home of the 2014 Winter Olympics. There were probably too many buildings in the way for him to do his usual design tricks.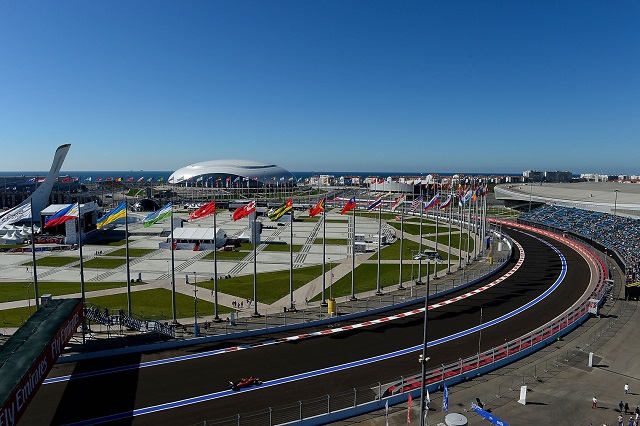 Last year, the circuit proved to be very gentle on tires... indeed, Nico Rosberg managed to go 52 laps on one set of tires, when the whole race was 53 in total. The surface is a year older now, so maybe it'll be a little less "sweet", but that's not the way to bet. Look for another one-stopper, and another rather less-than-exciting race. Hopefully we can actually see someone trying to challenge the lead.
Fortunately for our sanity, the Legendary Announce Team will be bringing us EXTENDED coverage this time around! Let's take a look at the broadcast schedule:
FRIDAY
Practice 2
: 6am - 730am live
SATURDAY
Practice 3
: 5am - 630am live-ish?
Quals
: 7am - 830am live
SUNDAY
2015 Grand Prix of Russia
: 530am - 8am live
That's right, we're getting to see Saturday's Practice 3! That's uncommon... I think it's usually just at Austin and occasionally Montreal that we see that. Why? Probably just needed to fill time is my guess. All times are Pond Central, of course. Add an hour if you're out there on the east coast, take two hours off if you're in Oregon or California, and it's whatever time you want it to be if you're on the North Pole.
You may remember I mentioned something about an announcement at the end of the Japanese Grand Prix F1U!... there was a chance I was going to have to drop my satellite plan due to lack of fundaging, but that turned out not to be entirely the case. So no worries, my usual desultory F1 coverage will be along on Sunday as usual. See ya then.
Posted by: Wonderduck at 05:45 PM | Comments (4) | Add Comment
Post contains 423 words, total size 3 kb.
Posted by: Steven Den Beste at October 07, 2015 07:25 PM (+rSRq)
Posted by: flatdarkmars at October 07, 2015 08:25 PM (LhHjb)
Posted by: Steven Den Beste at October 07, 2015 11:32 PM (+rSRq)
Posted by: Wonderduck at October 09, 2015 05:22 PM (a12rG)
27kb generated in CPU 0.0153, elapsed 0.0828 seconds.
49 queries taking 0.0717 seconds, 239 records returned.
Powered by Minx 1.1.6c-pink.