September 28, 2016
F1 on NBCSN: Malaysia 2016
It often rains in Sepang, home of the 2016 Grand Prix of Malaysia. In the past, though, the track had been less than stellar at drainage. So the circuit owners had the bright idea to redo pretty much the entire track. Here's the map: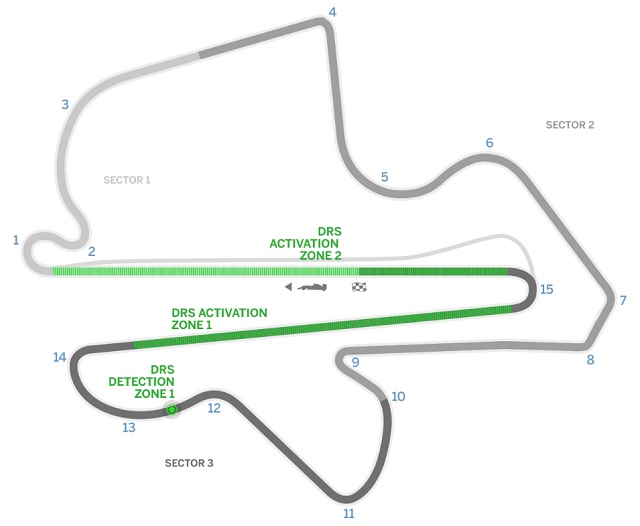 Mostly it looks the same. There's been a lot of subtle changes to the way the surface has been angled reportedly, so water will flow off faster. In doing this, many of the racing lines have probably changed. For example, the final turn, Turn 15, now has a fairly substantial negative camber... the inside of the turn is higher than the outside... so what's the fastest way through now? Nobody really knows, since F1 hasn't raced here since the resurfacing. And that's the story for most of the circuit now: it
looks
familiar, but looks can be deceiving. In truth, the place needed it; most of the braking zones were washboard-like from all the bumps that have formed over the years. That just can't be good when you're charging into a turn at nigh-on 200mph.
Sadly, none of this will matter a hill of beans. This track, where even the so-called "slow sections" are really quite fast, is tailor-made for Mercedes, which already has the best car on the grid. As more teams give up on this season... both Renault and Haas have stated that they've stopped development of their current chassis to concentrate entirely on 2017... the Mercs will either stay "just" as good or get better by comparison. Oh, great.
Well, can't say I didn't warn you. Want to know what the Legendary Announce Team thinks about it? Here's the broadcast schedule!
Friday
Practice 2: 1a - 230a live on NBCSN
Saturday
Quals: 4a - 530a live on NBCSN
Sunday
2016 Grand Prix of Malaysia: 1a - 4a? live on NBCSN
The questionmark at the end-time of the actual race is because my information sources are silent as to whether the race begins at 1a, or if that's the pre-race coverage. Check your local listings for times in your area. Post no bills. Burma Shave.
In other fairly important news, Formula 1 has new owners. The Liberty Media Group recently purchased a controlling share of F1 from CVC Capital Partners, with the rest of the shares to come down the pipe later. The deal is expected to be worth in the neighborhood of $4.5 billion. Bernie Ecclestone will remain as F1's CEO, but
Chase Carey's mustache
will be the Chairman. Please note the name of the company: Liberty
Media
. They've already said that they're going to be concentrating on how F1 is seen and consumed, with particular attention being paid to the United States. Expect advertising blitzes and at least one more race here in America sooner rather than later. Perhaps the
Grand Prix of Weehawken
will resurface...
See ya soonish!
Posted by: Wonderduck at 07:27 PM | Comments (3) | Add Comment
Post contains 482 words, total size 4 kb.
1
That map is *strikingly* similar to the one of Singapore a few posts down. I know you frequently comment on the tedious sameness of modern tracks, but really?
Posted by: AlanL at September 29, 2016 03:33 PM (trJKc)
2
Oh. I knew I forgot something last night... when I originally uploaded Malaysia, I named it Singapore, and never bothered to reupload Singapore.
Posted by: Wonderduck at September 29, 2016 05:15 PM (vZvpB)
3
F1 calendar.com says 0300 EST (estimated?), https://www.f1calendar.com/
CWC
Posted by: chuck clark at September 29, 2016 07:19 PM (PWkGj)
27kb generated in CPU 0.0118, elapsed 0.0709 seconds.
49 queries taking 0.0621 seconds, 238 records returned.
Powered by Minx 1.1.6c-pink.