September 01, 2015
F1 on NBCSN: Italy 2015
Every racing organization has their signature race/track. In NASCAR, it's the Daytona 500. In IndyCar, the Indianapolis 500. Endurance racing has the 24 Hours of LeMans. Australia's wonderful V8Supercar series has the Bathurst 1000 at the
Mt Panorama circuit
. And F1 has... um... Monaco, which isn't this week's race.
It also has its spiritual home, Silverstone... which isn't this week's race either.
No, this week's race is at F1's fastest circuit, the legendary Monza. Here's the map: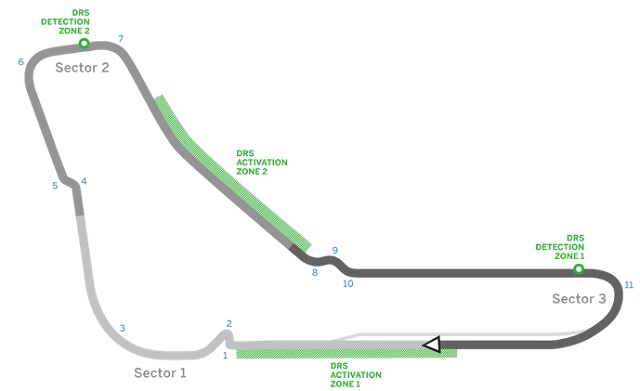 A full 230% of a lap at Monza is spent at full throttle. Brakes are things put on
other
teams' cars, not your own. Downforce is strictly optional, and you'll never see the cars look be polished so hard anywhere else... just in case that last little swipe of a rag is enough to rearrange the surface molecules of carbon fiber into something just .0001sec faster. Drivers spend the two weeks between Spa and Monza with their head in a giant slow metal press, trying to make their skulls that much more narrow and thus more aerodynamic. Various pieces of their bodies are surgically removed to save weight, then put back in afterwards. Jenson Button is well-known for having his left kidney removed. Former McLaren driver Juan Pablo Montoya routinely had liposuction before Monza. Current Lotus driver Pastor Maldonado has his entire brain taken out before each race, not just the Grand Prix of Italy.
As does the entire horde of Ferrari fans that attend. From all reports, it's a 24/7 party atmosphere at the circuit, and on those occasions that a Ferrari driver stands on the top step? Bedlam. In other circumstances, they'd call out the riot squad of the Caribinieri, except here they'd probably be joining in the festivities. That is to say, Ferrari is most definitely Italy's national team. Indeed, no other team really is: nobody thinks of Mercedes as "Germany's team," or McLaren as "Team England."
All of the above pretty much means that after 10 years of writing about Monza, I'm out of ideas. Hopefully the Legendary Announce Team still has flashes of inspiration, for they'll be bringing us their usual coverage! Here's the broadcast times, all on NBCSN:
FRIDAY
Practice 2
: 7a - 830a live
SATURDAY
Quals
: 7a - 830a live
SUNDAY
2015 Grand Prix of Italy
: 630a - 9a live
As is always the case, I'll have a report up sometime after the race. Thankfully it's Labor Day weekend, so... yeah. See ya then.
Posted by: Wonderduck at 10:38 PM | Comments (4) | Add Comment
Post contains 413 words, total size 3 kb.
1
I just visited the F1 home page and one of the things they're running is a video of "the fastest F1 lap in history", averaging 260 km/hr, by Montoya in 2004.
That was before they stuck in the three chicanes, wasn't it? Back when you ran Monza by flooring it the whole way and never using your brakes?
If so, it's kind of ironic that they're boasting about this particular run when they proceeded to change the track afterwards to make that impossible henceforth.
Posted by: Steven Den Beste at September 03, 2015 10:18 PM (+rSRq)
2
Steven, the chicanes are there, it's just that the cars were monsters in 2004. V10 engines producing 900hp and weighing less than 200lbs. Traction control, computer-regulated engine braking, all the driver aids they don't have now. Ironically, even with the chicanes, you could still run a lap at Monza without having to brake too much. Frighteningly, The Pope's car, a
Williams FW26
, wasn't even all that great in 2004. They had four podiums and a single win that year.
Almost all of the one-lap track records were set in 2004.
Posted by: Wonderduck at September 03, 2015 11:50 PM (jGQR+)
3
So why'd they regulate the cars away from that? Were the races worse somehow?
Posted by: HC at September 06, 2015 04:56 PM (RuYnF)
4
HC, the Powers That Be believed that the cars had become too fast to be safe, that it was only a matter of time until we'd have another death on the track. They may have even been correct.
Posted by: Wonderduck at September 06, 2015 10:35 PM (jGQR+)
28kb generated in CPU 0.013, elapsed 0.0776 seconds.
49 queries taking 0.0676 seconds, 239 records returned.
Powered by Minx 1.1.6c-pink.