September 02, 2013
F1 On NBCSN: Italy 2013
Every Formula 1 track on the calendar is different from every other. That's something we don't see much of here in the US, to be honest. Oh, to be sure, the ovals that
NASCAR races on have differences
(only a EuroSnob would think that Pocono, Michigan, Indianapolis, Bristol and Daytona are the same), but having said that, there is something to the "go fast, turn left" cliche. Well, this week the F1 Circus comes to a legendary circuit that most NASCAR fans would identify with, for this week, we come to Monza.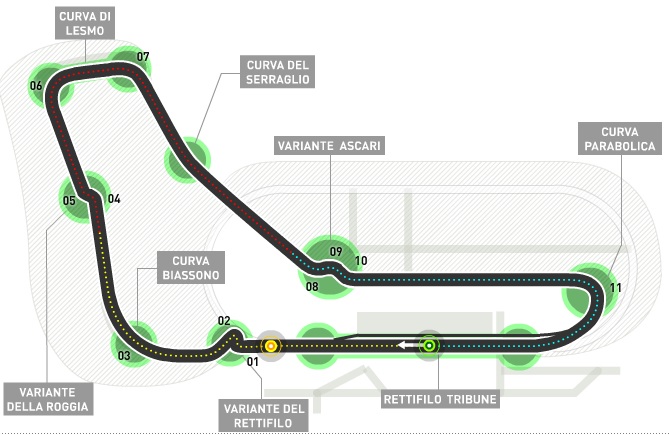 Back in the day before the Chicane Blight hit F1, Monza was about nothing but speed. Speed, speed, speed. Handling barely mattered: with only five turns, why waste time thinking about anything
but
going fast? Now, though, cars actually need a small amount of grip to make it through the evil Variante del Rettifilo at the end of the front straight, or the three-way Variante Ascari halfway through the back. But having said all that, Monza is still about speed, in a way no other circuit on the calendar is.
La Pista Magica
is the closest F1 comes to the grunting, knuckle-dragging image of a NASCAR track mindless EuroSnobs have, and they don't realize it. However, it is the Italian fans that turn Monza into The Magic Track, particularly when the Red Cars are running well. The way the
tifosi
mob the circuit after the race is over is truly an experience unlike any other in F1. Why, it's almost... NASCAR-ish.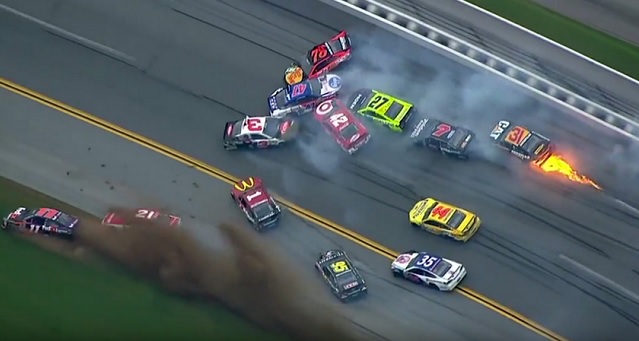 Of course, F1 can only DREAM of attendance like this...
Well, dream or not, our Legendary Announce Team will be bringing us all the usual coverage from Italy. Here's the lineup:
FRIDAY
:
7a - 830a Practice 2 live
SATURDAY
:
7a - 830a Quals live
SUNDAY
:
630a - 9a 2013 Grand Prix of Italy live
I've just discovered that I can watch my television, reflected in the frontplate of my new computer. It's almost good enough to liveblog from it!
Almost.
See you this weekend!
Posted by: Wonderduck at 08:22 PM | Comments (4) | Add Comment
Post contains 342 words, total size 3 kb.
Posted by: Steven Den Beste at September 02, 2013 08:58 PM (+rSRq)
Posted by: Wonderduck at September 02, 2013 09:28 PM (ifb6Y)
Posted by: Mauser at September 04, 2013 02:19 AM (TJ7ih)
Posted by: Mycroft W at September 04, 2013 09:53 AM (Z484j)
Comments are disabled. Post is locked.
25kb generated in CPU 0.0318, elapsed 0.4038 seconds.
47 queries taking 0.3833 seconds, 237 records returned.
Powered by Minx 1.1.6c-pink.