October 04, 2012
F1 Japan 2012 Practice 1: Liveblogging!
(Pre-Session) And it's another attempt at liveblogging! This time we find ourselves at Suzuka International Circuit for the first free practice session for the 2012 Grand Prix of Japan. It all gets under way at 8pm Central Pond Time, and if you'd like to follow along with me, direct your browser to
SPEED Streaming
and refresh The Pond from time to time! As in the past liveblogging sessions, the session is 90 minutes in length. I'll be using the time remaining as the time notation: if you see (1:02:30), that means 27.5 minutes have gone by in the session. Read from (1:30:00). Your mileage may vary. Ask your doctor if Wonderduck's Pond is right for you. Burma Shave. And now we wait...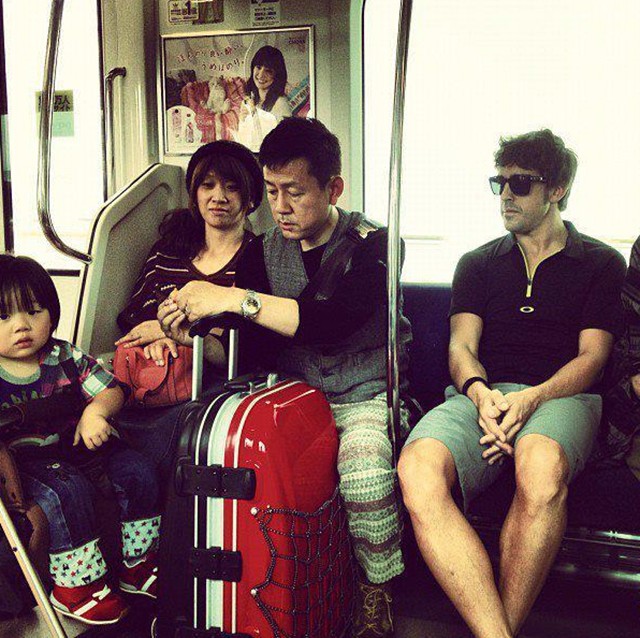 While HWMNBN terrorizes a Japanese family on a train, I suppose I should say something about the announcement that Slappy Schumacher has decided to retire (again) at the end of the season. It's no great surprise, to be honest. His comeback was singularly unsuccessful, to be honest. One podium, no poles, no victories in three years... and his teammate consistently outperformed him. That's not a good thing at all. He's surely helped Mercedes get their team off the ground, but... *shrug* He's still one of the best ever, and he should be remembered that way, but he probably shouldn't have come back. Any bets on him winding up in DTM or LeMans?
(1:30:00) And we're green! First on the circuit is... exactly who you'd think it'd be in Japan, Gandalf Kobayashi! Good news, FujiTV is not providing the world feed this year! This means we won't be watching Gandalf the entire time, even if he's in 18th.
Further updates will be below the More...
(1:26:17) We had a full raft of cars on track, then they all went back into the pits. Not a one of 'em turned a timed lap. That, my friends, is what's called an "installation lap," basically making sure that nothing broke on the way from Singapore.
(1:24:34) ...and no sooner did I type that than Kimi Raikkonen's Lotus was seen to be slow on the track and making grunting and farting noises like it couldn't find a gear if it was given directions. Good timing.
(1:21:44) The feed seemed to freeze up there for a minute. Eesh.
(1:21:10) Either that, or Japan decided to play the world's most elaborate game of "Statues".
(1:19:33) Radio to Jules Vergne: "When you head into Turn 1, give me a brief shot of DRS, just to make sure it works. Then don't use it for the rest of the lap." THAT'S gotta be encouraging.
(1:17:44) What did that camera bollard ever do to you, Slappy?
(1:15:17) Not much happening. Lots of shots of the pits, Jules Vergne apparently didn't die going into Turn 1 as he's lapping right now... looks like he'll be the first one to set a timed lap!
(1:14:19) Or, y'know,
not
, as he just went back into the pits.
(1:12:54) We just got a full lap of this shot: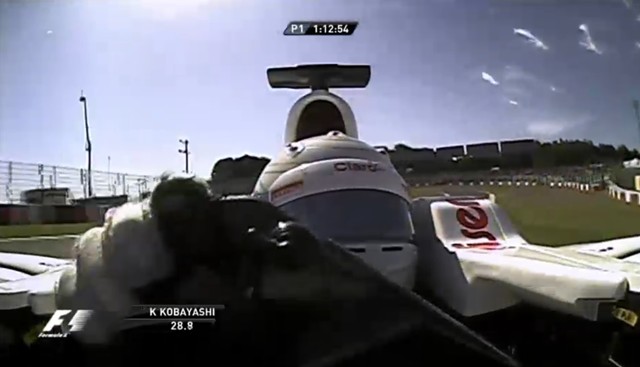 Actually, it was pretty cool. Oh, the weather is GREAT at Suzuka, by the way.
(1:09:32) Lewis Hamilton,
traitorous scum
driver for McLaren, takes to the track. There is a lot of "meh" in the stands.
(1:08:11)
Freezeframe
! SPEED's just having a rough time of it, I guess.
(1:04:53) It's a good thing FujiTV is gone... the F1 camera guys have found some GREAT camera positions this year... I'm trying to catch one of 'em.
(1:02:52) The HRT is a great car, one of the fastest in motorsport. Unfortunately, there are 22 better on the F1 grid. Pete Rose just took one through the Casio Triangle, aka "the slowest spot on the circuit", and it was skidding around like it was in
The Fast And The Furious: Suzuka Slide
. Just an awful, awful F1 car.
(59:29) What in the blue hells is that?
(56:41) Ooh, perhaps ominous clouds building in the direction of the Casio Triangle... who knows what that'll do?
(54:20) Lettuce Grosjean was almost in a whole world of hurt, getting a little off-track at 130R. Which is like getting a little bit dead. And about as safe. Fishy-fishy-fishtail at 180mph... not fun, I think. "Uh, pit box? Get me my brown firesuit, please."
(51:50) What in the...? It looked like Mark Webber just... got lost going into the Triangle. Oh, I know, he just missed his braking point, but the way he was fumbling around, trying to get the car going in a direction of his choosing, made it look like he was trying to make up his mind as to which way to go. Funny stuff.
(45:49) He figured out which way to go on that lap... a 1:34.856 for the fastest of the day so far.
(41:20) Here's one of those new camera positions I was mentioning: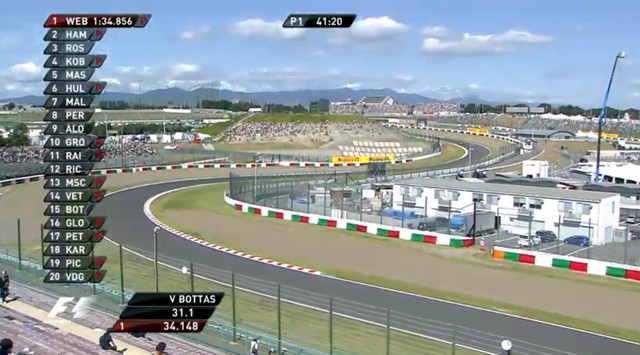 You can see the end of the S-Curves and a bit of the front straight (back right) and the leadup to Degner (just past the hill in mid-picture). There's another angle where you can see the crossover, both top and bottom, and I think Turn 12, too. Thank heaven for cranes. Right at the start of the stream, we saw cars in all three places at once... awfully neat.
(35:39) Lapping, lapping... but nothing happening, really. Just enjoying the feed with only tracksound, no announcers.
(35:01) Note to self: Jessica Michibata (aka Jenson's girlfriend) is awfully cute.
(33:40) Jenson Button turns fast lap with a 1:34.507. Symmetry there, I think: mention his girlfriend and he goes faster.
(32:07) In that same vein, I wonder... if you say "Alonso" to Massa, does he go slower?
(26:47) Mr Cameraman apparently went to film school.
(24:50) Things I did not expect to say during this session #1: "the action is really heating up on track." Lots of nose-to-tail running there for a minute or so. Stop it you guys, are you drunk? This is P1!
(24:1
No, Kimi was not one of them.
(23:02) Japan has just been frozen in time.
(21:20) ...and we're back. Japan now looks like it's the Land of 8-Bit.
(21:00) Which is appropriate, if you think about it.
(19:11) Note to self: you get better traction when all your wheels are on the ground.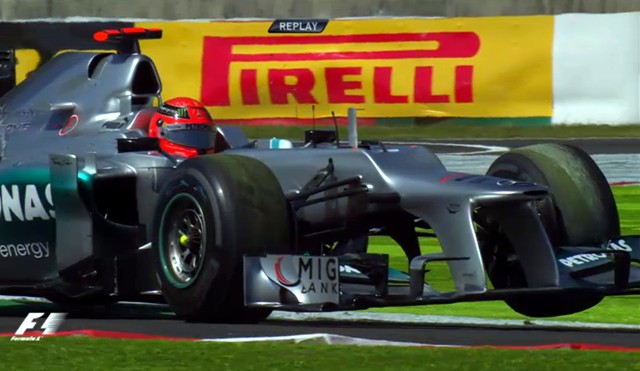 Slappy promptly blew the next turn. Look at the green stuff that's come up on the tires! Note: green stuff is not grass.
(15:30) Automobile? Or sculpture?
Mr Cameraman definitely went to film school.
(13:07) Gandalf just reached 312kph (194mph) going into 130R. He's a lunatic.
(10:02) They just shows a super-slow-mo shot of Sebby Vettel going over a curb, and it's amazing just how much everything
moves
on a F1 car. At a distance, everything seems rock-solid, but in closeup and slo-mo, you see the front wings bending and flapping, the nose of the car torquing, the tires actually moving side-to-side independent of the suspension... it's a shock the chassis doesn't just fall apart! Instead, they're the safest things on four wheels. Just incredible. Can you guess nothing particularly exciting is going on on-track?
(6:53) HERE'S the shot I was looking for!
How did FujiTV miss that shot for so many years???
(3:0
Jenson Button was just complaining of understeer on his McLaren. For all those who aren't sure what the difference between understeer and oversteer is, understeer is when you hit the wall with your nose. Oversteer is when you hit the wall with your tail.
(0:51) And Nico Rosberg walks away from his Mercedes, stopped on the side of the road. How you feelin' about your team choice now, Lewis?
(0:00) Time's up. Looks like Jenson will keep the fast-lap honors for the session, followed by Hamilton, Webber, Rosberg, Slappy, Gandalf, Massa, diResta, Hulkenberg and Maldonado. In other words, it's a normal practice session where you can't tell a darn thing from the results.
P2 comes up at midnight Pond Central Time... as much as I'd love to stay up and liveblog that too, I'm getting too old for that sort of thing when I've got to work in the morning. So this'll do it for tonight's F1 coverage! See you Friday evening for possible P2 coverage... or I may just skip it altogether and do my Quals coverage at 145am Saturday! We'll see how it goes... until then, folks, thanks for reading!
Posted by: Wonderduck at 06:12 PM | Comments (7) | Add Comment
Post contains 1396 words, total size 10 kb.
Posted by: C at October 04, 2012 07:26 PM (etVFe)
Posted by: Wonderduck at October 04, 2012 07:33 PM (kq0/k)
Posted by: C at October 04, 2012 08:10 PM (etVFe)
Posted by: Wonderduck at October 04, 2012 08:14 PM (kq0/k)
Posted by: Avatar at October 04, 2012 09:38 PM (+X3kh)
Posted by: Wonderduck at October 04, 2012 10:15 PM (kq0/k)
Posted by: Mikeski at October 05, 2012 11:09 PM (1bPWv)
Comments are disabled. Post is locked.
32kb generated in CPU 0.0267, elapsed 0.099 seconds.
47 queries taking 0.0898 seconds, 240 records returned.
Powered by Minx 1.1.6c-pink.