September 29, 2011
F1 Distances
A short while ago, I was speaking to Ph.Duck about the Grand Prix of Singapore. As is usually the case when I get to talking about Formula 1, my brain (shriveled and vestigial as it may seem at times) actually made an interesting observation, one that I'd never thought of before.
Formula 1 has the weirdest way of calculating distances ever. No, not the distance on track, that's all in miles or kilometers or hogsheads or bushels or rods or something like that. No, I mean the distances
between races
.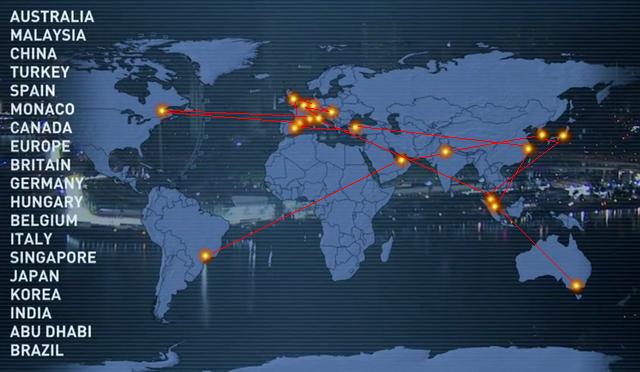 Unlike the rest of humanity, F1 seems to measure such things in weeks. As one would expect, this results in a somewhat skewed view of the world. For example, from Yas Marina Abu Dhabi to Sao Paolo Brazil is roughly 7200 miles. The distance between Spa Belgium and Monza Italy is roughly 500 miles. Yet to F1, they're the exact same distance apart: two weeks.
In fact, most of the racing world is two weeks distant from any other point in F1-land. There are exceptions to this, of course. It takes a full four weeks to get from Budapest to Spa, for example. Oddly, the time it takes to go from Kuala Lumpur Malaysia to Shanghai China (one week) is the same as Barcelona to Monte Carlo.
I'm not entirely sure where I was going to go with this incredible realization, but imagine if it took the same amount of time for the rest of humanity to go anywhere. Going to work? Better pack a lunch, it'll take you a week to get there. Heading to the loo? Two weeks, minimum. God help you if you go on vacation, it'll be time for you to come home by the time you get there.
Looks like I wasn't going anywhere.
Posted by: Wonderduck at 09:54 PM | Comments (2) | Add Comment
Post contains 301 words, total size 2 kb.
1
One week till Suzuka!This is one of the tracks I'd love to see live someday again since Tilke in it's redesign hasn't screwed it up too badly. I expect Vettle to win the race & championship but 2nd place for both is in a real competition.
Posted by: von Krag at September 30, 2011 07:31 PM (XIY2m)
2
I'm not sure I ever "raced" on Suzuka. I'm pretty sure I've played Pole Position II, but I never was very good at it, so never progressed beyond the first track.
Posted by: Kayle at September 30, 2011 11:52 PM (Oo5uO)
Comments are disabled. Post is locked.
23kb generated in CPU 0.0174, elapsed 0.0921 seconds.
47 queries taking 0.0801 seconds, 235 records returned.
Powered by Minx 1.1.6c-pink.