October 09, 2013
F1 on NBCSN: Japan 2013
We're running late this week, and my apologies for that. It's at least theoretically possible that one or two of you rely upon this feature to set your DVR, and you're not getting your info on time. I'd like to send you all a balloon animal to make it up to you, but FedEx just raised their fuel surcharge and I don't have an account with UPS anymore, so you'll just have to settle for something spiffy at the end of this post. Until then, however, it's early-mid October (or late-early October, whichever) which means it must be time for one of the truly classic tracks on the F1 calendar. Libbets and bunnymen, allow me to introduce to you the trackmap for the 2013 Grand Prix of Japan at Suzuka.
Really, I'm not entirely sure why this isn't my favorite F1 track. Maybe because they turned 130R into a mere ghost of itself when they slowed it down a touch? Could be, I suppose. I've never really seen 130R the way it used to be, so I can't say. Really, Suzuka has everything you could possibly want from a racetrack. It's fast, it's slow, but each section flows into each other like it was meant to... unlike some circuits I could name, and I'm looking at you here Korea. Plus, you've got the clever 'S'-Curves that are a true rhythm section like
Buddy Rich
could only dream about. Then, of course, you've got the crossover that makes this a figure-8 layout, just like our Tyco slotcar track when we were kids. There's elevation change galore, the Japanese are probably more passionate about F1 than even the Italians, so what's not to love?
Well, and I don't believe I'm going to say this, but "rain." When it rains in Japan, it doesn't just drizzle, but it bloody well typhoons, and that's just too much. The Great Suzuka Boat Races are a real thing, when the teams float homemade boats down the pitlane whilst watching track time go away under the deluge of dampness. At least at Spa, usually you still manage to get out on track.
Still, if that's the only quibble I have with Suzuka (and it is), then I guess I'll manage to get over it. It's a helluva circuit, and I'm still not sure why it isn't any higher than #3 on my favorites list. Oh well, maybe the Legendary Announce Team will be able to help us, for they'll be doing their thing as always this week. Here's the broadcast schedule:
FRIDAY
12mid - 130a: Practice 2 live
SATURDAY
12mid - 130a: Quals live
SUNDAY
1230a - 3a: 2013 Grand Prix of Japan live
So we've not a lot of time before P2 starts already! Go set your DVR now. What are you waiting for, a balloon animal?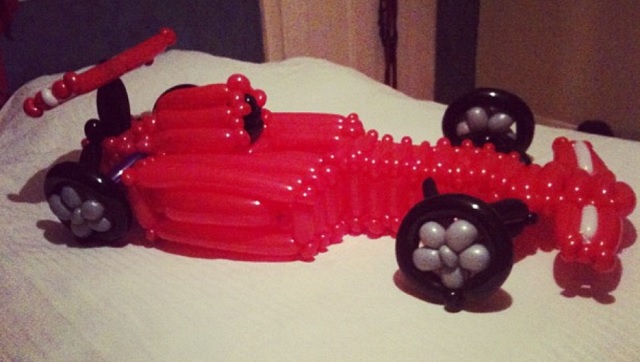 Will that do? See you sooner or later.
Posted by: Wonderduck at 08:13 PM | Comments (1) | Add Comment
Post contains 484 words, total size 3 kb.
1
Suzuka is one of my favorite tracks to drive in racing games. Turns 13 and 14 are an experiment in braking just right. I don't think I've ever hit 16/17/18 without going into the gravel unless I'm going extremely slow.
I think I like it because at first glance, it looks too close to be passing people, then you get out on it and you discover there is just the right timing needed to pass on some of the more difficult stretches.
(Note, never driven it in an F1 sim, mostly the Forza Motorsport and R-Factor games in street cars, or street legal supercars.)
Posted by: Dreamshadow at October 10, 2013 12:53 PM (T5fuR)
Comments are disabled. Post is locked.
24kb generated in CPU 0.0143, elapsed 0.0683 seconds.
47 queries taking 0.0582 seconds, 277 records returned.
Powered by Minx 1.1.6c-pink.