July 30, 2012
McLaren Tooned Ep03
It's almost like they're running out of ideas, which amazes me! I mean, F1 is ripe for this sort of humor, don't you think? How could they run out of ideas? Still made me laugh, though.
Posted by: Wonderduck at 06:51 PM | Comments (3) | Add Comment
Post contains 39 words, total size 1 kb.
July 28, 2012
F1 Quals: Hungary 2012
How quickly things can change. Let's take a look at the provisional grid for the 2012 Grand Prix of Hungary:
Just a few races ago, McLaren couldn't get out of their own way. They couldn't qualify, they couldn't do a pitstop without trying to put five tires and a tow hitch on the chassis at which point it would burst into flames, and half of their drivers couldn't run faster than a GP2 car. Now? Well, look at it. Pole and fourth, and nobody ever even came close to challenging Hamilton all day. He made it look easy, and his teammate always wins in Hungary when it rains... and there's a 100% chance of heavy rain during the race. Meanwhile, Red Bull is being scrutineered to death, first with the whole illegal engine mapping thing that came out on Thursday, and now they are suspected of violating Parc Ferme rules and adjusting ride height without tools and while the cars were on lockdown. Haven't heard anything about a penalty yet, but the performance of the Austrian team is perhaps slipping a bit. After Q1, Vettel and Webber were 16th and 17th: just barely avoided relegation, in other words. Webber didn't make it out of Q2. Yes, Vettel is third, but it took quite a lap to get that high. So it's lookin' like a McLaren runaway, right?
Nnnnnnnnnnot so fast there bunky. We've got some Lotuses to deal with, and the rain should help them more than it does McLaren. I think Button is going to win, if only because I like the storyline of him winning every wet race in Hungary, but really it's up for grabs. I could easily see any of the top six standing on the top step after the race.
But it's supposed to be a wet race...
anything
could happen. Well, maybe not HRT winning, but even that's possible when it rains. I'm just glad that Slappy is so far down the grid; if he was up towards the front, I think my head would be in definite danger of going kablooey.
Race is in the morning... the F1U! team will be all over it, and we'll see you back here tomorrow!
Posted by: Wonderduck at 02:11 PM | Comments (6) | Add Comment
Post contains 536 words, total size 17 kb.
July 27, 2012
F1 Practice: Hungary 2012
It never rains in Hungary. Ever. Okay, twice. But in this wacky season things have never gone the way we've expected. Ever. And now that the F1 Circus has brought themselves to Hungary, they zigged when I was expecting them to zag, and I'm about to give up and stop trying to ever predict what the teams are going to do. It's just not worth it anymore.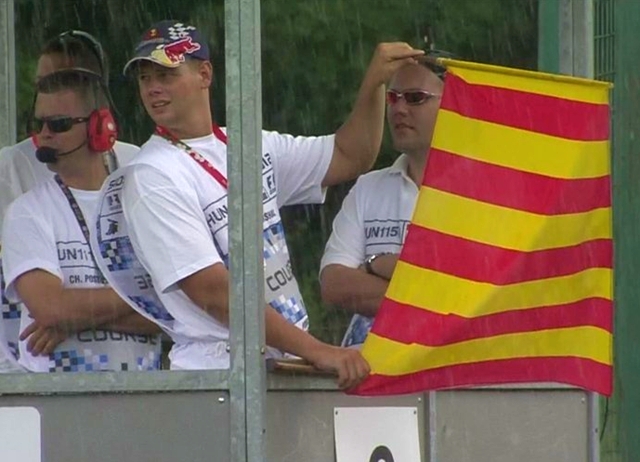 See, P2 started under partly sunny skies, but with about 45 minutes gone in the session, the rains came. The funny thing was that the FIA was saying that the rain'll only last a few minutes, and it'll be merely a light drizzle, no problem at all. Then Heikki Kovaleinninninnie discovered that the FIA
sucks
at weather prediction. Of course, long-time readers of F1U! knew that already. Anyway, Heikki was driving along, driving along, then SPLOOSH! and off he went into the kittylitter. The rain fell for about a half-hour, and it wasn't until close to the end of the session that anybody really went out on rain tires... which is where I'm confused. See, the weather forecast for race day is... well, SPEED's grid-walk guy, Will Buxton, put it best when he described the upcoming rains as "mildly biblical." If what I've been seeing is any indication, the first Grand Prix of Korea is going to look like a water balloon. So the teams had a chance to get some wet-weather running, and
nobody took it
. At least, not until there was deep standing water in some places, deep enough to prevent safe running at all, as Slappy Schumacher found out when he... just couldn't turn at one point. Hello, barriers! I just don't understand why, in the run-up to the heavy rain, they didn't jump at the chance to get wet-weather practice in. There was at least 15 minutes there that they could have gotten some useful data. Ah well. That's why they're in F1, and I just write about the sport.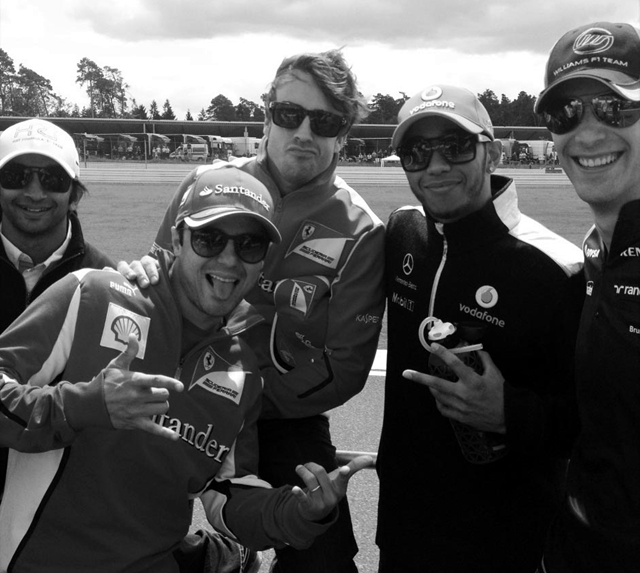 Kittylitter, Massa, HWMNBN, Hamilton, Senna

Taken last week, to be fair. I so
much
want to slap both Ferrari drivers. Quals in the morning, see you then!
Posted by: Wonderduck at 06:32 PM | No Comments | Add Comment
Post contains 362 words, total size 3 kb.
July 23, 2012
F1 on SPEED!: Hungary 2012
I'm sure there are mixed feelings in the hallways of SPEED! right now. On the one hand, their flagship series, Formula 1, has finally returned to their control after four races in the claws of the FOX mothership. On the other hand, their midseason debut race is... the Grand Prix of Hungary. Yee-
eee
-shhhhh! Still, it's theirs and nobody can take that away from them. Let's take a look at the track map:
Yee-
eee
-shhhh! Okay, look, it's no secret that the Hungaroring is my least favorite circuit on the calendar. I like it even less than the bland and repetitive Tilkedromes. To give it the credit it's due, the track is supposed to be outstanding for those in attendance. It's built into a natural bowl, so I gather you can see most of the track from where-ever you sit. So it's got that going for it. Which is nice.
Of course, that same natural bowl traps what humidity there is, and it's the height of summer when the F1 Circus sets up the tents, so the heat generally reaches what the weather nabobs call "god forsaken". Oh, and it's usually quite dusty, so the track never really rubbers in. In other words, it's a bloody hellhole to race on. Some drivers claim to like the place, but the majority despise the place.
Unless it rains. Then all bets are off and Jenson Button wins. See, it's only rained twice during the race, in 2006 and 2011, and Button has won both of them. Let's see if it's a good time to bet on ol' JB... (rapidly checks Budapest weather forecast)... nope, sunny and hot.
So, unpleasant to drive, it's slow, twisty, there's only one real passing zone on the whole darn circuit... heck, is it any wonder I hate the place? Well, the
Legendás

Műsorszóró

Csapat will tell the whole sordid tale for us this weekend! Let's take a look at the schedule:


FRIDAY


P1: 3a - 430a streaming
P2: 7a - 840a live on SPEED!


SATURDAY


P3: 4a - 5a streaming
Quals: 7a - 830a plausibly live on SPEED!


SUNDAY


2012 Grand Prix of Hungary: 630a - 9a live on SPEED!
(all times Pond Central)

Of course, F1 Update! will be all over the weekend like a cheap suit on rice. See you then!

Posted by: Wonderduck at 07:57 PM | Comments (10) | Add Comment
Post contains 389 words, total size 3 kb.
July 21, 2012
F1 Quals: Germany 2012
Well, it
started
dry. Here's the provisional grid for the 2012 Grand Prix of Germany:
The entirety of Q1 was run in the dry, but just as some of the survivors made their way to the track for Q2, it began to rain. Inters were the tire of the moment, with everybody thinking they'd have time for one flying lap on the faster of the wet-weather tires before it got too soggy for them.
They were wrong. By the time the cars had finished their out-laps and begun their flying laps, the circuit had just crossed the line between Inters and Full Wets... you could still use the Intermediate tires, but the water-pumping abilities of the bigger galoshes were probably the better bet. The drivers were game, certainly, and struggled to guide their cars around the track on the less-effective tires, but times were... lackluster at best. Amazingly, nobody managed to end up in the kittylitter or the safety barriers, but only by the greatest of good luck. Once everybody was on the Full Wets, the rain got even heavier. It wasn't quite "grumpy old man building a boat in the pit lane" wet, but pretty bad.
Q3 was even worse, with the heavy rain of Q2 mixed with pooling and rivers running cross-track. At the beginning of the session, HWMNBN was on the radio suggesting that there was too much water for safety and there should be a delay. Denied, he went out and gained pole by being one of the very last drivers to set a flying lap as the session headed towards an end. By that time there was a... let's call it less-wet... line on the circuit. The Ferrari driver took advantage, gaining another pole despite Red Bull's Sebby Vettel getting one final shot at his time. A quick off-track excursion ended that threat and solidified HWMNBN's pole.
Three drivers will be taking five gridspot penalties for gearbox changes: Lettuce Grosjean, Nico Rosberg and Mark Webber. Yes, that means that Slappy Schumacher will be starting third. Yes, this makes the F1U! team cry.
The race tomorrow is supposed to be run in the dry. We'll see... and
F1 Update!
will be all over it. See you then!
Posted by: Wonderduck at 10:39 AM | Comments (2) | Add Comment
Post contains 539 words, total size 16 kb.
July 20, 2012
F1 Practice: Germany 2012
Welcome to rainy Silverstone!
Nah, just kidding. It's raining in Hockenheim as well. Remember what I
said a few days ago
about these practice sessions being particularly important? Well, the rain put paid to all that! Oh, sure, they got some data on Intermediate tires in the first session, and a little more on the full wets in P2, but none of that is what the teams were looking for: dry and slick.
It's not just for setup purposes. Every race there's new pieces of kit tacked onto a car (or taken off!), all in the quest for that extra tenth of a second. Back in the old days, when testing wasn't banned, the teams would put in 50000km or more, just cranking lap after lap to see what this new piece or that new piece could do. Nowadays, though, the Friday practice sessions have become the test sessions... and the new bits and pieces aren't getting run in the dry. There's gotta be a lot of frustration out there.
Left, Felipe Massa. Right, race engineer Rob Smedley. Center, probably the most comfortable chair ever.

Yep, obviously frustrated.
Nothing really happening other than that. Quals in the morning, of course. See you then!
Posted by: Wonderduck at 06:34 PM | Comments (1) | Add Comment
Post contains 207 words, total size 2 kb.
July 18, 2012
It's Just Motorsports Pr0n, That's All.
A couple of days ago, I got an e-mail from
VonKrag
, saying in effect "You gotta see this!" So I watched it. Then I set it to load in at 720p and just drooled over the video again. Here it is:
Do yourself a favor. Watch it in HD. It's worth it.
Posted by: Wonderduck at 07:35 PM | Comments (2) | Add Comment
Post contains 58 words, total size 1 kb.
July 16, 2012
F1 on TV!: Germany 2012
After
an odd weekend in Britain
, where it rained all weekend except during the race, the F1 Circus loads up and makes its way across the Channel like so many carbon-fiber B-17s
*
. Destination: Germany! Located in the Upper Rhine valley, the city of Hockenheim hosted its first race at the Hockenheimring in 1932. The circuit was rather badly damaged during the war, with the track surface torn up by tank treads and pretty much all facilities razed to the ground. Fortunately for all concerned, the area had bumper crops of both tobacco and asparagus for many years afterwards, to support the city while they rebuilt the circuit. Nowadays, the Hockenheimring shares the Grand Prix of Germany with the Nurburgring GP-Strecke, aka Nurb Jr.... and this time around, it's the turn of the
Spargelstraße
to host! Let's take a look at the track map:
It is, admittedly, a pale substitute of the "old" version of the circuit. Where there's a right-hand turn at Turn 2, the old circuit went blasting straight on into the nearby forest until it reached a chicane called "Clark." Named after
Jim Clark
, the legendary driver who was killed in a crash on that straight, the chicane slowed the cars down for the famous Ostkurve, before they came blasting back down another seemingly infinitely long straight, returning to the "modern" track at what is now Turn 6. The high speeds involved were only one reason for the truncating of the circuit; the long, long straights were out of sight of both the grandstands and the F1 cameras for all intents and purposes. The new layout at least allows people to
see
the race.
Unfortunately for everybody, what they've seen in the past has been pretty much a series of parades and processionals. Welcome to another Tilkedrome, in other words. For all intents and purposes, it's Sebby Vettel's home track: his hometown is a half-hour away. Of course, with five out of the 24 drivers being German (Vettel, Slappy, Rosberg, Hulkenberg, O'Glockenspiel), it's a popular place. The track itself is your typical Tilke abomination, long straights followed by tight turns, then stumbling into a tacked-on "Stadium" section. The asphalt is neither particularly abrasive nor slippery, and with this being the first time we've had Pirelli tires here, it wouldn't matter either way: nobody has any data to work with!
So the practice sessions will be particularly important this time around! Fortunately we'll have the good men of the Legendary Announce Team with us all weekend long... even on FOX, thankfully the last time this season we'll have to put up with tape delay! Here's the schedule as I know it:
FRIDAY: 7a - 830a, P2 Live
SATURDAY: 7a - 830a, Quals plausibly Live
SUNDAY: 1030a - 11a, Pre-race show on SPEED
11a - 1p, 2012 Grand Prix of Germany on FOX via tape delay
1p - 130p, Post-race show on SPEED.
I don't know the streaming events this time around; they weren't listed on the SPEED.com website that I could find. Of course, we here at the F1U! will be all over the weekend like butter on asparagus, with special guest Vaucaunson's Duck. We'll see you then!
*
Don't mention the war.
Posted by: Wonderduck at 05:56 PM | Comments (1) | Add Comment
Post contains 538 words, total size 4 kb.
July 09, 2012
This Is The Greatest Thing EVER!
I knew McLaren had an institutional sense of humor, sure... but nothing like
this
!
I can't imagine Ferrari doing this, can you?

Posted by: Wonderduck at 06:24 PM | Comments (6) | Add Comment
Post contains 28 words, total size 1 kb.
July 07, 2012
F1 Quals: Great Britain 2012
Yup, it rained. A lot. So much, in fact, we had a red flag for weather conditions in the middle of Q2... that lasted for over an hour. It lasted for so long that The Pond's DVR didn't catch the last two minutes of Q3, arrrrgh.
Q1 started in less-than-wet conditions, but then the rains came. Q2 started right on the edge of difference between Intermediates and Full Wets, but only four drivers even tried to take the gamble. None of them were able to turn a full lap before all heck broke loose. While the drivers soldiered on gamely, the conditions went from "awful" to "half the contents of the English Channel dumped on track". Let me put it this way: Slappy Schumacher used to be called "Der Regenmeister" for his skill at driving on a wet circuit. On the final lap before the stewards threw the red flag, he went off-track
four
times. One of those times, he seemed to slide sideways for a couple hundred meters before his Mercedes ground to a halt. It was
Korea-bad
, that's how bad it was. So what does the lineup look like after all this rain? Here's the provisional starting grid:
Jenson Button's lousy record at his home race continues; only twice in the past seven GP of Britain has he qualified higher than 14th, and he's
never
finished on the podium. He just couldn't get anything going with the McLaren today, and he's actually lucky he's 18th... it could have just as easily been worse, he was going so poorly. On the other hand, Mumbles Raikkonen had his KERS unit fail in Q1 and they never got it repaired. The weather was so bad that a lack of KERS didn't hurt him: pressing the "Go Fast" button probably would have just thrown a car off-circuit anyway.
As is usually the case when a grid is scrambled by rain, there's no guessing who'll win tomorrow, when it's supposed to rain heavily again. No predictions this time around, in other words... your guess is as good as mine, and possibly better.
Race is tape-delayed tomorrow, we'll be up afterwards with the F1U!
Posted by: Wonderduck at 11:04 AM | Comments (4) | Add Comment
Post contains 530 words, total size 17 kb.
July 06, 2012
F1 Practice: Great Britain 2012
It doesn't always rain at Silverstone on F1 weekend. But when it
does
... hoo-hah! During today's two practice sessions, it was, it must be admitted, somewhat damp. How damp?
Yes, about that like that. For pretty much the entire first session, and for most of the second, the rain was coming down like the dickens. When cars did attempt to get out on track, it usually ended up in... what's the word?
Tears
, that's it! It ended up in tears. It wasn't until the last half-hour of P2 that the rain backed down enough to go out with any realistic chance to get workable data. Even then, it was still wet enough to claim the Williams of Bruno Senna, who managed to bend both ends of the car in the same wreck. So with very little happening on track, let's go over some news from the F1 world!
First up, Maria De Villota's condition has been upgraded! It's now "serious, but stable." She went through another round of surgeries on her head and facial injuries today, the second batch. More information is coming out as to just exactly what happened; it appears that the truck's lift gate was down, and she hit it head-on. Even a helmet couldn't be much protection in that situation... she's seriously lucky she's alive.
Second, how much rain are they expecting this weekend at Silverstone? The track is actually telling fans not to attend the Quals session! At least, those fans without reserved parking or taking the ticket-only Park'n'Ride, or those camping at the track. Half of the parking lots at the circuit, grass fields mainly, are either under water or turned into swampy bogland. Oh, and the weather is also affecting the access routes to Silverstone... many people completely missed the day's practice sessions, stuck on the highway in a massive traffic jam.
Finally, here's a cool video I found a few days ago:
Quals Saturday morning; see ya then!
Posted by: Wonderduck at 03:36 PM | Comments (7) | Add Comment
Post contains 331 words, total size 2 kb.
July 04, 2012
F1 Dodges Tragedy; Merely Terrible
Awful news from the F1 world as Marussia test driver Maria De Villota suffered severe injuries during a straight-line test at Duxford Aerodrome on Tuesday. She had completed a series of runs in the MR01, and was bringing the car back to the temporary pit box the team had set up at the airport. The engine had been heard to be misfiring, hardly uncommon when you're talking about something as finely tuned as a V8 engine that produces 800hp at 18000rpm. The MR01 had nearly stopped when it suddenly jerked and accelerated to around 40mph before running into the lowered tailgate of the team's car transporter. It's thought that the engine went into anti-stall mode, though a different malfunction or driver error can not yet be ruled out.
As one could expect, the tailgate/truck combination did not move when the lightweight F1 car struck it. De Villota suffered serious injuries to the head and face. Reports are that it took a very long time to extract her from the car, but that there were EMTs on site immediately. Taken to a nearby hospital, she was reported to have suffered "life-threatening" injuries. Earlier today, Marussia reported that she is currently in critical but stable condition. Terribly, the doctors have reported that she's lost her right eye.
One of two female drivers associated with F1 teams (along with Susie Wolff of Williams), it's quite possible that De Villota would have become the first woman to drive in a modern F1 race. While not as obviously talented as Wolff, she was in a team more likely to go for the headlines (and money). Chances are she would have done passably well; certainly no worse than some drivers we've seen. While it is possible to obtain a FIA superlicense despite missing an eye, it seems unlikely considering her advanced age; she's 32, which is rather old for a rookie driver by F1 standards.
We here at F1Update! wish her a speedy recovery!
Posted by: Wonderduck at 10:32 PM | Comments (2) | Add Comment
Post contains 333 words, total size 2 kb.
July 03, 2012
F1 on TV!: Great Britain 2012
This is something I haven't felt in a while when it comes to F1: a little bit of excitement. Because The Circus brings itself home... the teams return to Silverstone! Here's the track map for the 2012 Grand Prix of Great Britain:
It's not the classic Silverstone. Heck, it's not even the
Silverstone of 2009
. The track used to go, for all intents and purposes, from Abbey to Brooklands. The circuit was modified to host a round of the MotoGP championship, and to update the pit lane. Said pit lane used to be between Woodcote (previously Turn 1
and Copse (which used to be Turn 1) and was about as old as any in F1. Oddly, the new pit lane is the shorter route from Turn 15 to the start/finish line, even with the speed limit in the pits... in theory. In practice, the FIA will bring down the wrath of god on anybody who tries that trick.
The new "Arena" section created some new passing opportunities, even moreso with the return of KERS, but overall the circuit is somewhat bipolar. It's one of the fastest on the calendar with the highest average turn speed in F1, but there's a huge need for downforce here, too, thanks to the various near-hairpins. The high-speed sweepers require great grip as well, so while Silverstone doesn't have the overall highest top speed, it's ridiculously quick. Which makes it fun to watch AND drive!
I've said this every year, but Silverstone is the home of my favorite Turn... or, more correctly, sequence of turns. The Maggots-Becketts-Chapel complex, when done correctly, shows off the incredible maneuverability of a modern F1 car as it whips to and fro. It's a big reason why I'd rather watch a race here than anywhere else on the calendar (though Spa is close).
The weather forecast is for a standard British Summer day... in other words, windy and rainy. It doesn't help that the circuit is actually built on the site of a WWII RAF air base, where high winds were actually a benefit. As such, it's somewhat elevated above the surrounding terrain, having in effect its own microclimate. This means that it's quite common for rain to fall during a race, adding to the fun.
So, all in all, it'll be a good racing weekend... I hope. Of course, the Good Men of the Legendary Announce Team will be bringing us all the coverage we've come to expect, even during the FOX-based race. Let's look at the schedule:
FRIDAY
P1: 4a-530a streaming
P2: 8a-940a live on SPEED
SATURDAY
P3: 4a-5a streaming
Quals: 7a-830a plausibly live on SPEED
SUNDAY
Pre-race: 1030a-11a tapedelay on SPEED
Grand Prix of Great Britain: 11a-1p tapedelay on FOX
Post-race: 1p-130p tapedelay on SPEED
REPLAY: 10p-1a on SPEED
Of course, all times are Pond Central. Add one hour for the East coast, subtract two for the West, and subtract five for all those F1 fans amongst the Laysan Albatrosses on Midway Atoll. We'll see you on Friday for coverage of P2!
Posted by: Wonderduck at 06:15 PM | No Comments | Add Comment
Post contains 511 words, total size 4 kb.
121kb generated in CPU 0.0276, elapsed 0.1661 seconds.
55 queries taking 0.1464 seconds, 299 records returned.
Powered by Minx 1.1.6c-pink.