August 23, 2009
F1 Update!: European Grand Prix @ Valencia 2009!
All those fans F1 gathered after the four-race stint on FOX were in for a shock today! THIS is
your
F1U! for the European Grand Prix @ Valencia!
*CASUAL FANS BEWARE
: To be honest, even we here at F1U! headquarters were nearly put to sleep by the EGP@V today. Only the alleged "drama" of the first win in five years for Rubens Barrichello managed to keep us going. To their credit, SPEED's Legendary Announce Team did a fine job of keeping the viewer informed of the strategies involved regarding pitstops, but that's awfully thin gruel to base a race on.
*RED HOT PIT STOP ACTION!
: From the start of the race, it was obvious that this was not going to be a runaway victory for any of the three favorites: Lewis Hamilton and Heikki Kovaleininninnie for McLaren or Rubens Barrichello for Brawn. Closing in on the first round of pitstops Hamilton had a six-second advantage on his teammate, who was only a couple of seconds ahead of Barrichello, who it was thought had about four laps worth of fuel more than the McLarens. Heikki stopped first, Lewis second, giving Rubens a chance to run in open air for the first time. By the time he completed his pitstop, he had leapfrogged Kovaleininninnie via the rotation. When Hamilton headed to the pits on lap 36, he had a mere 3.6 second advantage on the charging Barrichello. Then it all went wrong for McLaren.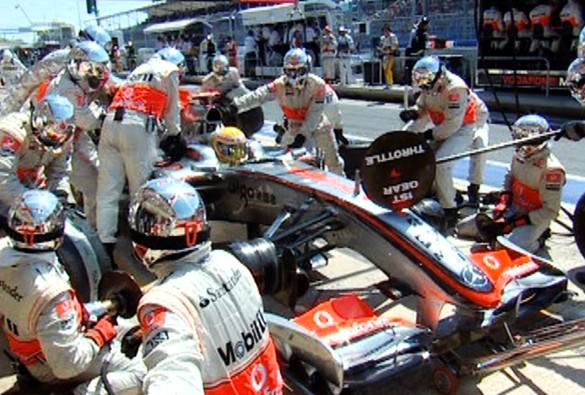 Hamilton's stop was a complete shambles. As you can see in the above picture, the fuel rig is attached to the car and the tires are off... but there's no other activity on the corners. McLaren hadn't brought out the new tires! A stop that should have taken
at most
eight seconds or so took 13.5. Meanwhile, out on the track, Barrichello ripped off personal fast lap after personal fast lap, for five consecutive laps. When he made his second stop, he leapfrogged Hamilton and had a six-second lead besides. At the end of the race, Barrichello finished in first, only 2.3 seconds ahead of second place Hamilton.
*DRIVER OF THE RACE
: Rubens Barrichello. He did everything right today. He had to stay close to the lighter McLarens before the first stop and he did. He had to stay close to Hamilton going into the second stop, and he did. When Hamilton pitted, Rubens had to push like the dickens to open up as big an advantage as he could, and he did. He deserved the win, and he got it. Plus, it was his first win in 86 starts... congrats, Rubens. NOW will you
please
stop whining???
*TEAM OF THE RACE
: BrawnGP. While the win is nice, Jensen Button's 7th place wasn't entirely his fault. Right at the start, Button was brutally cut off by Seb Vettel, forcing the Brawn to slam on his brakes. HWMNBN did the same to Button a little later in the lap. Simply put, a 7th place when you had two drivers pull somewhat dangerous stunts on you forcing you back to 9th isn't so awful, particularly when neither Red Bull earned a point today. So, BrawnGP gets the TotR, but it's a lukewarm one.
*MOVE OF THE RACE
: None. There was no on-camera passing whatsoever. Allegedly Grizzly Nick Heidfeld passed Adrian Sutil at some point during the race, but we never got to see it, even in replay.
*MOOOOOOOO-OOOVE OF THE RACE
: As most of today's stupid overtaking moves happened on the first lap, none of them qualify. Really, it was a pretty clean race, all in all, so today's Moooo-ooove goes to Lettuce Grosjean for his unforced error that led to this fun little slide: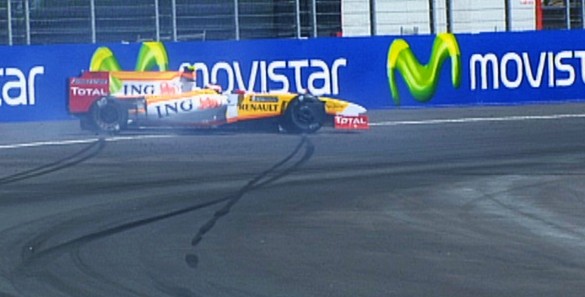 Even this gets a lukewarm win, because Lettuce actually showed some skillz here. The car never came to a stop and he eventually transitioned from skid to regular motion in one smooth manuever. Honorable mention goes to Luca Badoer for letting Lettuce pass him... IN THE PIT LANE. We
still
have no idea what the heck was going on there.
*SELECTED DRIVER QUOTES OF THE RACE
:
"Even after five years at Honda, you don't forget how to win and the feeling is so good!" - Rubens Barrichello
"We were trying to turn a safe second place into a win. Instead it turned into S**t." - Lewis Hamilton
"mrmrmmmbm mrlblrlbrmmrlb mlrblrbrlmmbbl mrlrb. bbmlb." - Kimi Raikkonen
"To start second and finish fourth isn't ideal. Do I get to keep my job?" - Heikki Kovaleinninnie
"There have been a lot of changes in F1 since I last drove. Back then, I wore an onion on my belt, which was the fashion at the time." - Luca Badoer (17th place)
"Tire go boom." - Kazoo Nakajima
"Brakes go boom. AIEEEEEEEEEEEEEE!" - Sebastian Buemi
"Lump go boom." - Seb Vettel
Okay, that's enough. Next week, we'll be in the Olympic Swimming Pool at Spa-Francopants! See you right then!
Posted by: Wonderduck at 03:33 PM | Comments (3) | Add Comment
Post contains 827 words, total size 6 kb.
1
I bet Hamilton was really pissed off at the pit crew. But he's a classier act than Rubens, and I doubt he'll say anything in public about it. I saw someone from the team who said that they lost because Rubens was faster, not because of the pit foulup. That's generous to Rubens, to not try to take his victory away from him by claiming it was a fluke, but it could also be CYA about the pit foulup.
Posted by: Steven Den Beste at August 23, 2009 05:38 PM (+rSRq)
2
Oh, he was. In the podium press conference after the race, he was very, very neutral in his expressions and very controlled in his words. He's almost
always
happy and smiling during those. Heck, Kimi Raikkonen was more emotional today.
Martin Whitmarsh, McLaren team principal, said that they couldn't've won, but the websites I've seen seem to think, like you, that it's CYA.
No mistake, Rubens WAS faster today. Even without the pitstop blunder, I think he would have won, but Lewis can be awfully hard to pass. He MIGHT have been able to hold off Barrichello for 15+ laps... but the screwup took away any chance he had to try.
Posted by: Wonderduck at August 23, 2009 07:04 PM (3IJ3A)
3
Nice to see someone as happy with a win as Rubens was! He definitely deserved it.
Hamilton was, indeed, very classy about what happened in the pits, although he seemed to be biting his tongue at times at the podium press converence. There are NASCAR drivers (*cough* Kyle Busch *cough*) who could learn from being classy and not blurting out the first thing that comes to mind.
Posted by: Mallory at August 24, 2009 09:58 AM (WJ2qy)
Comments are disabled. Post is locked.
28kb generated in CPU 0.03, elapsed 0.1034 seconds.
53 queries taking 0.0854 seconds, 275 records returned.
Powered by Minx 1.1.6c-pink.